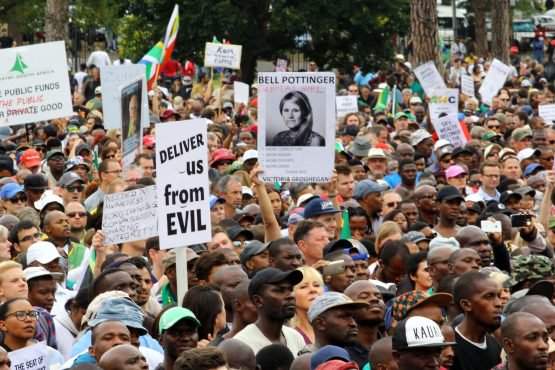 Communications powerhouse Bell Pottinger faces an uncertain future after a campaign of racial incitement in South Africa, writes Matthew Hardeman
Top City PR firm Bell Pottinger finds itself at death's door after being kicked out of the sector's trade body and seeing a swathe of its bluechip clients cut ties. This follows a damning review commissioned by the firm itself which revealed that it had deliberately stoked racial divisions in South Africa on behalf of a client, in a campaign of unethical conduct, which ultimately forced the resignation of CEO James Henderson over the weekend.
The company fell foul in its work on behalf of Oakbay Capital, owned by the influential Gupta family, which involved a campaign that emphasised white domination of business in South Africa by promoting the #WhiteMonopolyPower hashtag on Twitter.
In an unprecedented move, the Public Relations and Communications Association (PRCA) said Bell Pottinger 'brought the PR and communications industry into disrepute with its actions, and it has received the harshest possible sanctions' following a comprehensive probe into the fiasco. 'The PRCA has never before passed down such a damning indictment of an agency's behaviour,' it added. Francis Ingham, the PRCA's director general, said the company had 'incited racial hatred' – a move he labelled 'absolutely unthinkable' and 'the worst piece of PR work I've seen for ten years'.
The scandal marks an astonishing fall from grace for one of the industry's best-known firms, founded by PR grandee Lord Bell, Margaret Thatcher's favourite spin-doctor.
Bell, who stepped down from the company last August, had little sympathy for the present leadership when he spoke to the BBC, saying the scandal was 'almost certainly' the end for the company which he established in 1987. He put the blame squarely on Henderson, saying: 'Of course [he] is to blame, of course he should have resigned.'
Henderson stood down ahead of the publication of a report by law firm Herbert Smith Freehills which concluded that material produced by Bell Pottinger on behalf of Oakbay Capital was 'potentially racially divisive and/or potentially offensive and was created in breach of relevant ethical principles'. The report also found that senior staff had failed in their duty to uphold these principles.
In his resignation, Henderson acknowledged that, though he felt 'deeply let down' by colleagues who had 'misled' him, Bell Pottinger required 'a change of leadership to fix the problems of the past and to move forward'.
Many – and not just Lord Bell – believe that it will probably require more.
That said, Jonathan Hawker, founding director of PR and crisis communications specialists Slate Campaigns, believes that though the PR giant will 'pay a price', the business could survive under a different guise – adding to speculation that a re-brand will certainly follow for the disgraced firm. 'There's too much talent in that business for it to disappear,' he says.  Highlighting the scandal that hit US PR heavyweights FleishmanHillard over timesheets, Hawker notes that this continues to thrive.
Above all, these episodes highlight the need for 'clear rules', says Hawker. Moreover the fiasco is just the latest episode involving a big name who ought to know better falling foul on Twitter. 'People in PR who have struggled traditionally with the traditional media have struggled even more with social media,' notes Hawker. 'The world hasn't really changed – it's just the vehicles that have changed. We've all got to "skill up" – it's as simple as that really.'
However you dice it, the scandal is unlike many in that it cuts to the heart of Bell Pottinger's raison d'etre as communications and reputation management experts. In a single scandal, it has managed a dubious double by shooting itself in both feet – by damaging both its clients and itself. Now, it remains to be seen if the firm can stagger on.
Matthew Hardeman is Senior Researcher at Spear's
Twitter: @matthewhardeman