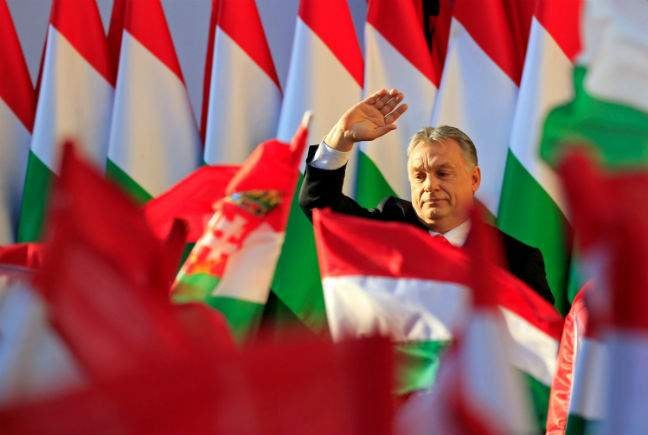 Hungarian Prime Minister Viktor Orbán stormed to a historic win on Sunday. Is this the end of Europe as we know it? Matthew Hardeman reports
Hungarian Prime Minister Viktor Orbán, champion of illiberal democracy and anti-immigrant darling of Eastern Europe swept to victory and a fourth consecutive term in office after parliamentary elections on Sunday.
The right-wing hardliner, labelled a demagogue and crooked quasi-autocrat by critics, was widely expected to win a simple majority as he went into the weekend with a solid 51 per cent in the polls.
In the end, he fared even better than many had predicted: with 92 per cent of ballots counted, Orbán's coalition appears to have won with at least 48 per cent, making him the country's most powerful and longest-serving leader since the collapse of communism in 1989.
By securing two-thirds of the parliamentary seats – 133 out of 199 – Orbán's party, Fidesz, along with its ally, the Christian Democrat KDNP, now hold the power to amend Hungary's constitution and shape the nation according to its will.
An Orbán win seemed the most likely outcome, but record turnout (as high as 70 per cent in Budapest) surprised everyone after a bitterly-fought campaign marred by corruption scandals, allegations of spying, leaks and fake news.
OSCE election monitors in Budapest were scathing in its aftermath on Monday, pointing to a 'pervasive overlap of state and ruling party resources', adding that the campaign itself was sullied by 'intimidating and xenophobic rhetoric, media bias and opaque campaign financing'.
Orbán has frequently blamed the country's ills on American-Hungarian financier and philanthropist George Soros, his left-wing nemesis (indeed, he has frequently accused voters for other candidates of being 'Sorosist', anti-Hungarian and anti-Christian). He scarcely mentioned policy in a major TV interview he gave before the vote, opting rather to complain about Western Europe and engage in anti-Muslim and anti-Semitic rhetoric.
Standing before thousands of his cheering supporters in the town of Székesfehérvár, Orbán repeated that malevolent outsiders (including, he alleges, the United Nations and NGOs) were trying to meddle in the country and damage Hungarian interests.
'The situation is that they want to take away our country,' Orbán said, accusing opponents of serving foreign powers. He also claimed there had been 'censorship' — an apparent reference to the temporary removal of a Facebook video posted by his Fidesz party.
'Europe's leaders, together with a billionaire speculator, don't want to defend the borders, but want to bring in the migrants – that's the truth,' Orbán said, in a thinly veiled reference to Soros.
He also used the speech to highlight his efforts to eject the IMF from the country, tax multinational corporations and the banks and cut unemployment, pointing to Hungary's economic performance (the World Bank has forecast growth of 3.9 percent in 2018) as evidence that his leadership has been working for ordinary people.
He even referred to Hungary's fight against the Ottoman Empire centuries ago, claiming that the country's legacy and international standing must be protected (despite speaking kindly of the autocratic approach adopted by modern Turkey, and in Vladimir Putin's Russia).
The election has been followed closely by international observers looking to track political momentum within the EU. Orbán has emerged as one of its leading right-wing voices, assailing further integration within the bloc and embracing anti-migrant, anti-Muslim sentiments and policies while promising to 'protect' Hungary's (and Europe's) borders and culture.
The vote had been seen in part as a test of the political weight maintained by such a message as migrant numbers from the Middle East and Africa begin to ebb. Orbán has repeatedly referred to the influx of refugees as merely the 'first wave' – despite Hungary having the third-lowest immigration figures in the EU.
Domestic and foreign critics charge Orbán with undermining freedom of speech and the press, the rule of law, and democracy: indeed, his historic win over the weekend will have been thanks in no small part to his party's fastidious changes to Hungarian election rules. The amendments have consistently boosted the party's electoral chances against a fragmented left and the right-wing Jobbik party since 2010 (Jobbik received a disappointing 19.2 per cent of the vote on Sunday). Fidesz also controls much of Hungary's media.
There were further allegations of dirty tricks by Fidesz: mail ballots were forbidden for hundreds of thousands of Hungarian expats, limiting their ability to participate by forcing them to vote in person at Hungarian embassies and consulates instead.
Irking his left-wing opponents further, the Fidesz government also granted ethnic Hungarians overseas the right to citizenship: according to the National Election Office, 378,000 new citizens were registered for the 2018 election – the vast majority of them Fidesz supporters.
However, there were complaints from Hungarians abroad who received their ballots too late for them to be sent back to Hungary. Meanwhile, in Budapest, the second ballot— bearing national party lists— included many parties that don't even exist.
Orbán previously won in two landslide victories in 2010 and 2014 after his Fidesz party and the Christian Democrats secured more than two thirds of the parliamentary seats up for a vote.
It had been thought the setbacks to Orbán's campaign gave the opposition a chance to force Fidesz into a minority and the country towards an unprecedented hung parliament. At the very least, they had hoped to weaken his position by voting strategically for the strongest local anti-Fidesz candidate.
For Fidesz however, victory assumed extra import: numerous scandals and allegations of corruption meant that a loss could have seen political allies – and perhaps even Orbán himself – face trial and lengthy prison terms.
Instead, Orbán faces the future free and emboldened by political justification both at home and in Brussels. Many fear that his muscular win on Sunday grants him unprecedented power to reshape the former Soviet bloc member, and even the EU itself.
Ákos Hadházy, co-chair of the left-wing LMP party, announced that he was stepping down and has refused to congratulate Orbán, saying the election was dishonest and unfair. 'There will be grave political and economic consequences to follow, and Hungary is close to no longer being part of the EU,' he said.
There is little doubt that a strong new mandate for Orbán will make it far harder for Brussels to hold him to account for undemocratic behaviour.
Although Fidesz sits on Hungary's far-right, it remains a member of the centre-right European People's bloc (EPP) in Brussels. They are likely to be swayed in their own policymaking by Orbán's crushing victory: the Front National in France, the Freedom party in both Austria and the Netherlands and the Alternative for Germany party could well follow Orbán's lead and call for similar policies.
Fellow critic of EU integration Jarosław Kaczyński, Poland's de facto leader, publicly backed Orbán on a visit to Hungary ahead of the election, saying Orbán has been 'pointing Europe in the right direction' and would help to reorient the bloc accordingly. Both Hungary and Poland have clashed with Brussels over their championship of conservative nationalism.
One thing is clear: the dividing line across Europe appears as stark as at any time since the fall of the Berlin Wall. Strategic decisions are fast approaching the rest of the EU and its Central and Eastern members.
Whatever happens to Hungary and its nationalist bedfellows, it seems that nothing less than the future of Europe, and the momentum of a new, chaotic geopolitical universe hang in the balance.
Matthew Hardeman is Senior Researcher at Spear's