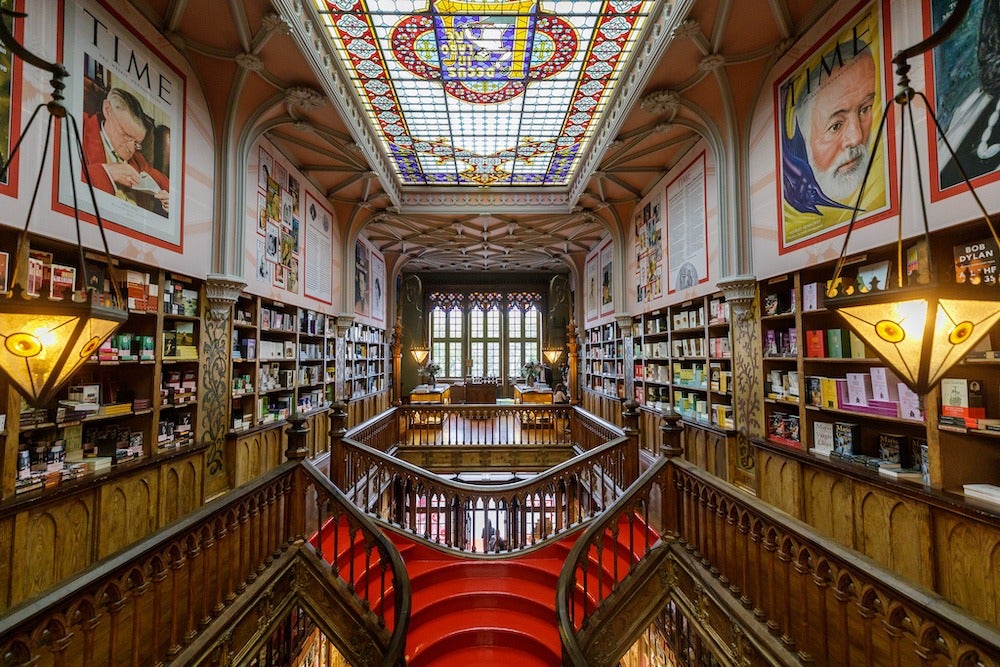 The beautiful Livraria Lello in Porto has been selling books for 116 years. As the bookstore continues its mission of sharing knowledge across borders, Rory Sachs finds out why it's busier than ever
On a mild, sunny winter's morning in Porto, people gather for a birthday party. There is cake and a toast, but rather than celebrating a person, we are here to cheer and raise our glasses to a bookshop. As the TV crews from CNN attest, Livraria Lello, which is marking its 116th birthday, is no ordinary bookshop. It may even be the most beautiful bookshop in the world, with its neogothic exterior, art deco flourishes, striking red staircase and stunning stained-glass skylight, which is inscribed with the store's motto, 'Decus in Labore' (Honour in Labour).
There is a notable absentee at the party, however. The CEO of Livraria Lello, Aurora Pinto, is at Expo Dubai, campaigning for the importance of sharing knowledge across borders. As she is beamed in from the UAE via a huge LCD screen by the store's entrance, she explains that two of Portugal's most important literary works – The Lusiad and Message – have been translated into Arabic for the first time to mark this birthday. 'Getting this through to 275 million speakers of a new language… it's something that's very dear to us,' Pinto tells Spear's. 'We are part of that global community.'
Her words chime with the mission of the Lello brothers, who, upon founding the store in 1906, began to champion liberal thought and knowledge-sharing. The duo, who compiled an extensive literary collection and encased it in a grand temple to the arts and sciences, were early supporters of Portuguese republicanism.
'The bookshop is sort of a stage for liberal thought… they were republicans in the time of monarchy,' says Hugo Cardoso, Livraria Lello's creative director. 'The republic started in Porto.'
Today, after Pinto's speech, visitors flood inside to browse the 60,000 books on display. On the shelves are Shakespearean sonnets, tomes by Foucault and classics by Dickens and Austen. Two painted, angelic murals stand guard over them, representing the dichotomy between art and science.
Some of the canonical texts have been given a Livraria Lello spin – republished as beautiful, pint-sized pocketbooks with gilded edges, red ribbons and artfully designed covers. Around 30 titles with international appeal have been republished by the shop – including Mark Twain's Adventures of Tom Sawyer and Antoine de Saint-Exupéry's The Little Prince – and are stocked in four languages. For tourists, these offer a 'small luxury item… it's the perfect travel size book', Cardoso says.
Equally luxurious are the large picture books for some of Lello's littlest customers. To underscore the importance of regular reading, there are regular free storytelling sessions. Children sit in a room resembling an enchanted forest and listen to readings of Peter Pan or The Wizard of Oz.
In 2015, Livraria Lello responded to the weight of visitor numbers by introducing a voucher system. Visitors must now pay €5 to enter the store, but they can redeem this against the price of a purchase. 'We are not trying to sell a visit,' says Suzanna Mamo, one of the store's booksellers. 'You are trying to tell people to buy books.'
In some ways it's a moral mission – the initiative encourages reading, provides some form of crowd control as hordes of tourists clamour for entry, helps pay for the expensive upkeep of the historic architecture, and subsidises the store's array of cultural activities, which remain free for locals.
It has been effective: in 2015 around 10 per cent of customers would buy books, but since the introduction of vouchers, more than half now do.
The scheme helped Livraria Lello on its way to selling more than 700,000 books in 2019. Behind the beauty, its business model has shown what bookstores can and should be in the modern world.
'Nothing would make us more happy than to be an inspiration for other bookshops,' Cardoso says. 'For us, it's a matter of community. People with the same vision, the same values as us, really trying to get people to read.'
If the Lello brothers could hear this today, they would doubtless be proud.