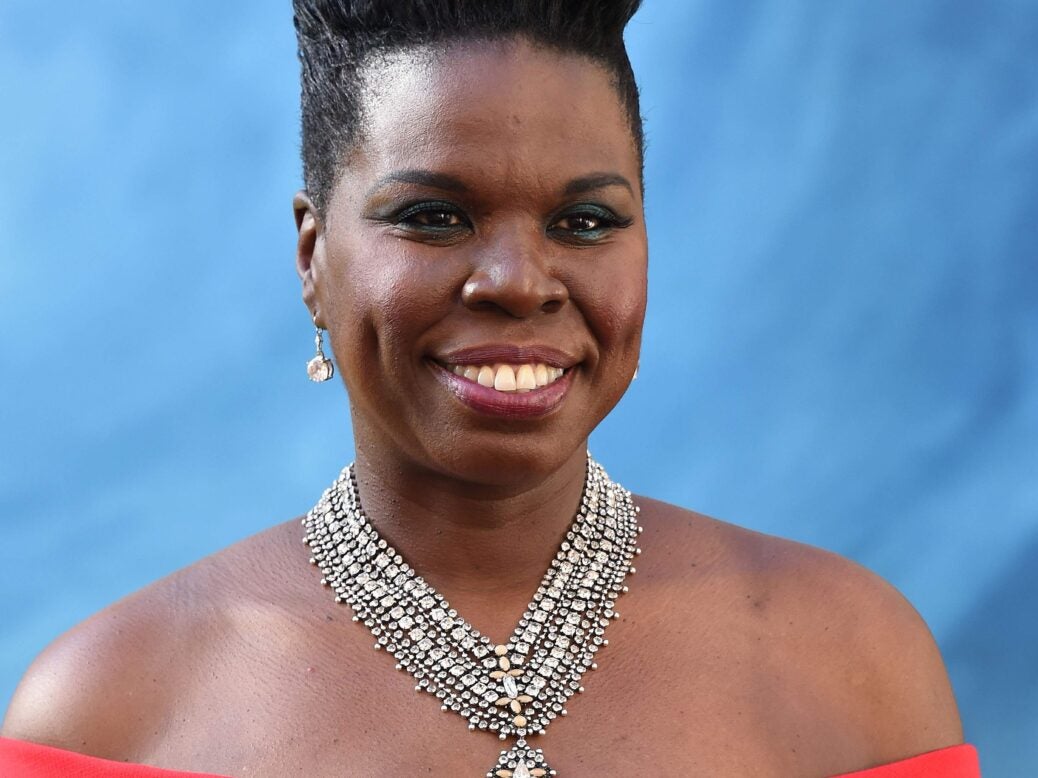 American writer/comedienne of Saturday Night Live, Leslie Jones has an estimated net worth of $5 million.
Leslie Jones was born in Memphis, Tennessee on September 7, 1967. With her dad in the US Army and constant moving from place to place, the family finally landed in LA, California, where her dad began work as an electronics engineer at Stevie Wonder's radio station, KJLH. Jones was enrolled at a high school in Lynwood, California, where she was encouraged by her dad to play basketball due to her six-foot frame.
How did Jones make her millions?

Pursuit of basketball sent Jones to Chapman University on a scholarship and to Colorado State University from there because of her coach's move to Colorado. Working odd jobs while attending college, Jones even changed her majors including law, business accounting and computer science. She was also a radio jockey at Chapman and an assistant to a judge. Finally majoring in communications, Jones was still uncertain about her career.
However, destiny took its own course when a friend of hers added her name to the "Funniest Person on Campus" contest, in 1987—which she won. After college, Jones moved to LA and began performing at regular clubs, while working at UPS and Roscoe's House of Chicken and Waffles. She then spent two years in New York, appearing on BET's stand-up show ComicView, before returning to perform at The Comedy Store, West Hollywood; but failed to impress. Another performance, opening for Jamie Foxx, got her booed off stage, making her forego comedy for three years.
She, however, performed creditably at the Montreal Comedy Festival, the Aspen Comedy Festival, Urban Comedy Arts Festival, on Comedy Central and Def Comedy Jam.
In 2010, Jones participated in It's Pimpin' Pimpin' tour and starred in Showtime's Problem Child.
Upon Chris Rock's recommendation Jones was hired on Saturday Night Live (SNL) in December 2013, but as a writer. Jones debuted as a featured member of SNL in October 2014—the oldest person, at 47, to become a cast member. It was the first time that the show had more than one African-American stand-up.
Jones then starred in the film Top Five (2014) and appeared in the Amy Schumer romantic comedy Trainwreck (2015) and then starred in the Ghostbusters reboot (2016).
Her enthusiastic live-tweeting of the 2016 Rio Olympics got her onto NBC's Olympic commentators' bench with the help of TV producer Mike Shoemaker and NBC executive producer Jim Bell.
She then appeared in a 2016 ad campaign with Adam DeVine for Allstate Insurance.
Her other film appearances are Sploosh (1998, short film), A Feeling Called Glory (2000, short film), National Security (2003), A Guy Thing (2003), Repos (2006), Gangsta Rap: The Glockumentary (2007), Internet Dating (2008), Something Like a Business (2010), Lottery Ticket (2010), The Company We Keep (2010), House Arrest (2012), Sing (2016, voice-acting), Masterminds (2016) and We Are Family (2017).
Jones's TV shows include: Mermaid (2000, TV film), Dark Angel (2001), The New Beachcombers (2002, TV film), Daddy Knows Best (2012), Sullivan & Son (2013), The League (2013), Workaholics (2014), The Awesomes (2015) and The Blacklist (2016).
Following racial slurs on Twitter, Jones had to quit the platform in July 2016 and also take down her website after a 'hack' attack.