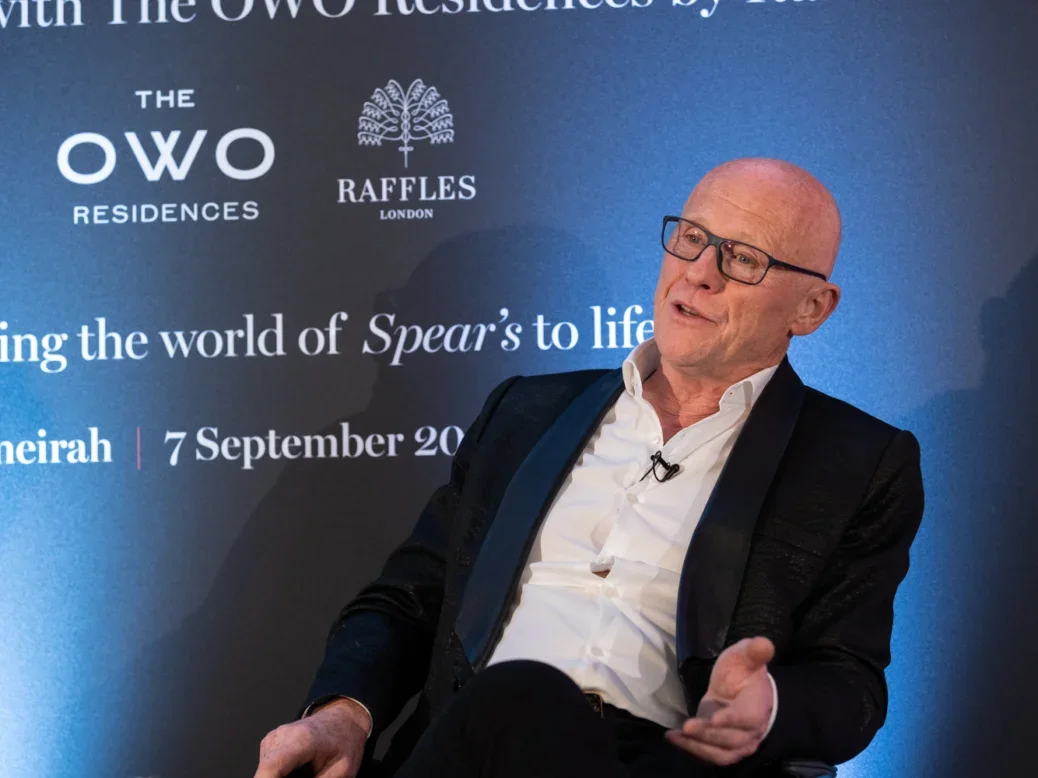 John Caudwell has called for more of his fellow billionaires to give away at least half of their money – and discouraged them from holding on to their wealth
The entrepreneur, who founded Phones 4u, was speaking at Spear's 500 Live in association with The OWO Residences by Raffles.
'The pledge I have made is to give away 70 per cent of my wealth either during or after my lifetime,' he told the audience during a fireside chat with Spear's editor Edwin Smith.
Caudwell said he first chose to give away half his wealth after the sale of Phones 4u in 2006, which he said left him with a 'ridiculous sum of money'. (Estimates suggest he eventually made £1.5 billion from the sale.)
[
Find out why John Caudwell thinks Mayfair is 'the best part of the best capital in the world'
]
In 2013, he joined Warren Buffett's giving pledge – in which billionaires commit to giving away half their wealth – becoming one of the first British names to do so. But, Caudwell explained, he had committed to a similar principle some years earlier, in 2008.
More recently, he said, he 'decided to go further' and increased his commitment, promising to give away at least 70 per cent of his wealth, 'because I realised that 50 per cent was still more than I needed for me and my family'.
Asked what he said he would say to fellow UHNWs who had not taken such a pledge, Caudwell said he couldn't understand why they hadn't done so.
'I am an out-and-out capitalist. But if you've made the kind of money that I have, why would you want to cling on to it yourself?'
'All it means is your kids are going to have a bit less. They will still have hundreds of millions. How much do they really need to be happy?'
'I don't believe in leaving colossal sums of money to your children when you have a world where the gap between wealthy and poor is astronomical.'
Caudwell spoke of the satisfaction that comes from his own philanthropy, including the 65,000 children with disabilities who have benefited from Caudwell Children, the charity he founded in 2000.
The entrepreneur and philanthropist also implored more UHNWs and HNWs to ensure they were meeting their tax responsibilities – admitting that he regretted using tax avoidance schemes earlier in his life.
'I used legitimate ways to reduce my tax bills. I know why I did it, but I'm not proud of it. Would I do it now? No, I wouldn't.
'I tell everyone that if you've done really well, you should pay your taxes in the country you made the money in.'
Giving the audience a preview of his memoir Love, Pain and Money: The Making of a Billionaire (out 7 October), Caudwell shared his own philosophy of business success and how it shaped his own life.
'I identify the pillars of success of ambition, drive, passion, resilience, commercial intellect and leadership,' he said.
'There were times in my business – particularly when a supplier cut our entire supply of mobile phones – that I saw 80 per cent of our business disappear overnight. 
'In that situation you have some sleepless nights, but you try to find a solution. The stress is enormous, but you just have to struggle and do the best you can.
'If anyone is starting a new business, you really have to question your resilience. If you haven't got that resilience to fight through, you might not make it.'
Watch the full fireside chat with John Caudwell and Spear's editor, Edwin Smith: