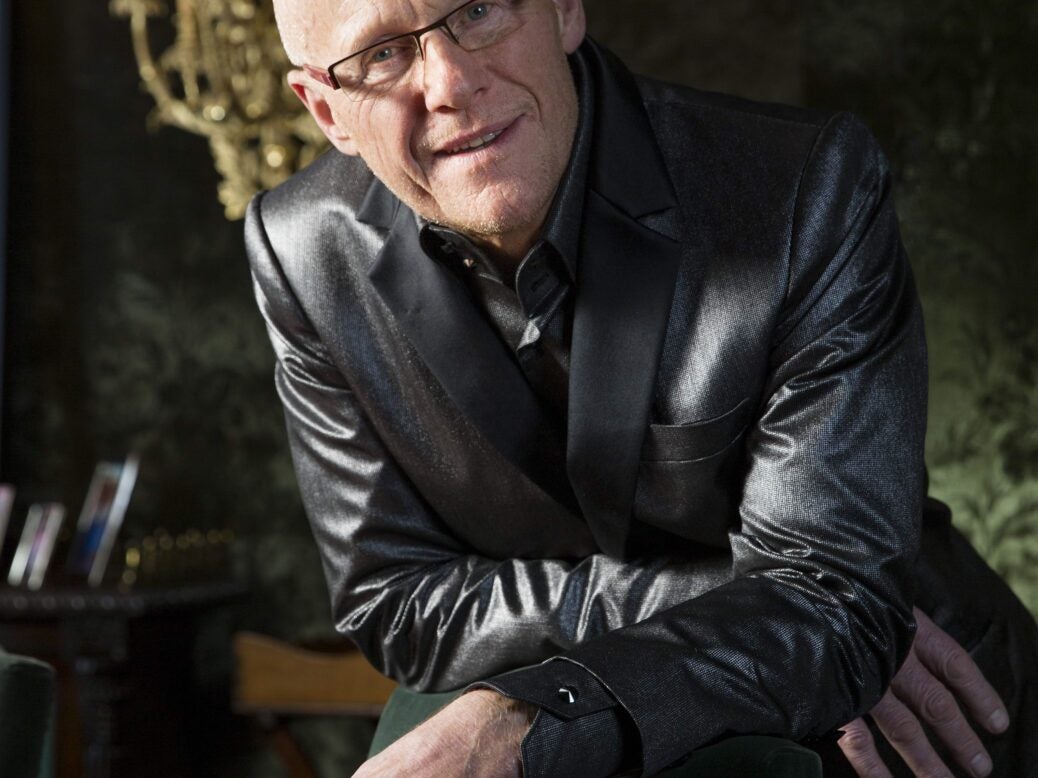 Entrepreneur John Caudwell has grand plans for his Mayfair development, and even Brexit doesn't faze him one bit, writes Arun Kakar
John Caudwell is in love with Mayfair. The area is 'the best part of the best capital in the world', he proclaims over tea at his £55 million Mayfair townhouse, a property he acquired in order to attain permission for his luxury development next door.
It's a grand project that the billionaire – Britain's 87th richest man, according to the Sunday Times Rich List – talks up with trademark ambition. Caudwell isn't just looking to build a block of flats: he's looking to make history.
'I wanted something that in 500 years' time, you could say, "Wow, that's still a beautiful building." It's a landmark in Mayfair, not another ordinary, contemporary building like most of the rest.'
Caudwell, 66, is used to dreaming big. Best known for founding the high-street chain Phones4U, he started selling mobile phones in 1987 when handsets were the size of paperbacks and it took nine months to sell 26 units.
It was a business he grew relentlessly: By the time he sold it for £1.47 billion in 2006, he was reportedly selling 26 phones a minute. Caudwell's interest in property began to develop around 2008, 'when any sensible person was terrified about where the money was'.
He began to offload some of his wealth into property investments around the country, before entering the luxury market three years later with the purchase of Audley Square House and its neighbouring site – a car park and the disused Ascott Hotel – for a reported £155 million.
The purchase kick-started the Caudwell Collection of luxury properties, which also comprises six Côte d'Azur properties at Les Oliviers near Antibes, 88 apartments at Cap d'Antibes, as well as an upcoming redevelopment of the nearby hotel Le Provençal. The Audley Street development is by far the most ambitious project in the portfolio – and Caudwell knows it.
'I've got a reasonable argument that it is one of the best sites in the world,' he declares. It's in a part of what he calls 'Mayfair village': the patch between Mount Street and Curzon Street that is cosseted away from the surrounding bustle of central London.
Pay to upgrade
Caudwell's love for Mayfair wasn't always unconditional. When he was looking for a property in the area ten years ago, he found it 'a bit untidy', with many of the houses nursing 'serious disadvantages'.
He saw an opportunity for the area to 'rejuvenate itself' and demolished the car park and hotel in 2015 to make way for his development: a nine-storey block of ultra-luxury apartments to contend with the likes of One Hyde Park and 20 Grosvenor Square for the crown of London's most opulent property.
Caudwell is patient. The property is scheduled to be completed in the next four to five years, but even these dates are loose. You can't rush proceedings when you're intent on making history.
'When I come to the market, all that will be sold,' he predicts. 'There won't be any more in this part of London. It'll be absolutely perfect timing.' Caudwell outlines his planning process in terms of bathroom taps and wine cellars, comparing the property to the Palace of Versailles: no detail is too small, no expense is spared.
He's arranged an A-list team to realise his vision, which includes the UK debut of New York-based Robert Stern Architects, designers of the 15 Central Park West and 30 Park Place luxury developments in Manhattan.
Time might not be an issue for the project, but Brexit is continuing to bite on the super-prime market. Prices for London's ten most expensive boroughs were down by 9 per cent in 2018, according to Your Move, with Brexit uncertainty cited as a key factor by agents. Is Caudwell worried this will affect his Mayfair development?
Not a bit. 'What we're building is so worldwide exclusive: even if Brexit damages Britain, it won't damage us considerably,' he says. 'Even if there were to be some residual damage from Brexit, London will remain the capital of the world.'
Caudwell campaigned vigorously for Leave during the referendum, but he's distraught with the way the government has handled the negotiations since the vote. An advocate of a no-deal, he is so despairing of the situation that he can't help imagining how Margaret Thatcher would have led the dialogue between the UK and EU.
'My God, it would have been such a different story,' he says bitterly. 'What I know from 50 years of business is you cannot give in to a dictator, and people who think they're holding all the cards and decide to be a bully, the last thing you can ever do is give in – what you've got to do is really show your strength. We've gone in like a flock of lambs into a wolves' den, and of course what they've done is they've torn us to shreds.'
Corbyn fiasco
Brexit might 'gall' him, but it is the prospect of a Jeremy Corbyn government and its manifesto pledge of a 50 per cent tax rate for high earners that has him worried. 'Corbyn would be a complete fiasco for the UK,' he says. 'What Corbyn never seems to realise is you have got to create wealth in order to spread the wealth out. They don't seem to understand that if you tax the rich, there's a level of threshold.'
Caudwell insists he is not scared of paying tax, he actively embraces it: he reportedly paid 66 times more tax than Google in 2013, and has been vocal on the responsibility that companies and HNWs have to pay their 'fair share'.
Corbyn, however, is a step too far for him: 'If Corbyn wanted to start taxing more extensively than already, my appetite or tolerance to pay much more than I'm already paying is not very big.'
If Corbyn enters Number 10, Caudwell is on his way out – not even his love of Mayfair will keep him. 'We'd just go and live in the south of France or Monaco,' he declares. 'Why would we stay and be raped?'.
Arun Kakar writes for Spear's 
Photographed for Spear's by David Harrison
This was first published in issue 67 of Spear's magazine, available on newstands now. Click here to subscribe