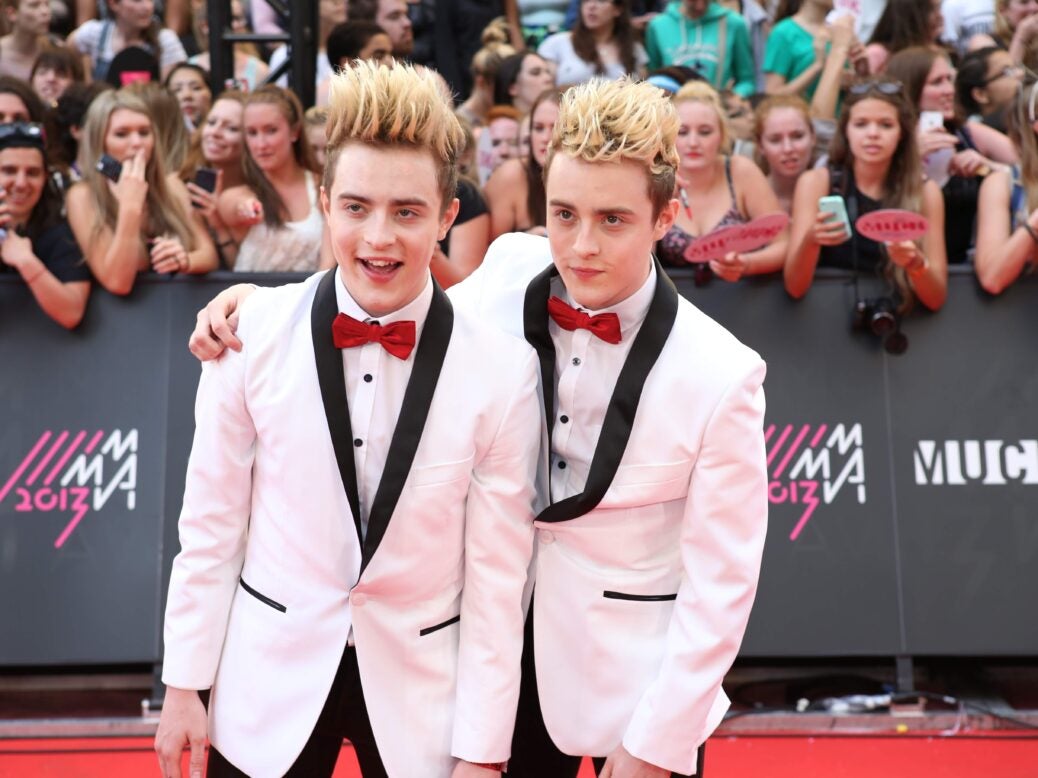 Irish singing and television presenting duo, Jedward have an estimated net worth of £6.5 million.
Identical twins, John and Edward Grimes, known professionally as Jedward, were born on October 16, 1991 in Dublin.
Their first claim to fame was when they appeared in the sixth series of The X Factor in 2009. They finished in sixth place were managed by Louis Walsh, who was their mentor during The X Factor.
Jedward have released three albums: Planet Jedward, Victory, and Young Love. The first two went double platinum in Ireland. They have released nine singles, including "Under Pressure (Ice Ice Baby)", a mash-up of "Under Pressure" by Queen/David Bowie and Vanilla Ice's "Ice Ice Baby"; "Lipstick", with which they represented Ireland at the Eurovision Song Contest 2011; and "Waterline", with which they represented Ireland at the Eurovision Song Contest 2012.
Jedward have also appeared on TV, including presenting children's series Jedward's Big Adventure and OMG! Jedward's Dream Factory, and for participating in Celebrity Big Brother 8.
The pair have been ranked as the fifth most financially successful former X Factor UK contestants in the Rich List compiled by Now magazine.
Jedward have been involved with many advertising campaigns in the UK and Ireland. In 2009, agreed to be the subject of a Tourism Ireland radio campaign. In 2010, Jedward fronted an advertising campaign for Irish fast food chain Abrakebabra. Jedward have additionally fronted advertising campaigns for East Midlands Trains, Rowntree's Randoms, Disney Universe and a Travel Supermarket commercial with comedian Omid Djalili. The latter was later banned after the UK Advertising Standards Authority ruled that the advert was misleading. In 2011, they fronted an advertising campaign for mobile network 3 Ireland, including their own Jedward-branded mobile phone.
Since 2010, Jedward have performed in an annual pantomime over the Christmas and New Year period. Based at the Olympia Theatre in Dublin, the pantomimes also star Linda Martin. John and Edward play themselves and the shows feature Jedward songs. The twins' first show was Cinderella in 2010, where they played the fairy godbrothers. They returned in 2011 with a sell-out season of Jedward and the Beanstalk, and again in 2012 with Jedward and the Magic Lamp.In 2013 their fourth pantomime was Jedward in Beauty and the Beast.
Jedward have also been signed to Next Models and appeared in fashion magazines such as i-D, Esquire and Grazia.
Jedward entered the Celebrity Big Brother house for the second time in January 2017.