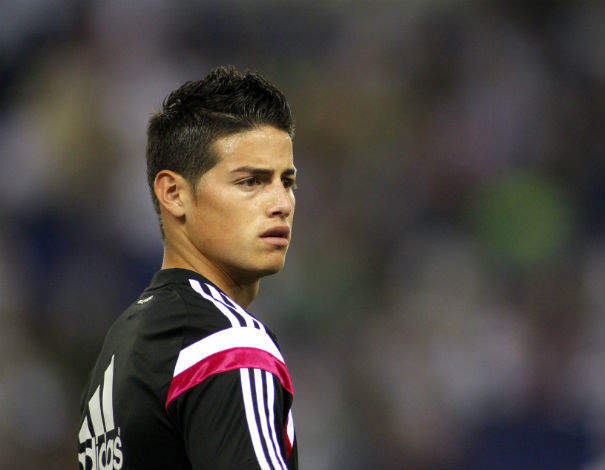 James Rodriguez has an estimated net worth of £20 million.
James Rodríguez began his football career with Colombia's second division Envigado FC in 2006, and went on to Argentine Club Atlético Banfield in 2008, where he helped them gain a historical first Argentine Championship.
How did he make his millions?

FC Porto signed up Rodríguez in July 2010 for a 4-year, €5.1 million contract. At 20, Rodríguez won the LPFP Award of 2011-12 Primeira Liga season, the first ever Colombian to do so. He also won the 2012 Portuguese League Golden Ball, making him the youngest player ever to receive this accolade.
The young footballer also played three U-20 youth tournaments for Colombia during 2011: the Toulon Tournament (which Colombia won), the South American U-20 Championship and the U-20 World Cup.
Rodríguez signed another five-year contract in June 2013, with the release clause rising from €30 million to €45 million. A brilliant attacking midfielder and winger, and instrumental in Porto's Europa League victory, he had collected eight trophies by the age of 21.
In 2013, Rodríguez transferred to France's AS Monaco for €45 million on a 5-year deal; one of the most expensive deals in the history of Ligue 1 and second most expensive in the Portuguese league.
Rodríguez boosted Monaco to second spot in the French League and also guided them to the UEFA Champions League.
Spain's Real Madrid bought Rodríguez for approximately €80 million on a 6-year contract in July 2014 (inviting him to sport the famous number 10 jersey), making him the third most expensive player in the club's history and the most expensive Colombian footballer. Rodríguez' $108 million transfer makes him the fifth most expensive player in football history.
A record 345,000 replica jerseys bearing his name were sold 48 hours after the news of his move; more than that of any other player in the annals of transfer history.
September 2011 saw Rodríguez get into the Colombian senior side, after which he played a crucial role in getting Colombia a 2014 World Cup berth after a gap of 16 years. He was Man of the Match in the first and second games, beating Greece and the Ivory Coast in the first round. Scoring three goals in three games (a record that equalled Ronaldo and Rivaldo's 2002 World Cup exploits), FIFA ranked him Best Performing Player before the round of 16 had even taken place.
In the next round, he netted both goals against Uruguay to lead Colombia to its first World Cup quarter final clash. His opening volley against Uruguay was voted by over four million as the best goal of the tournament on FIFA's website as well as nominated for FIFA's Puskás Award for best goal of the year.
The young player's sixth World Cup goal was his last in Colombia's 2-1 defeat against Brazil. His campaign came to a halt with a tally of six goals and two assists from just five matches. Awarded The Golden Boot, he was also included in the World Cup All Star XI.