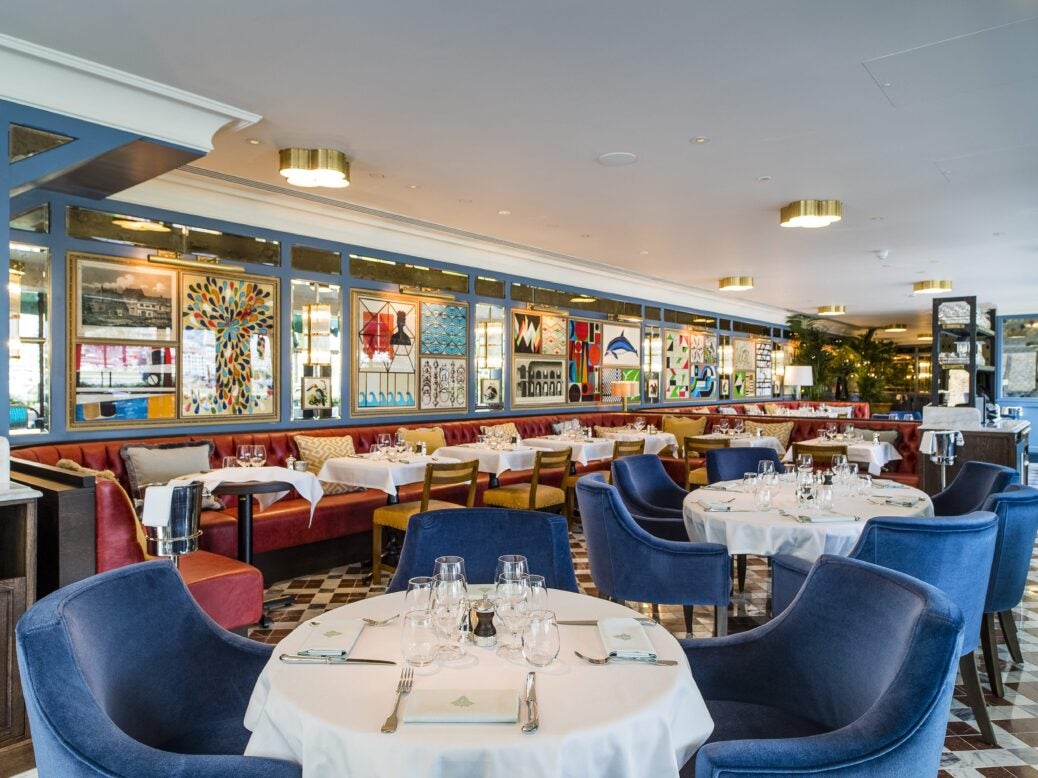 Christopher Jackson heads to the Ivy for the umpteenth time but is captivated by its charms all over again
To the tube-goer, the Ivy at Tower Bridge is arguably ill-named as it suggests that Tower Hill is the nearest tube. It isn't, or at least, it didn't feel that way on an evening of icy sleet when I went to review it. Then, crossing the Thames, knifed at by Siberian winds, I felt like Captain Oates.
But once you're inside, London Bridge isn't in the diner's immediate eyeline as Tower Bridge is. The cityscape beyond is beautiful at night in a way that it isn't when everyone's scurrying about trying to earn a living.
And beyond, the Gherkin, the Walkie Talkie and various other daylight eyesores look wonderful when all one can see is the electricity it takes to light them up. In daytime it looks like it's been designed by a lunatic; at night, it's a constellation in its own right.
Definitely not a lunatic is Richard Caring, who is expanding the Ivy at the rate of a Twitterstorm. My friend arrived a little late, by which time I'd consumed a ruminative glass of house champagne, thinking of Caring's expansive cunning.
My companion ordered a cocktail and, as a father-of-two, devoured it with the relish of a parent released from captivity. We then proceeded to analyse the place, but really there is a sense in which the Ivy requires no analysis.
We all know what it is: snazzy décor, a sense of fun, good food – an excellent but not entirely extravagant night out.
It's the simplification of fine dining into its essence, and can seemingly be replicated endlessly, without customers feeling they've lost out by not eating out somewhere more individual.
Although my fame as a restaurant reviewer is now more or less assured there will be some who view my entire career as a series of unimaginative decisions to order the scallops.
Not wanting to disappoint, I did exactly that on this occasion. These came with chorizo and were excellent; my companion opted with a raised eyebrow – like someone about to Royal flush at poker – for the marinated yellow tuna with citrus ponza dressing and wasabi mayonnaise with chilli and coriander.
We had quite a few drinks after that, during which we decided to start up a business together that would probably make us billionaires. Emboldened, I had no fear of the £29.50 fillet steak, which was certainly succulent as per the description on the menu, although I will take it on trust that it was a prime centre cut and grass-fed.
My friend meanwhile had the Chicken Milanese, which came liberally doused in gravy and comforting mash, with a swirl of spinach on top. At this point, the waiter came over with a gigantic bottle of Vivanco Reserva which we consumed in record time. At a certain time, we began raising our voices without knowing it and began saying obvious things with an air of brilliant revelation.
We were having fun, in other words – and entering into the spirit of the Ivy. I tend to finish at the Ivy with the chocolate bomb, to which I have a sort of King-and-country allegiance.
Of course, there were subsequent episodes which may have had to do with whisky sours. Our genius became more incoherent; our voices began to splinter somewhat as if heard backwards on a tape loop. Then the lights went up, and we bleated the scale of our triumph: we were the last to leave the Ivy. But the last laugh was on us – we headed back out into the cold.
Christopher Jackson is deputy editor of Spear's