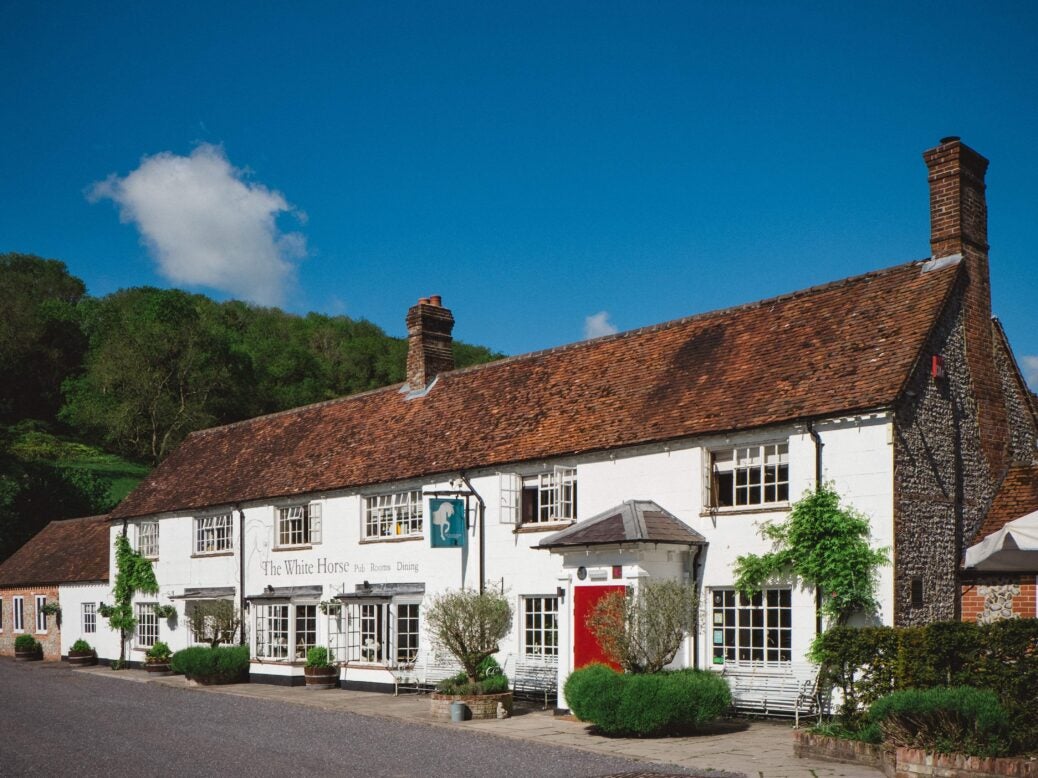 At a time when the English village boozer is said to be in crisis, William Cash meets the pub entrepreneurs who are leading the Golden Renaissance of the boutique pub
The chance for singer-songwriter James Blount – to use his real name – to buy the Fox & Pheasant pub, in a posh gated mews off the Fulham Road in London, came by accident. For some years, the charmingly old-fashioned but rather tatty pub at the end of the street in which he and his wife Sofia lived had been getting scruffier and more unloved with every passing Chelsea football season. Indeed, the 'neglect' – the polite word James uses – had almost reached the point at which regular Chelsea supporters were giving the pub a miss, even after a home win. That was when James and Sofia started thinking: 'I wonder if it will ever come on the market?' 'Then, one night out, we bumped into an estate agent who said he was selling it on behalf of Greene King and that developers were putting in offers,' says Blount. 'For the 170-year-old pub to be turned into flats would have been a terrible loss, and so we thought we'd put our money where our mouths were.'
After a meticulously chic and loving restoration, ('It feels like we spent a year just sanding and cleaning,' says Blount), including fitting a motorised removable glass conservatory garden roof, he was pulling his first pints in the pub in July. The word has quickly spread among locals: the F&P is back, and it's a Chelsea winner, largely thanks to a chic but hugely expensive makeover – turning it back into a classic English pub rather than trying to make it another trendy 'tapas 'n' sawdust' local.
Judging from the quality of the 18th-century fishing print wallpaper in the new first-floor private room – which can sit 24 – we can safely guess it wasn't decorated from Lots Road auction house. No expense has been spared, from the leather-studded dining chairs to the cellar stocked with Cuvée Sir Winston Churchill (Pol Roger), green leather banquettes that look as if they have been rescued from a battalion of vintage Bentleys, and more brass fittings than a pre-war luxury liner. The food is also exceptional, with a waiting list for its Sunday lunches, which 'roast and roll' all day. At a time when the British pub is in a state of existential crisis, is buying a pub a sensible entrepreneurial move? Blount and Sofia aren't alone in becoming local white knights of the English pub, saving iconic pubs from developers. Model Jodie Kidd has bought the Half Moon in Kirdford, West Sussex, and my old pal Piers Morgan had a go at being a celebrity pub owner when he bought the Hansom Cab in Earls Court with his brother Rupert, who used to be general manager at the Punchbowl in Mayfair.
But the ever optimistic Piers sold out after a few years to restaurant professional Gareth Lloyd-Jones, who sold the pub on again last year to the London-based Pubs of Distinction group.
The truth is that you can buy the local village pub for the sake of the local community, or as a trophy asset to entertain your friends for shooting lunches, but the chances of making a 'hobby' pub successful are fairly small. Yet, paradoxically, there has never been a better moment to strike out as a pub entrepreneur, as seen by the success of several pioneering and buccaneer boutique pub groups, whose pack leader is Cirrus Inns. The group – which markets itself as the Epicurean Collection – has five London pubs and 20 picturesque boutique country pubs (mostly iconic free houses) across the South of England, including the White Horse in Chilgrove near Goodwood, which won National Pub of the Year in May.
Nobody understands how much pubs are part of the English soul more than the King Arthur of the British pub fight- back against EU regulations, crazy rates and lazy government thinking than Alexander ('Langy') Langlands Pearse, CEO of the Cirrus Inn group. Ever since an injury in his late teens forced him out of the army and into his first job at the Davy's chain of wine bars in London, Langy has lived and breathed a love of pubs and bars. He went on to work with Youngs and then found himself buying the Goat in Boots pub on the Fulham Road after teaming up with some entrepreneurial pals – one was in 'finance', the other in 'PR', He was just 24 and it was 1994. Soon followed the purchase of the Groucho Club, Vingt-Quatre on the Fulham Road, the Admiral Codrington and the Salisbury.
The cornerstone investors in Cirrus Inns cornerstone' investors are Michel and Charlene de Carvalho-Heineken, having previously bought a Hampshire local in the Candover Valley, the Woolpack Inn. With the help of Langy, the Grade I flint and brick pub is now the epitome of the fireside perfect country pub. A pump is reserved for guest ales and the wine list is supplied by Berry Bros & Rudd and Corney & Barrow; for the Hampshire heli-hedgie who wants to impress his friends at a shoot lunch there is a 'global list' of 'fine wines'. There can't be many pubs whose brochure fine print states: 'Helicopter landing site available.'
The flagstone pub has been specifically designed to cater for shooting parties (eight bedrooms for eight guns) and other 'experiences', such as fishing in the summer. This move towards pubs catering for well-heeled shooting parties is also a trend of England's pub renaissance.
'What we try and do is about value for money' says Langy as we have lunch at the Punchbowl in Mayfair, one of his five 'premium' London pubs. 'The shooting fraternity are a wealthy lot. It's an expensive hobby. But the successful people are wealthy for a reason, and what they don't want to be is ripped off. People make the mistake of trying to charge too much for a nice bottle of rosé or claret, or a room, because they think they can get away with it.' Langy thinks the days of 'branded' pubs are over. The key is to buy freehold properties with the right capacity and location (old coaching inns on highways are always good), and incentivise landlords and chef patrons (typically, Langy will set a target and the landlord will get 50 per cent of anything beyond that). 'We'll give you bespoke' is his mantra, which fits with the HNW Spear's reader mindset. 'That's what our Epicurean Club members like, so if they want to bring a case of wine, you let them bring a case of grand cru wine.' It's such touches that make Langy one of the legends of the British pub industry – and Cirrus a winner of Pub Group of the Year – at a time when there is so much gloom.
But for HNWs who want to take a punt at owning a pub, his strongest advice is to invest in an experienced pub landlord and don't think the menu and wine list should reflect their own tastes. 'People don't have the same taste buds,' he says. 'And don't think a pub can survive with a few of their friends dropping by. Keep it traditional – and get nice people working for you to create a special vibe, and you have to understand how to make money behind the scenes.'
A number of shooting-mad customers stay at his pubs – such as the Museum Inn at Farnham in Dorset, the two-AA- rosette King John at Tollard Royal in Wiltshire, and the White Horse in Chilgrove – 'four or five' times a year, with the overnight bill running into the thousands. Langy estimates that around 7 per cent of the turnover of his collection now comes through shooting guests.
Punter expectations have certainly risen in recent years. If you are at the Woolpack Inn, for example, with a sore head after a day's shooting and festive dinner, you may be in need of a pick-me-up that goes beyond the assistance of Alka Seltzer. Why not have a more fiery Sunday morning stiffener with the house Bloody Mary, which includes 'infused vodkas' (garlic, basil and chilli), a special scotch and a red- hot spicy Mary mix. As you clutch the bar gasping for a glass of water to cool the throat, you can enjoy honey and mustard chipolatas, grilled chorizo and crispy squid. When it comes to bar snacks at the Epicurean pubs, the days of pork scratchings are long gone.
Still, if you look at the statistics, it's a brave move for an HNW to open their own pub. The irony is that it is precisely because the English pub has been in decline for years that paradoxically there has never been a better time to open the right sort of pubs – like the Fox & Pheasant.
With the number of pubs going out of business running at 18 a week, according to the Campaign for Real Ale, the cost of actually buying pubs for the brave and entrepreneurial – with or without freehold – has never been more mouth-wateringly cheap. There's a chilling comparison that can be made to the postwar years, when thousands of Britain's finest country houses were abandoned or demolished, with two a week being destroyed in the 1950s. The same cultural heritage vandalism is going on today across the country with many jewel-like country pubs – once the very hubs of local communities.
The good news is the crisis in the English pub today – brought on by rocketing business rates, cheap supermarket booze, a 20 per cent VAT rate that can't compete with 5 per cent across Europe, and more people drinking at home – has created an opportunity for some brave and bold entrepreneurs to bring about nothing less than a Golden Renaissance of the English pub, especially in historic market towns, old coaching house inns on the 'road to London', and villages where the traditional pub still stands as a symbol of English freedom and the pastoral dream of village life.
At a time when all we ever read about is that the English pub is 'doomed', what is the magic success formula? Langy puts it down to having the right manager, team and location, and he admits he has a soft spot for working with a 'landlord chef ', what the French call un chef patron.
If you can get it right, you can become a 'hero' of the local community. One of my favourite examples of a pub transforming the local area is the success of the Brisley Bell in North Norfolk, winner of Best Norfolk Pub last year.
After buying the run-down pub a few years ago for around £200,000, Amelia Nicholson and Marcus Seaman have set an entirely new local standard for the boutique country pub and now hotel. As a result it's full every weekend and there's a waiting list most Friday and Saturday nights. They hired the Michelin-trained chef Hervé Stouvenel, who tweaks English favourites with French and Caribbean techniques. 'I put a business plan together,' says Marcus. 'I looked at potential competitors, and I thought we were far enough away to actually make a difference.
'As long as you get the location right, I think there's a huge opportunity out there for the right-minded individual to have a very rewarding experience. And right now they're going cheap, cheap, cheap.' Another tip that Marcus offers potential HNW pub owners is not to market their new pub as a 'gastropub'. It makes people think they are going to be paying London prices. 'We try to keep our prices so that we are just a proper pub. I think a really nice pub, with good, honest food and a nice pint, nicely decorated, works for me, but a gastropub doesn't work for me. But that's just me.'
William Cash is founder and editor-at-large of Spear's