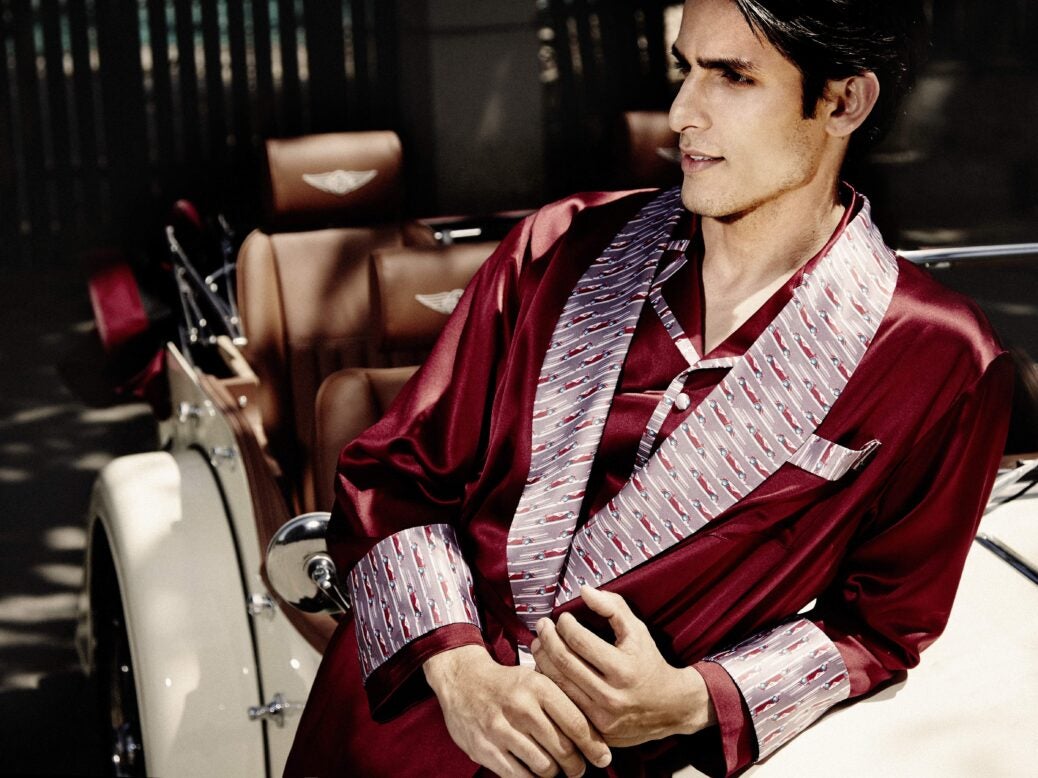 As far as textile designs in China are concerned, the future's Fulbright, writes Christopher Silvester.
Although it was far from being part of a grand plan, launching her business from China has proved a godsend for the British textile designer Rose Fulbright. While she has been able to tap into the creativity she has found in Beijing, her fledgling brand is resolutely British — it is called Rose Fulbright Britain — and it resonates with a yearning for traditional British brands among Chinese urban sophisticates. She has also collaborated with Morgan Cars China, licensee of the established British car brand, to create the Morgan Menswear Collection, which features Fulbright's hand-painted image of the Morgan Plus 4 model on printed silk satin pyjamas as well as a jewel-toned silk dressing gown.
'The affluent Chinese are really keen on the idea of the aristocratic lifestyle,' says Fulbright. 'They like royal warrant items and that sense of the old-time luxury. They're very into Downton Abbey. So it's really an interesting place to be, and very fortuitous for me, really, with my style, the things that I like, and the fact that they correspond with what people are interested in.'
Fulbright's great-grandfather was Sir Clough Williams-Ellis, the visionary architect behind Portmeirion village in Wales. Her grandmother Susan Williams-Ellis (Sir Clough's daughter) started Portmeirion Pottery, having studied at Chelsea Polytechnic with Henry Moore and Graham Sutherland. Her paternal grandfather was also an architect, while her father, who is American, is an anthropologist. 'We always had a huge number of tribal artefacts that he brought back from the South Pacific in our house,' she recalls.
She was born and grew up in Stoke-on-Trent, where her mother was a designer for Portmeirion Pottery. Schooled locally (a prep, a grammar, and finally another private school), she enjoyed roaming the nearby countryside, but it was art that consumed her. 'My mum took me to life drawing when I was about eleven and we kept going throughout my early life. At the age of ten or eleven I knew I wanted to have my own fashion brand. I was reading Vogue every week, you know, with my mum, and we'd sort of go through it and critique everything, and it was a really useful education in how to look at things. Learning to think about what you like and why is very important. So it was something I knew I wanted to do.
'I took art GCSE and then textiles A-level, and went on to study in Paris for two years at the Parsons School of Design. The course was couture fashion, so it was all about technique and skills and pattern-cutting and sort of how to put toiles together in a couture way — a lot about the drape of the garment and how it works on the body. And then I came to London and studied costume design at the London College of Fashion.'
Fulbright graduated with a first in 2012 and freelanced for a while as a costume designer on commercials and theatre projects before planning her own brand. The lingerie industry took her fancy and she felt there was a gap for the style she wanted to create, which is about everyday-wear: 'It was luxurious, but it wasn't really, really sexy or really, really feminine and girly, with bows all over it — it was something very cool and chic and sophisticated.'
She did some research at the V&A and the Bath Museum of Costume, looking at their 1920s and 1930s lingerie collections, 'because that's sort of when lingerie started being made for the wider public, when the bra was first coming in, and then separate knickers. They had a lot of really interesting ideas about how you could make lingerie, which are now not done so much.' Fulbright's lingerie collection took the elegance from a bygone era, but brought it up to date, with structural seams, and made it a bit more sexy, though not too much.
While doing photo shoots for the lingerie collection she was borrowing her mother's vintage kimonos and it occurred to her that she should make some garments that can be worn over lingerie. 'And then I sort of rediscovered my love for making quite big shapes, which lent itself very well to kimonos and loose pyjamas. And with textile designs you can then do it on a larger surface area. You can make it bigger and more exciting than just small pieces of underwear. I've always loved the 1920s and the 1930s, and that was a time when they were really inspired by the Orient.'
Fulbright moved to China in August 2014 because of her husband's job. He is British, although he grew up in Hong Kong ('Our mums went to Dartington together in the 1960s'), and he helps Chinese companies to understand European practice when they are merging with or buying European companies. Six months later, she started her business in Beijing. 'It's been really amazing for the business. People over there are so open to new things. They really like the fact that I'm painting my prints, I'm making the patterns for my clothes, and that I'm creative director for the whole brand. And the photo shoots, everything, is like my vision of the atmosphere I want to create. It's been incredibly positive.'
Fulbright has no investment partners. 'My grandparents left all of us shares in Portmeirion Pottery, and so I have a few dividends each year that come to me and I use it solely for that.'
She works with silk and silk cotton and uses seamstresses in the UK for her main collection, while some of the Morgan pieces are being made in Beijing 'by tailors that I personally use'. Her designs are printed in Suzhou, near Shanghai, the hub of China's silk production for the past few thousand years. 'That came about through searching on Alibaba [China's eBay]. And then this man got in touch.'
She decided to go and meet him, accompanied by a female interpreter, an acquaintance of her husband's, and the interpreter's parents. Tea at his workshop was followed by a convivial lunch, and they became friends. He is slightly younger than her and, like her, is just getting established in business. 'It was such a big deal that I came to see him, I think, and talk to him, spend time with him. So that was fortuitous. And he lets me do small quantities, because he believes in what I'm doing and that I'm going to give him good business in the future.'
Fulbright and her husband have been takinglessons in Mandarin. 'We can direct taxi drivers,buy things in the markets, and I can talk to people about my brand — which I did, actually, in Lyon at a recent trade show. There were a fair few Chinese people there and I was able to talk to them about the whole concept, using the right vocabulary, which is really fantastic.
Which brings us to her morgan Menswear Collection. 'Morgan Cars China, which has the licence to sell Morgans in China, is run by a very successful businessman called Jim James, who's English, and his Shanghainese wife, Erica,' Fulbright explains. 'She studied textile design, but never was able to do it, so she was really keen on our creating this collection together. We are now talking to Morgan about licensing the collection out to all the Morgan dealers.
'It's a joint-venture project and we've got plans for future products — childrenswear and womenswear and interiors. I've done a fair few other designs — print designs — for them. They have a team over there in China and they have shops in Beijing, Shanghai, and Guangzhou. They do the Great British Motorsport Festival in Beijing, and that's one of the major places that we're going to launch it.'
Having spent the past two years doing very in-depth market research with private clients in China — selling privately to international Chinese ladies through word of mouth — Fulbright is now moving from solely private sales through websites to more official stockists. 'I've employed somebody to do marketing and sales, and we'll try to get a foothold for Rose Fulbright Britain there. Not only in garments, loungewear, womenswear, but also menswear, and then lifestyle items, accessories that go with it, such as slipper sets, washbags. Because my prints, I think, lend themselves very well to all manner of accessories.
'And then at the same time as doing that, I'll be working on spreading the brand throughout Europe, through luxury hotels and high-end department stores, just building my following, and continuing to do two collections a year. And then maybe introduce menswear collections every so often — not so often — with maybe three new prints for each collection. So there'll be a lot of textile design going on.
'I've done a bespoke collection for the Burj Al Arab Hotel in Dubai, and a lot of hotels came to me at the Lyon trade show wanting bespoke collections for their hotels. You know, hotels in Mozambique and the Maldives. So that's something I'm keen to continue doing, pairing with other brands I respect and working with them.'
Fulbright prefers Beijing to Shanghai, because although Shanghai is a more stylish and fashion-conscious city, with more major fashion meets, more fashion trade shows, and a greater foreign-brand presence, Beijing is a more artistic city, partly because the government is there, which is a source of patronage, and because it's where groups and communes of artists live and work. The only downside to living in Beijing, she has found, is the pollution. 'Other than that, it's extremely vibrant. In the group of people that we know there, there's a lot of entrepreneurs and people doing really interesting things. And it's just an exciting place to be, really.'
The Morgan Menswear Collection was launched in China, where most Morgan customers are men and where there are so few who drive gearstick cars that Morgan Cars China has introduced an automatic Morgan. 'We're taking it slowly,' says Fulbright. 'We wanted to start small and keep growing it. We really like the idea of the boys-to-men gifts area, and it's a very British idea as well, I think. You know… little cars. They do a children's three-wheeler Morgan car. There's a lot of very loved children in China and I think that's a good market as well.'
Although she's talking to manufacturers in Portugal and Romania about future production on a larger scale, she remains committed to British manufacturing. 'I think it is very important, actually, to keep a link in the UK,' she insists. 'It's something that means a lot to me. Promoting British design and craftspeople was something that both my grandmother and my great-grandfather were keen on. And now we're not in Europe any more, maybe it will be a good thing for British manufacturing.'