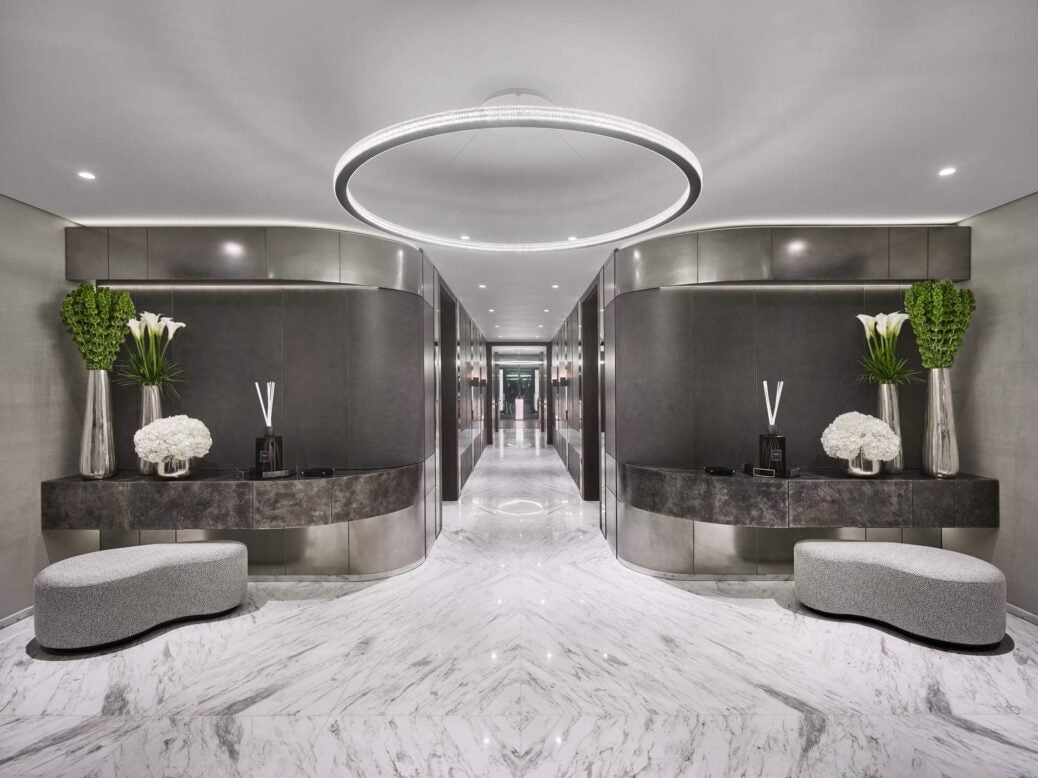 Sophie Killip sits down with Charu Gandhi, the founder of luxury interior design studio Elicyon, to discuss working with UHNW individuals, styles and trends, and creating beautiful homes
Luxury design studio, Elicyon, is a gem in the heart of Chelsea. Its founder, Charu Gandhi, has worked in architecture and interior design for over a decade; so knows a thing or two about design. Elicyon's completed specialist projects include apartments in One Hyde Park, townhouses in Belgravia, developments in New York and even villas in the Middle East. They are no stranger to desirable locations – with clients to match, including bigwig TV producer, Simon Cowell.
Elicyon might be a young design studio, but by creating exclusive, unique environments, the team have created a name for themselves among elite clientele – including UHNWs, property developers and property funds. We sat down with Gandhi to find out more about Elicyon, working with private clients, and to get her expert tips on creating luxurious interiors.
Prior to setting up Elicyon, Gandhi worked at bespoke design studio Candy and Candy, and award winning design house, Morpheus; but her love of design goes even further back than this decorated career. 'Before Candy & Candy,' she begins, 'I worked at an architectural practice called Allies & Morrison – I'm an architect by training'.
'I think in all of these places, I've learnt so much about a combination of creativity and rigor. Bob Allies [founding partner of Allies & Morrison] is just the most amazing designer, from an architectural, spatial perspective. At Candy & Candy I learnt so much about bespoke pieces; about the whole world of craft that exists in the UK, Europe and internationally. At Morpheus, I learnt about running a team and a studio, and about how to create an amazing team. As a design studio, you're only as good as the team around you.'
There are thirteen members of the Elicyon team, including two other directors that work alongside Gandhi: Cecilia Halling and David Harris. 'The three of us collectively run the studio,' Gandhi explains, 'but that doesn't give due credit to the rest of the team. We have a very talented group of designers and architects who all bring a huge amount of talent to the work that we do.'
One of Elicyon's most recently completed projects was a four bedroom apartment in One Hyde Park, which had a heavy focus on the client's love of art and need for symmetry throughout the space. Mentioned as early as the first brief, the art collection was used to create colour throughout the apartment. Each piece was specially curated by Elicyon – and the apartment now boasts artwork by Antony Gormley, Lichtenstein, Warhol and Hirst, to name a few.
Surprisingly, the turnaround for the apartment was only just over a year. 'We were employed in June 2016, and we started on site in January 2017, and finished October 2017,' Gandhi says, but reveals that this is quite a normal time frame. 'We find that from start to end, our average project time is about a year to eighteen months. We have done quite a few projects within twelve to fourteen weeks, if it's for a developer and a quick show unit. Our largest project – a 23,000 square foot home in Surrey – was two and a half years.'
'Sometimes we commence projects before we visit them,' continues Gandhi. 'We try and avoid that, but some of our international projects [may be] under construction [when we start] so there's nothing to visit. The digital side of things is a huge support. We model things in 3D – you can even set things up to be in the right latitude and longitude and in the right location. You can actually get a very accurate picture.'
Another element of the One Hyde Park apartment that Elicyon squeezed into their time frame was turning a dining space into a new media room for the private client. The media room has now become one of the most used rooms in the property – is this something Gandhi has noticed is becoming more common with UHNW clients? 'Quite often, yes,' she agrees. 'We have clients saying that they have iPads and specific things that they want to watch – modern life is a lot about looking at the screen.'
'I think creating a cinema room or place where people can watch things together is a way for people to share that experience. More and more with our clients, there is the opportunity to split the watching of TV away from the living space,' says Gandhi. 'I think that's very intentional. When you're in your reception room or living room, it's more about being together without staring at a screen. Instead, you have a dedicated space for it.'
Working with such a range of individuals, it seems Gandhi has found there are other similarities within her elite clientele. 'A lot of our clients have things that they collect,' she discloses. 'A lot of our clients collect pieces that make reference to their legacy – where they're from. They collect jewellery or art, or objects from the country they're from. They really want to showcase [their heritage]'.
Asking for an example of the most outlandish collections Elicyon has come across, Gandhi laughs. 'We visited a client whose daughter collected Barbie dolls; they had a whole room that had been converted into a display for these Barbie dolls. We also designed storage for a client who collected sunglasses – they wanted us to create a bespoke storage unit where they could see all their sunglasses.'
Though it might sound like her clients' quirks could get in the way of a design vision, Gandhi is clear that for her award-winning design studio, it's quite the opposite. 'My ethos is that the space is for them – it's not for me. Fundamentally, the space should celebrate the particularity of who my client is,' she says. 'It thrills me when a person has a strange collection. I think the key to being a good designer is to be really, really interested in human beings – which I am. I'm just fascinated, and I learn so much from our clients, mostly who are ultra-successful people within their own field. I'm hungry to know how they live their lives.'
So what other insights has Gandhi gained, working with such an interesting range of clients? 'I find a lot of awareness in our clients… a sense of knowing who they are,' she muses. 'I think private clients know how they use their homes. They have very specific inputs to give us on who they are and how they occupy their home. People [also] travel so much – there's nothing like travelling for you to understand who you are, when you have to filter your life into a suitcase. Clients have a lot to say about how they travel, how they like to use their homes, how they like their wardrobes arranged, what makes them feel instantly at home or relaxed.'
'It's all about creating a home that really celebrates who they are. I think that's ultimate luxury – I always think with an UHNW, if you're hiring a design team: what do we all really want? We are all special; what is so amazing about having a couture home made, is when someone takes the time to understand that detail of how to fit a house around you. We'd all like that, I think.'
The conversation turns next to Gandhi's design techniques, and the journey she takes with her clients from brief to finished project. The first stages of the collaboration are not what one would expect. 'I tell the clients, I want to take you on this incredible, joyful journey, to create something special for you,' Gandhi says, 'but I try in those early days to build in an awareness of: Don't panic if it's not right. Our approach is to take risks, to ask questions, push the boundaries, and that means sometimes it won't be right. We'll get it wrong.'
She likens it to getting a couture dress made, and how one would expect to go back for several trials before the finished piece. 'The reason you go for trails is because sometimes the hem is too long or it's too tight around the bodice… [it's important] to not be frightened by it. You need to make the mistakes to learn – and equally, to not worry too much about telling us if it's not right. I need to know as much what someone doesn't like, as what they do like.'
This brings us on to the question of what advice Gandhi has for UNHWs who are thinking about the designs of their own interiors. 'It sounds very simplistic,' she says, 'but there's a lot to be said for marking out the space for something on floor with something as simple as masking tape. If you want to do something adventurous within an existing home, I would get a few samples of materials and look at them in the space. I think there's great merit in looking at something when it's juxtaposed against what you have.'
A lot of the Elicyon projects, Gandhi admits, use the masking-tape technique. 'We mark out the furniture on the floor with masking tape,' she explains, 'and we use cardboard boxes for volume. There's nothing like seeing something in its location. It's interesting because we do 3D modelling, we do visualisation, we draw things in technical packs and elevations, but I'd be lying if I said we'd never made a change after drawing something up.'
Gandhi also has some advice for those who aren't sure whether to pick pieces that are on-trend, or to go for more timeless interiors. When asked the question of which is better, she simply shrugs. 'I think if you like something enough, it doesn't matter. I've had people say, "I like this, but I don't know if I like it because it's really trendy right now" and my answer is, if you really like it, you just like it. Sometimes a trend can help you uncover something you hadn't seen before.'
As our interview comes to an end, Gandhi brings out a letter to read. It's from a client, and she thinks it sums up exactly what Elicyon are trying to achieve. 'It's pure genius how you've interpreted what was often very vague feedback and ideas,' she reads, 'into something so perfectly aligned with what we wanted. Magical – because we didn't really know what we wanted.'
What is Gandhi's reaction to this compliment? 'I think it's amazing,' she says with a smile. 'It's amazing for me, but I also feel such an amazing sense of gratitude and happiness for the team. To pass that message on to the team is the highlight of my day. It's the sort of thing we live for – for someone to say, you guys got it right.'
Sophie Killip is the Editor of DesignCurial and regular contributor to Spear's