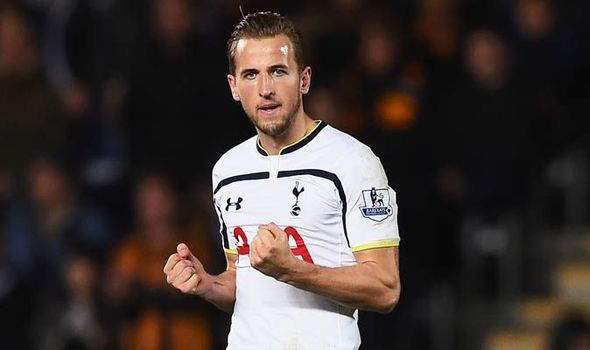 Scoring sensation and only forward for Tottenham Hotspur, Harry Kane earns a reported salary of around £2 million per annum. (metro.co.uk, The Telegraph & Daily Mail)
Born to Kim and Patrick Kane on July 28, 1993 in Walthamstow, London and raised in Chingford, Harry Edward Kane began playing football for local club Ridgeway Rovers before entering Arsenal's youth academy at the age of eight. After one season there and two seasons at Watford academy, Kane enlisted at Tottenham Hotspur, playing in Mexico's Copa Chivas tournament and Switzerland's Bellinzona tournament for Spurs' under-16 team in 2008-09. In 2009-10, Kane scored 18 goals for Spur's under-18 in 22 games.
Kane represented England's under-17 at the Algarve Tournament, Portugal, but missed out England's triumph at the 2010 UEFA European Under-17 Championship due to sickness. He then played for England's under-19s, ensuring a semi-final berth at the UEFA European Championship 2012 in Estonia.
Tottenham began lending Kane every which way, first to Leyton Orient in 2010-11, Millwall in January 2012 (where his goal-scoring abilities made him Millwall's Young Player of the Season 2011-12), Norwich in August 2012 and Leicester in February 2013. But in 2011, Kane played six matches for Tottenham in the Europa League, later notching a hat-trick for them in a 2012-13 pre-League season victory over Southend United.
Following June, Kane represented England in the 2013 FIFA U-20 World Cup and also scored 13 goals in 12 matches for them during the qualifying rounds of the 2015 UEFA European Under-21 Championship.
From 2013-14 onwards, Kane was asked to resume full duties at Spurs. The following season, he chalked up another hat-trick in the Europa League against Asteras Tripoli and a bracer against League leaders Chelsea in the Premier League. By this time, Kane was earning £20,000/week. (The Telegraph & metro.co.uk)
In January and February 2015, Kane was named Premier League Player of the Month; only the fourth footballer to win the accolade.
February 2015 saw him ink a five-and-a-half year deal with Spurs, the second inside a year, which doubled his wages to about £40,000 a week. In March, Spurs reached the League Cup finals. Same month he netted his first Premier League hat-trick against Leicester.
Kane captained Spurs for the first time in April against Burnley and scored his 30th goal against Newcastle United—the first Spurs footballer since Gary Lineker (1992-93) to accomplish the feat. That month, he was awarded PFA Young Player of the Year and selected for PFA Team of the Year.
His goals helped Tottenham to fifth place in the League, ensuring qualification for the Europa League. Kane's 21 League goals equalled the club record held by Teddy Sheringham, Jürgen Klinsmann and Gareth Bale. (The Telegraph, metro.co.uk & Daily Mail)
Although eligible to represent the Republic of Ireland, Kane preferred to play for England and was soon selected for the UEFA Euro 2016 qualifiers, where his scoring skills helped England qualify emphatically by winning all ten matches.
A teetotaler, Kane abstains from nightclubs too. He lives with girlfriend Katie Goodland and loves time out with his two Labradors.