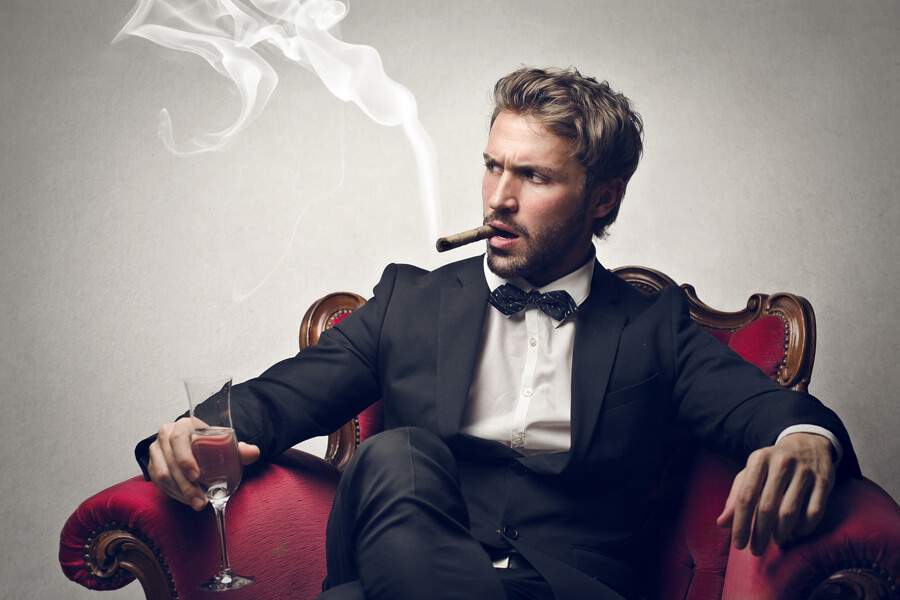 Bad behaviour is not just exclusive to nobility, the nouveau rich should claim their share of vulgarity too, says Sam Leith
'A gentleman,' so it is said, 'is never rude unintentionally.' Versions of this quote – usually attributed to Oscar Wilde, because as Churchill remarked, 'Every quote is attributed to Oscar Wilde eventually' – have been in circulation for at least a century. But, Wilde or not, the aphorist raised more questions than he answered. I mean, how often do they intend to be rude? Anyone who has ever met a member of the proper English aristocracy will know what I mean.
'Djer hunt? Djer shoot? Goff?' is a peremptory sally that some might recognise but not everyone would understand. If you replied, for instance, 'Gesundheit!', you'd instantly mark yourself down as a commoner – or, to put it precisely, somebody who didn't go to school. ('Were you at school?' is not an enquiry to answer with: 'Yes. I've got three A-levels.' If in doubt simply murmur wryly: 'The other place, I'm afraid.')
Those elaborate circumlocutions – 'Would you mind awfully?'; 'I'd be ever so grateful if…'; 'Do excuse me…' – that pass for manners in middle-class society are frightful vulgarities  in upper-crust society, where baths are hot and full of rusty water, towels are made of oatmeal, and bed sheets, like hostesses, are liberally garnished with ice. And let us not forget the (to common ears) extraordinary curtness of the traditional aristocratic exclamation when most people might say: 'I'm sorry' or 'I beg your pardon' or 'I didn't quite catch that'. All the manuals tell us that the correct thing to say is, starkly: 'What?' 
It bears remembering – just – that all these barks and shouts are essentially intended in good humour. 'Djer hunt?' is a way of making polite conversation and seeking out a shared interest. 'Were you at school?' is a way of trying to establish common ground, bless them, in the hope you can have a nice nostalgic chat about, say, Fives. And 'What?' is just the noise slightly deaf toffs make when their engines are idling – a blue-blooded version
of 'y'know' or 'innit'. As Wodehouse showed, it also does service as a greeting – 'What what!' – and general interjection: 'Cracking rack, what?'
But for some, rudeness is elevated to a positive art. I read with some relish, for instance, a brief memoir of the late Hong Kong businessman and socialite David Tang written by his commissioning editor at the FT. Their first conversation happened over the phone. She asked him if he'd like to write a piece on interior design. 'No,' he bellowed. 'Interior design is crap.' None daunted, she bellowed back: 'OK, so write that.' He did. That's the way to do it. Meet fire with fire. As long as you're all rude, nobody's offended – and you've established that you speak as equals. A bit like punching a shark on the nose. 
As a contributor, he continued to be rude. When guests – containing 'dukes, politicians and glitterati' – lingered past the allotted time at his book launch, he 'bellowed' (again): 'F*** off! The party's over.' 
I wonder, though, where that leaves non-aristocratic HNWs? (Tang was from old money, relatively speaking.) Weirdly, where the most impecunious blue-blood is positively expected to swear like a navy, treat servants like dogs and guests like servants, when a self-made person shows bad manners – Robert Maxwell, Harvey Weinstein, Richard Desmond, Philip Green and Donald Trump all being notorious examples – the vibe transmitted is not loveable eccentric but no-class boor. 
This, on the face of it, is positively batty. After all, those who get away with being rude, snobbish and entitled are the ones who owe their distinction to an accident of blood, whereas those who have to step carefully in order to avoid inflaming envy and resentment (or snobbery) should, you might think, have earned a measure of respect along with their self-made squillions. But it just doesn't work like that.
'Noblesse oblige' is the phrase used to capture the notion that the fortunate of birth owe duties of consideration to their inferiors and to society as a whole. But in practice the opposite seems to apply. Nobleness entitles one to any amount of bad behaviour – while the newly rich are expected to be humble about their status. Jolly unfair. 
Were I a newly minted UHNW, I would seek to redress the balance. I should join White's or Brooks's, sidle up to the first duke and bellow: 'Hullo Duke! Party's over. F*** off!' Not class war as it was envisioned by Marx and his successors, but progress all the same, I think.   
Sam Leith is the literary editor of The Spectator