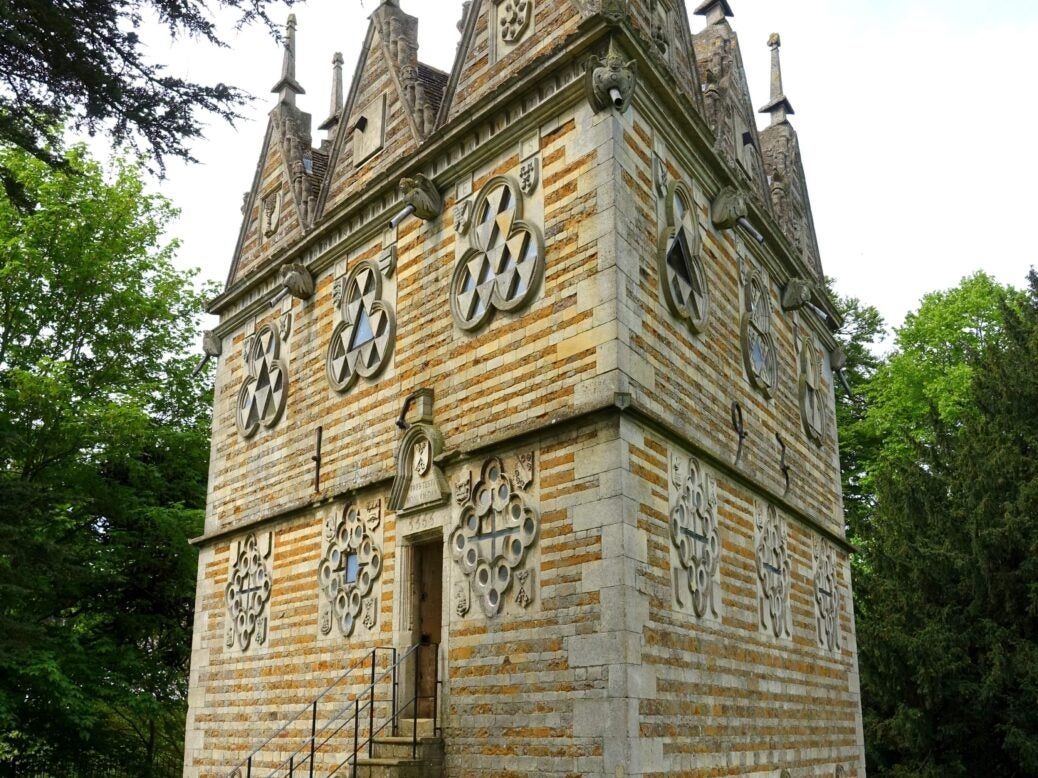 Follies are making an unlikely comeback in our gardens – and there's a story behind every one, writes Clive Aslet
In Worcestershire, 25,000 hand-made bricks have been delivered to Wolverton Hall, and its owner, Condé Nast chairman Nicholas Coleridge, has a project underway. I don't want to neglect Nicholas's wife Georgia, but this is his thing: an octagonal folly, designed by Quinlan Terry.
There will be Gothick windows, a cupola and, inside, a room where drinks can be served, books read or written Follies – small buildings that pack an architectural punch – are what Quin does best, and this one will be delicious. When it's published in Country Life, I fully expect there to be a rush of rich people wanting similar buildings.
What could be a more effective statement of personality? The word folly is, of course, somewhat misleading. You don't order 25,000 bricks and stone dressings – or go through planning – on a whim. These little buildings are intended to delight the eye and tweak the imagination; but they can be pretty serious for all that. In the 1590s, Sir Thomas Tresham built a triangular lodge at Rushton in Northamptonshire.
Father to one of the Gunpowder Plot conspirators, he had converted to Catholicism and wanted to demonstrate his faith in the Trinity. Hence the three-sidedness, which also chimed with the first syllable of the Tresham name. In the 18th century, the poet Alexander Pope called Stowe 'as near an approach to Elysium as English soil and climate will permit'. But the landscape that Lord Cobham created, after a bitter clash with the Prime Minister Sir Robert Walpole ended his political career, developed into an expression of his political philosophy.
The busts in the Temple of British Worthies – Cobham's heroes from King Alfred to Newton – look across the lake (envisaged as the River Styx) to the Temple of Ancient Virtue, containing statues of figures from the classical world. Originally there was a Temple of Modern Virtue – symbolically a fake ruin to depict the fallen nature of the times, over which Walpole presided in the form of a headless torso.
Pyramid scheme
Even in these architecturally fallen times, folly-builders abound. At Doddington Hall in Lincolnshire, Antony Jarvis has constructed a pyramid. I don't suppose even the pharaohs built their pyramids without forethought, and Mr Jarvis certainly can't be accused of rushing his. He conceived the idea in the early 1970s as a riposte to Denis Healey, then chancellor, for wanting to make the pips of the rich squeak.
A tax exemption was offered to owners of Grade I listed houses whose farmland constituted part of the historic setting. Mr Jarvis and his wife Victoria planted an avenue. The pyramid at the end of it was designed by Mr Jarvis himself, who trained as an architect. The blocks out of which it's built come from the concrete floor of a grain store, broken up by a mechanical pecker. This provides a rusticated effect, with the blocks diminishing in size towards the top.
Quartzite pebbles in the concrete make it glitter in the sunshine. Finished five years ago, it already looks as though it might have been there for centuries. Due to the minerals in the concrete, stalactites and stalagmites have formed in the saucer-domed room inside it. I read on a blog called The Folly Fancier of a fernery in the Welsh Marches made of old wine bottles; it's known by its owner as the blotto grotto.
The blog is a celebration of modern follies around the world, some architecturally tedious, some inspiring. An upside-down house – how original that must have seemed to anyone who thought of building one. Unfortunately, quite a lot of other people have had the same idea. But the two-legged treehouse, amid the mountains of Nagano in Japan, is worth seeing. A cabin, reached by a 20ft ladder, is perched on two poles, looking rather like the legs of a very tall stork. I like the explanation given by the architect Terunobu Fujimori. 'One leg is dangerous and three legs are too stable and boring.' That's the spirit.
Years and years ago, I spoke to the late Robert Heber-Percy, known as the Mad Boy for much of his life, about the folly that Lord Berners had built him at Faringdon in Oxfordshire in 1935, on what became known as Folly Hill. To Berners, Nancy Mitford's model for Lord Merlin in The Pursuit of Love, it served both to mark the birthday of a beautiful young man and as a neighbour tease.
An admiral became duly outraged, even though he could only have seen it from his house with a telescope. 'It is my custom to look through a telescope at the view,' he told an inquiry by the Ministry of Health. 'What a marvellous present,' I suggested to Heber-Percy. 'Not really,' he replied. 'I would have preferred a horse.' In the dark days of the 1970s, Alistair McAlpine commissioned Quinlan Terry to design a giant rusticated column, topped by an urn.
The Labour government was then threatening a wealth tax – hence the inscription in Latin which read: 'This monument was built with a large sum of money that would otherwise have fallen into the hands of the tax collectors.' Well, that's an idea that could come to be recycled if Jeremy Corbyn gets in.
Meanwhile, couldn't somebody design a folly to Brexit? OK, I hear you. I'll leave it there.
Clive Aslet is a former editor of Country Life magazine
This article first appeared in issue 68 of Spear's magazine, available on newsstands now. Click here to buy and subscribe