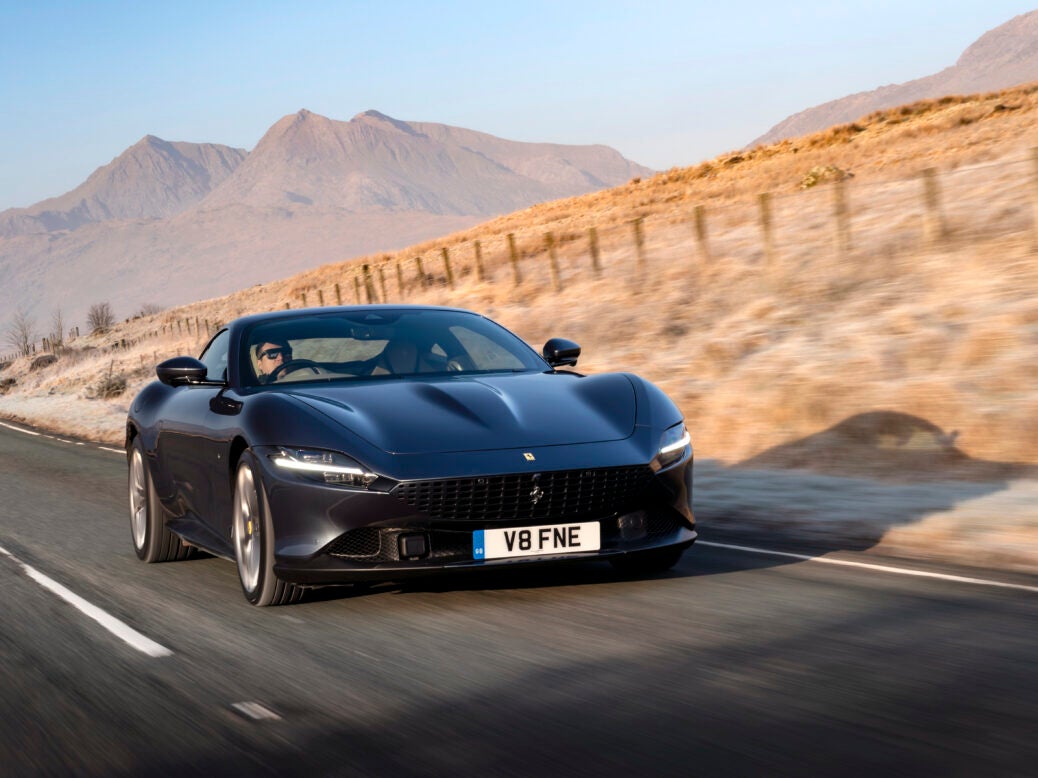 As a business, Ferrari may face an uncertain future. But as a maker of beautiful cars – such as the new Ferrari Roma – it's firing on all cylinders, writes Mark Walton
Few would blame Ferrari for resting on its laurels. In 2020, its Formula One team celebrated its 1,000th race, and 2022 will see the company mark its 75th anniversary. In the meantime, Ferrari has so far survived Covid in good shape: sales were down from 10,131 cars in 2019 to 9,119 in 2020 – hardly a catastrophic collapse.
Ferrari, then, stands tall as one of the world's most iconic luxury brands, its products desired around the globe, its blood-red livery and prancing horse universal symbols of sexy wealth and sporting prowess. Time to take the foot off the gas and engage cruise control?
Far from it. In fact, Ferrari is facing a series of complex challenges. The really scary one – the one that probably keeps chairman and acting CEO John Elkann awake at night – is global sentiment towards the environment, and the move to electric. Just a few years ago, Ferrari announced it would never build an EV (electric vehicle). 'We wouldn't produce an electric car,' chief technology officer Michael Leiters insisted at the 2016 Paris Motor Show.
What a difference five years make. In April 2021, Elkann announced: 'We are… very excited about our first all-electric Ferrari that we plan to unveil in 2025.'
Don't underestimate how dangerous this moment is, for all the traditional supercar brands. EVs just don't elicit the same emotional response as a flame-spitting V8 or V12 – there's no noise, no drama, no soul. Plus, with their instant torque, any mid-ranking battery car can accelerate so fast it'll make your nose bleed. So what's left for Ferrari when most wealthy owners aren't interested in dynamic handling or track days?
The answer is the brand, and Ferrari is urgently shifting from being a premium automotive manufacturer to a broader luxury goods brand. This began a long time ago – which other car maker could get away with 'Ferrari World Abu Dhabi', a theme park opened in 2010? But there's now a new momentum to this transformation, with Ferrari recently agreeing a fashion deal with Armani and opening a restaurant with three-Michelin-starred chef Massimo Bottura. In 2019 Ferrari CEO at the time Louis Camilleri estimated that these brand extensions could soon account for 10 per cent of profits.
Again, there are potholes in this road. Can Ferrari build more theme parks and sign more licence deals without diluting what makes it so special? Ferrari's own 2020 annual report warned that its appeal 'may decline if we are unable to maintain the value and image of the Ferrari brand, including, in particular, its aura of exclusivity'.
And then the third challenge – and most immediate. Camilleri, the man charged with carrying out these transitions, suddenly and mysteriously resigned last December. The 66-year-old had caught Covid but denied this was the reason, citing only 'personal reasons'. Whatever happened, Elkann is left looking for a new CEO at an acutely critical moment in the company's history. The Italian press reports he's talking to luxury heavyweights including Gucci CEO Marco Bizzarri and even Apple's former designer Jony Ive.
In this context of change comes the new Ferrari Roma. In many ways, the Roma represents 'old Ferrari'. Not in terms of its technology, and certainly not in terms of its performance. But look at it: this rakish, front-engined 2+2 sports car oozes 1960s glamour and romance, evoking the classic Ferrari 250 GTO and Daytona. Few modern cars are quite so head-turningly gorgeous from any angle, and not an electric motor in sight.
Inside, the Roma combines traditional leather and an elegant, swooping architecture with high-tech colour screens and a steering wheel that looks like it's been nabbed from a Formula One car. In many ways, this wheel sums up the Roma's place in the range: mechanically the new car is closely related to the Portofino, Ferrari's existing 2+2 droptop. They share the same aluminium structure under the skin and basically the same 3.9-litre, twin-turbo V8.
However, the Roma is only available as a fixed-head coupé; it's lighter; it has a new eight-speed gearbox; and at 611bhp its V8 is more powerful than the Portofino's. And on that steering wheel there's the little switch called the manettino – the Portofino has three driving modes but the Roma gets a five-stage dial, with Race mode. In other words, it may look like a refined gentleman's Grand Tourer, but under the skin the Roma has the engine, gearbox, suspension, software and heart of a proper, hardcore, mid-engined supercar.
And so it feels as soon as you start driving. Cruise up a motorway and the GT is comfortable, docile and – apart from some engine noise – very refined. But turn off on to a twisty section and its exceptional talents come to the fore. Ferrari's high-tech engine technology has effectively eradicated turbo lag, and the Roma has a lightning-fast throttle response. Plant the pedal in third or fourth at pretty much any rpm and it is sensationally fast, reaching 0-62mph in just 3.4 seconds, the cabin filled with a deliciously racy growl.
But even that isn't the best bit. Like its mid-engined siblings, the Roma has an uncanny ability to dance over a bumpy road surface with a balletic delicacy – a lightness of touch, which at the same time never feels wayward. Instead, that flowing, scampering feeling is combined with a sense of total control, the feedback through the steering wheel and tingling up your spine reassuring you that the car is alert and under your command. You sense you can place it exactly where you want it, as you carve into a fast corner and stick the front wheels within millimetres of the grass verge.
Somehow – I don't know how – the Ferrari Roma allows you to feel comfortable, like a GT, while also plugging you into the textures and cambers of the road with an intoxicating stream of intimate communication.
Who knows what the next decade will bring, but for now Ferrari is not resting on any laurels or taking anything for granted. There's nothing lazy or hollow about the Roma and its tribute to Sixties style and glamour. It is a sensational car to drive quickly, and it's proof again that Ferrari occupies a very special place in our automotive culture. If you imagine they're just posers' cars, designed for cruising through Saint-Tropez, think again: they are also uniquely brilliant, tactile, emotional driving machines that absolutely deserve their reputation. And in this hall of fame, the new Roma is among the best.
Image: Max Earey/Ferrari