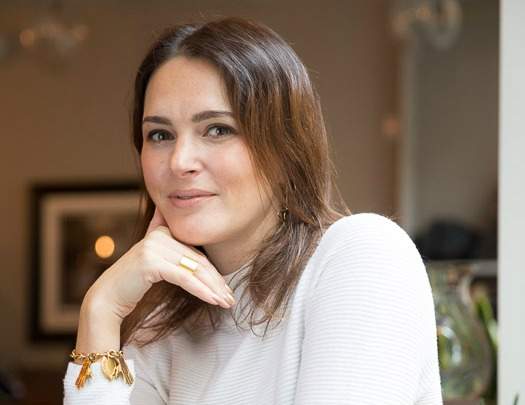 Elizabeth Day has tasted success as a journalist and novelist – but it's failure that has inspired her latest work, writes Emelia Hamilton-Russell
Despite being interviewed in her capacity as author of the memoir How to Fail: Everything I've Learned from Things Going Wrong, Elizabeth Day can't shake her journalistic instincts. Before we even settle into our seats at the Frog in Covent Garden, the celebrity interviewer has already asked about how my work's going, where I went to university, and whether I think the trend for bright yellows and lurid greens is a passing fad or actually strangely flattering.
By the time the waiter comes to take our orders, we've swapped Real Housewives favourites (she New York, me Cheshire), compared notes on finding yourself on a date with a shorter man ('where do you put your hands!?') and discover that we frequent the same hairdresser in Farringdon.
This sort of instant intimacy isn't unusual for Day. As well as her career writing long-form interviews for national publications and a column for You magazine in the Mail on Sunday, she also hosts the podcast How to Fail with Elizabeth Day, in which guests – which have included Today presenter Mishal Husain, singer-songwriter Lily Allen, former prime ministerial press secretary Alastair Campbell and campaigner Gina Miller – talk about moments when they've messed up.
Although the hour-long instalments cover harrowing territory (domestic violence, psychosis, miscarriage), the interviews are often darkly comic, sometimes outright hilarious – Phoebe Waller-Bridge on her dating faux pas is not one for the office – and always life-affirming.
It was the collapse of Day's marriage to then BBC economics editor Kamal Ahmed and the failure to conceive – that set the idea for the podcast rolling.
'My ex and I broke up in October 2017, just before my 39th birthday,' she says. 'I was approaching the end of my thirties, single again, divorced, childless, and feeling really low. It just wasn't how I had imagined my life would be at that stage.'
She sees my face, but doesn't wait for me to point out that, having authored a bestselling novel that year (The Party was her fourth novel) and won awards for her journalism, she was a pretty conspicuous success in her industry.
'I was doing really well professionally – which I was proud of – but it just goes to show how there can be a real disconnect between the professional life and the personal one.'
Mixed failings
Later, on reading Day's autobiography, which is arranged around different failures ('at fitting in', 'at relationships', 'at being Gwyneth Paltrow') and is peppered with quotes from the podcast, it becomes clear that my instinct to dismiss Day's failures by focusing on her success was the wrong one.
How to Fail reaches its nadir in her chapter on failing 'at babies', where Day writes: 'At every point during my various fertility procedures, I was left in no doubt that I was the one failing. I was the imperfect female failing to live up to the logical standards set by science and nature. I was the one consistently failing to be a mother, and my body was not even offering up a valid reason for my inability to do so. On all my medical notes, the cause of my infertility was labelled "unexplained".'
Day's talent and success as a writer hardly makes up for that sort of devastation. No one likes talking about failure, but it is perhaps Day's insistence on sitting with and analysing the icky, shameful, hurtful parts of life that make her podcast, and her novels, so potent.
Like a Fitzgerald novel, gut-twisting status anxiety saturates The Party. Martin, the protagonist, is defined by his awkward status of not quite belonging to the smart set, a feeling perpetuated by his obsessive 'best friend' relationship with the charismatic, aristocratic Ben. The failure to belong also features in the 'fitting in' chapter of How to Fail, which details how her RP accent made her so ostracised at her Irish primary school that she dropped out. It took her a long time, well into adulthood, to let go of the compulsion to 'make absolutely sure everyone liked me'.
During her 11 years as feature writer on The Observer, Day never once asked for a pay rise. In the period after her break-up – after she'd decided not to continue perusing fertility treatment alone – she escaped to Los Angeles to ghost-write Rise, Gina Miller's autobiography.
'It's odd because I was going through one of the most desperate times of my life. I was listening to a lot of self-help podcasts like Oprah's and Esther Perel's, Where Should We Begin, and I was also internalising Gina's voice – [and] I think some of her courage rubbed off on me.'
By the end of her two months in LA, she felt fortified and had an idea for her next project: a podcast on failure. 'I realised that it was possible to talk about these really difficult, knotty, personal things – it's just like having an intimate conversation – and it's equally intimate for listeners.'
Many of the stories told on the podcast expose the underside to a famous guest's polished public persona – for example, the abusive relationship that left Gina Miller and her daughter homeless.
Flake news
There may be critics who believe that Day's confessional-box style podcast plays into a 'snowflake' culture that lauds vulnerability and indulges victimhood. But while Day is not a millennial herself, she admires the generation that is refusing to be told that its concerns and anxieties are petty.
'So much so-called "snowflakery" comes from a genuine desire to make the world better, and how great is that as an impetus?' she says. 'The fundamental premise is a really great one – it's about equality – and I don't think we should forget that.'
Over pudding, the conversation moves on to generational differences and how generation X is perhaps more willing to toe the company line and accept the status quo than the more forthright millennials and gen Z.
'My generation are terrified that we're going to go through another recession and suddenly our jobs are going to be snatched away from us,' says Day. 'I think there's a lot of fear there.'
Are the younger generation, with the idea of a secure job a distant pipe dream, more brazen about walking away from jobs that are no longer working for them?
'God that's so true. Do you think it's the same with dating?' Day asks.
And before I know it I've launched into my best theories on the millennial dating scene, the tables have turned, I am talking about myself, and I have to concede that I have failed to interview Elizabeth Day.
Emelia Hamilton-Russell writes for Spear's
Photography by David Harrison 
This article first appeared in issue 68 of Spear's magazine, available on newsstands now. Click here to buy and subscribe.