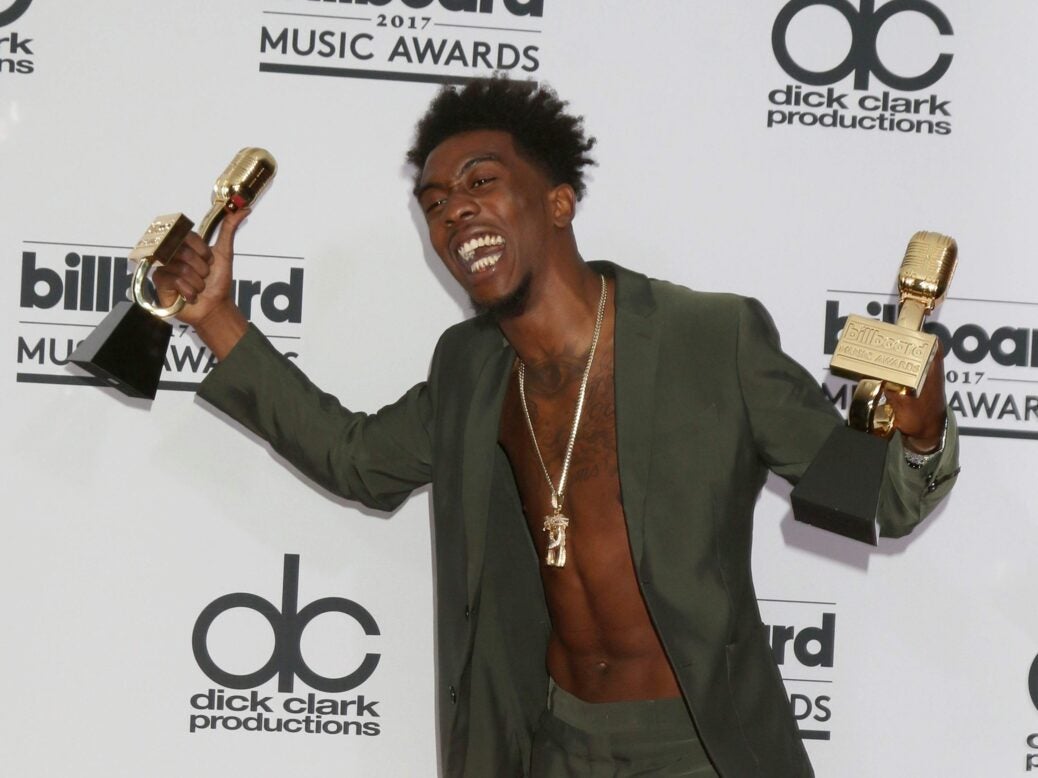 American rapper, singer, songwriter, record producer, and actor Sidney Royel Selby III, known by his stage name "Desiigner", has an estimated net worth of $5 million.
Desiigner, born on May 3, 1997, in Brooklyn, New York, grew up in the Louis Armstrong housing projects in the Bedford–Stuyvesant neighbourhood and began practicing vocals at school choir and church. At the age of 14, he got shot in the hip because of his behaviours and after being shot, he immediately decided to get out of the streets and go into the studio, he embarked on his music career.
How did he make his millions?

The first song Desiigner recorded was called "Jackie Chan" during the same year he was shot.
On December 3, 2015, under his new pseudonym, Desiigner released his debut track, called "Zombie Walk". The song was produced by The Shell God. On December 15, 2015, he released his commercial debut single, titled "Panda" which reached number one on the U.S. Billboard Hot 100. On February 11, 2016, he signed a recording contract with Kanye West's GOOD Music imprint, under the aegis of Def Jam Recordings. After signing a record deal, Desiigner subsequently appeared on two tracks — "Pt. 2" (which features an interpolation of "Panda") and "Freestyle 4" — that was taken from Kanye West's seventh album "Pablo".
He went on to perform at the 2016's South by Southwest music festival. In an interview with Billboard, Desiigner confirmed the release of his first upcoming mixture, titled "Trap History Month". On May 5, 2016, producer Mike Dean announced that he would be serving as the executive producer for Desiigner's upcoming debut studio album. On May 24, Desiigner announced that the title to his upcoming debut album would be called "The Life of Desiigner". In June 2016, the American hip hop XXL magazine revealed their annual "Freshmen Class" for 2016, and Desiigner was included on the list with nine other new artists. In June 2016, "Champions" was released as the lead single from the GOOD Music's upcoming compilation album, Cruel Winter. Desiigner made a guest appearance on this track, alongside his label-mate Kanye West, and other rappers such as Gucci Mane, Big Sean, 2 Chainz, Travis Scott, YoGotti and Quavo. In the same month, Desiigner made his US television debut, when he performed his single, "Panda" at the 2016's BET Awards in Los Angeles, California. On June 26, 2016, he released his first full-length mix tape, titled "New English" on Tidal, following a live premiere of the mix tape on June 22. In July 2016, American pop singer Demi Lovato brought him out at her concert in New York. On July 21, 2016, he premiered the track, called "Tiimmy Turner", which was released as a single on iTunes the next day. Desiigner appeared as a special guest on the Netflix series Bill Nye Saves the World.
On September 8, 2016, Desiigner and three other people were arrested in New York City, after a 911 caller claimed that he pulled a gun on them. He was later found in an SUV car with four other people and the vehicle was searched. Oxycodone and guns were found in it, for which he and the other individuals received drug and weapon charges. They were all detained in custody. On September 12, 2016, it was found that the pills left in his car were anabolic steroids which belonged to his driver.
By Luna Tellini Pissarro