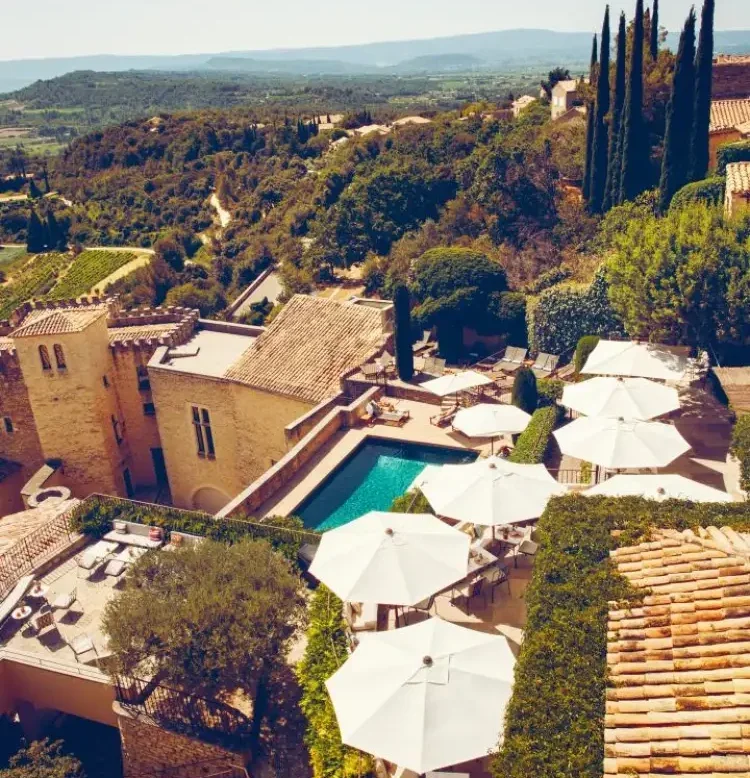 Looking back through Spear's summer highlights, Andrew Harris travels to the rustic peak of Provençal luxury, Crillon Le Brave
Soaring majestically through the heat haze, and over the vineyards unfolding below in a never-ending patchwork of pastoral perfection, the view is stop-you-in-your-tracks gorgeous.
A screenshot of the Provence of the popular imagination, enveloped in a timeless Jean de Florette stillness, punctured only by the swish of the swifts swirling about overhead.
The various terraces and balconies of the rambling multi-levelled Hôtel Crillon le Brave, perched atop the small village of the same name, deliver up some of the most spectacular vistas anywhere in the South of France.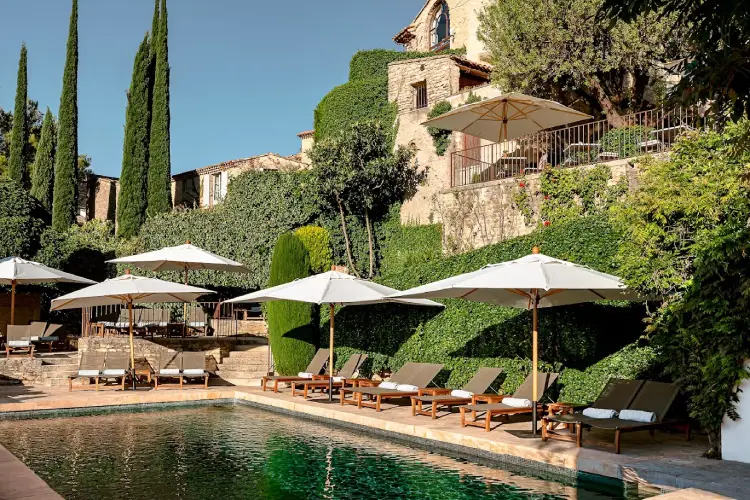 Just 40 km from Avignon, Crillon le Brave has served as a secret refuge of stylish solitude for over 30 years. Established in 1989 by Canadian, Peter Chittick and his girlfriend Carolyn, who would eventually become not only his wife but also Dame Carolyn Fairbairn, director-general of the CBI, the storied history of how they painstakingly cobbled together a sequence of dilapidated 16th and 17th Century buildings into a luxury hotel is legendary.
If "Crillon" resonates with familiarity, that's because it does indeed have a connection with the famous Hôtel de Crillon on Paris's Place de la Concorde. The village's exotic name derives from Louis des Balbes de Berton de Crillon, a duke of apparently peerless bravery that he demonstrated on a regular basis during France's 16th Century religious wars.
His descendants acquired the Parisian property in 1788. The depopulation of isolated communities like Crillon le Brave throughout the 20th Century presented rich, if not challenging, pickings to second home seekers by the 1970s and 80s. While most were happy to just spend the Summer restoring their new holiday homes, Chittick started buying up the village.
The first building, La Maison Roche (they maintained the names of the previous owners), next to the church at the top of the village, would originally have been the presbytery as well as the village school.
Over subsequent decades, a total of 12 properties were all slowly melded together, complete with ancient interconnecting cobbled alleyways and bridges to form a sprawling luxury hotel quite like no other. It was and still is, an optical illusion when viewed from the exterior, conveying no indication that this top part of the village is in fact, all one unified entity.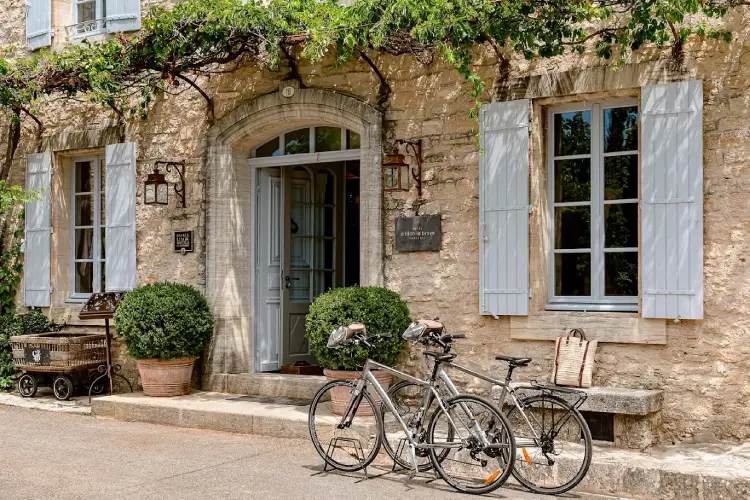 In 2006, Chittick was joined by acclaimed hotelier Robin Hutson of Soho House and Pig Hotels fame, with Hutson's wife, Judy, injecting hands-on design input, as she still does at the phenomenally successful Pigs.
In 2018, Chittick divested himself of his lifelong labour of love, and the French Pariente family incorporated Crillon into their expanding collection of stylish, design-led properties. Patrick Pariente, best known, with his brother, as the founder of fashion brand NafNaf, which they sold in 2007, increasingly leaves day to day operations to daughters Kimberley and Leslie.
Maisons Pariente, with properties in Meribel, St Tropez, and an imminent opening in Paris's Marais district, appointed acclaimed Paris-based designer Charles Zana to oversee the redesign, which, whilst largely completed pre-pandemic is probably only now strutting its stuff following France's 2022 removal of covid restrictions.
Zana has successfully woven a laid-back, languid thread of French flair around all the Anglophone quirkiness, creating an entente cordiale of country-chic, underpinned by his guiding principles of proportion, elegance, and comfort. Famously favouring light-touch renovations, his recalibration of the property's design DNA has it looking and feeling as French as it probably ever has done.
Drawing on more than three decades of skilfully integrating the traditional with the contemporary, Zana has transformed Chittick's 1980's rambling restoration project into an understated 21st Century luxury escape that's as sensuous as it is sumptuous.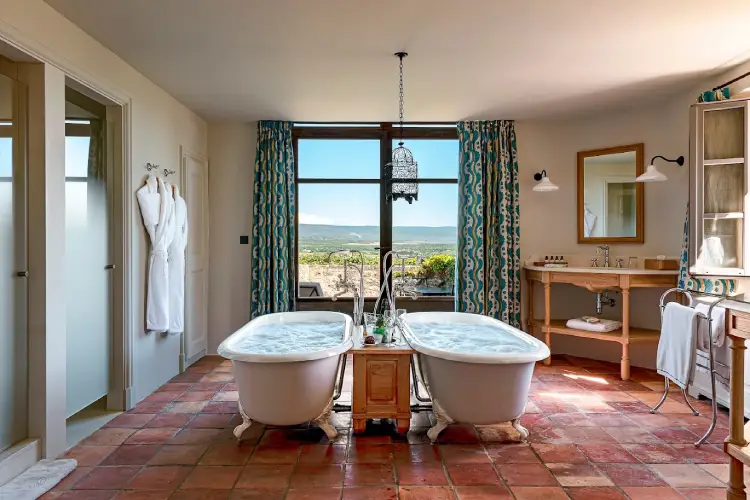 Culinary offerings have also been upscaled. The two dining options, the larger Table de Ventoux, where breakfast is also taken, and the 8-table gastronomic restaurant, La Madeleine, enjoy the same hypnotic far-reaching views, and both are overseen by Adrien Brunet.
The young and ambitious chef from central France, where his father, grandfather, and great-grandfather were all farmers, embraces a cuisine that's unsurprisingly tethered to the land. Provenance and ties to local suppliers, lie at the core of his craft. In his own words – "we adapt our work as chefs, to the produce, and not the other way around".
Such rigid respect for "terroir" does not, however, impinge in any way on the unequivocally exemplary experience of dining in either of the two locations. With dishes such as Mediterranean mahi-mahi, served up like a slice of ham and topped with caviar, grilled octopus, or pigeon from nearby Sarrians, marinated in lavender with a duck à l'orange jus, Brunet's gastronomic dexterity embraces creativity and sophistication in equal measure.
A culinary talent that should continue to flower as it beds into its new Provençal home. A well-stocked cellar introduced by Faustine, the amiable young sommelier, panders to oenophiles as they drink in a landscape that embraces Chateauneuf du Pape, Beaumes de Venise, and other assorted titans of the wine-making world.
Former stables have been cleverly converted into a "dry" spa, with several treatment rooms including a superb one for couples, using products from Vermont-based Tata Harper, with its ultra-sustainable reputation and cult-like following, where the Pariente daughters look suspiciously like cult members.
The swimming pool, whilst not massive, occupies a spectacular terrace overlooking that ever-present mesmerising panorama. Discreetly positioned loungers nestled amidst meticulously tended horticulture, exert a siren-like pull toward an afternoon doing nothing other than discovering how low a metabolic rate can actually go.
And that lies at the heart of Crillon Le Brave's indelible allure. Whether in its earlier Anglo-Saxon-influenced incarnation, or its fabulous new fashionably Francophone makeover, Crillon remains soporifically peaceful and refreshingly untainted by disruptive touristic incursions.
With Avignon's TGV (high-speed train) station more accessible than Provence's commercial airports, seekers after solace need only seek passage into the rarefied confines of Eurostar's St Pancras Business Premier Lounge, for the 6-hour journey. Eurostar's pre-pandemic direct train has yet to be reinstated, but a simple platform change in Lille, does the trick.
French rail operator, SNCF, has also recently allowed leading peer-to-peer car rental firm Getaround (usually with premium marques available) to position cars in the secure area next to the station, alongside traditional rental firms. Having used both there recently, the P2P app-led system, negating the need for human interaction, presents as the superior option. The lumbering presence of Mont Ventoux, followed by the hilltop silhouette of one of Provence's most covetable rural hideaways will be looming into view, less than an hour later.
There's clearly a reason why Maisons Pariente wasn't labelled Hotels Pariente. The ethos and image that this family enterprise, headed up by the younger generation, wishes to project, is of elegant private houses where an informal and relaxed sophistication presides over luxurious indulgence. Those who prefer their high-end hospitality served up with a lack of pretension will feel very much at home.
Main Image: Crillon Le Brave
www.crillonlebrave.com  – from 350 Euros on B&B basis
*Eurostar's return, London – Paris / Lille is £490, while SNCF's First Class return Lille – Avignon is from €124