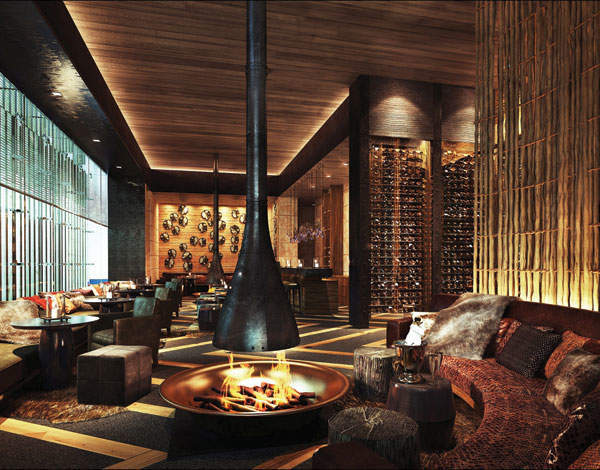 'If I had been given carte blanche to design a ski resort hotel that was also wonderful in the summer for the trekking, golfing, biking and cow-milking competitions, the Chedi would be as close to "it" as I can imagine'
I never regarded myself as someone who would walk in the footsteps of queens (even though some friends in the know may disagree), let alone presidents or prime ministers, and far less so iconic writers. (Don't agree too quickly.)
But here I was doing just that, treading the same paths, cobblestone lanes and snowy slopes as Queen Victoria, Ulysses S Grant and even Winston Churchill, the greatest of them all — although I suspect this trio didn't perhaps quite make the slopes. But certainly at least one of Goethe, Dickens, Conan Doyle or Turner must have. And Sean Connery or Elvis Presley are dead certs to have given it a go.
No, I was not in Gstaad, looking for traces of snow below a north-facing tree and wetting ski boots and gloves so one can say one skied before spending three weeks schmoozing strangers in the Eagle Club, trying to look flushed from the not-cold-enough air in my face when I came up in a closed gondola.
Nor was I in St Moritz, where at least one might have skied or ridden the Cresta before trying to enter the hallowed grounds of theCorviglia Club, hopefully not having been reported by some immoral member because you have been married to the same person for too long or (worse) haven't cheated on them yet. Such high moral standards in the high Alps nowadays.
No, I was in Andermatt, in one of the founding cantons of the Swiss Confederation, Uri. How entertaining it was to tell friends that Angel Wife and I were going to Andermatt for the holidays. For starters, it made for an original answer to that irritatingly banal question that dominates the pre-Christmas social scene: 'What are your plans for the holidays?' The main reaction was: 'Ander-who?Do I know him? Where is his place? Are you actually staying as a guest of his?'
A few stretched their brains to wondering if it was a village perhaps just below Zermatt, kind of Courchevel 1650 versus 1850, so at least they got the context and even the country, if not the canton. Finally, a few richer, spoiled ones said: 'Yes, of course, we went to the opening party for the Chedi Hotel there last year but didn't stay on to ski and haven't gone back — not enough night life or shopping really.'
And that pleased and reassured me no end. I was more enthused than ever to discover the picture-perfect valley where the Egyptian tycoon (and perhaps visionary) Samih Sawiris has decided to build a little big dream, starting with the incredible Chedi Hotel. Now that I have stayed there for nearly a week, I can say 'incredible' is only one of several superlatives I will use, subject to minor editorial dictatorship (ed's note: go ahead). It's pricey, perhaps, but then again no more so than Moscow Central in Courchevel or St Moritz or Gstaad — only mercifully without the Moscow bit.
<p>Yes, it is an idea still in progress, with several more apartment-chalets to be built near the meandering river; the clubhouse for the eighteen-hole championship golf course to be completed this spring; and the connections from the local ski slopes to three neighbouring valleys, making it one of the largest ski areas in Switzerland, to be done by 2016. But in the meantime, what a dream it is already, in no small way thanks to the sexiest mountain hotel I know of.
I think if I had been given carte blanche to design a ski resort hotel that was also wonderful in the summer months for the trekking, golfing, biking and cow-milking competitions, the Chedi would be as close to 'it' as I can imagine. One hundred and fourteen rooms of cosy Eastern elegance, with the smallest room still big enough for a game of tennis. Stunningly beautiful, but useable. Modern but incredibly warm and enticing at the same time.
The use of materials works just so: local slate, new but oh-so-warm wood, leather and cuddly fabrics are interspersed throughout in perfect balance. As you walk around the hotel, you keep wanting to stop and lounge in a new corner that draws you in for a read, a smoke, a drink, a snooze, even a snog. Fireplaces inhabit all public areas and bedrooms, adding a permanent entrancing show of light and sound, even though they are very modern and unobtrusive.
The rooms are deliciously appointed, but not cloying like an average Sauternes. This is more like Yquem: in another league. They have beautiful delineation, again through the use of different materials and textures. There is a perfect blend between modern and classic with all technical needs fulfilled, but also with a relaxing oil burner lit in your bathroom every day as a simple reminder of Asian hospitality.
Perhaps the most spoiling bit for me was the ski-butler room, nicer than most homes I know, with five lovely people transforming you every morning into a ski-god before sending you off, pass and all, to challenge yourself at whatever level you need. Surely the planned expansion will be a welcome addition in the next few years, but for now there is plenty there to amuse on the sunny side or scare on the north side, with excellent hors-piste one of the main attractions.
I sadly feel that people won't be saying 'Ander-who?' for very long. It is just too good to stay that way, free from international loafers. Ninety minutes from Zurich door to door, mostly motorway, does ensure that Swiss residents will remain a large part of the clientele, though.
And that, strange as it may seem, is a relief. Andermatt is the near-perfect mountain village we all remember and love: small streets, nice people, sweet shops, delicious local restaurants (and I mean delicious), fondues under the stars, endless possibilities in the snow. Now, after your winter or summer fun, you can come back to Chedi heaven, be pampered by the most attentive staff, fed an exotic meal from the four kitchens, pummelled, hydrotherapy'd and soaked to your heart's content before a nightcap at the bar, discussing your day's adventures. To me that is the 
perfect balance, bling-less bliss.
Fun in a foor door
Of course, as an Italian boy I grew up adoring everything Ferrari. Even though my father never owned one and never took me to a race, he still told me about the days he was racing around with his friends who practised for the Mille Miglia, one of whom then won it twice. Somehow he became a dedicated Maserati man, particularly when older and single.
Either way, I remember arriving in London and seeing Ferraris everywhere. But I also noticed a majority of old guys driving them with the standard idiotic blonde next to them, the guys themselves looking stupid, and I promised myself then and there that even if I could, I would never own a Ferrari after I was 50.
So there I was, just past 50 and wondering what would come next, car-wise, if I were given a choice. And then a friend bought part of Aston Martin. Not part of an Aston Martin: actually Aston Martin. I know he did it for logical reasons rather than as a passionate fad, but now that I have driven one I know that I would have been the idiot who did it for all the wrong reasons.
But are they the wrong reasons? I have never enjoyed driving a car more than my few days inside the Rapide S, which is the four-door Aston. I could bore you with data but I don't need to, perhaps beyond telling you that it has a top speed of 210mph and gets to 60 in 4.2 seconds. In reality, all these factoids are mildly irrelevant. What isn't irrelevant is everything else. First and foremost, it is the only four-door supercar you can even look at, let alone be seen in. All the others — Porsche's Panamera for starters — range from damn ugly to drab saloon.
It also makes it past Angel Wife's practical family test — you can easily head to the country for a weekend of noise and dog poo with kids and Tarzan in tow, lightly baggaged. You can do the school pick-up on Saturdays and some serious shopping to boot, yet it still looks as sexy as its stablemates.
And from there on in, it is an absolute dream, my dream. No, it doesn't make coffee like a Porsche might and fill your ears with annoying little pings telling you all is well in the world. The indicators feel dodgy and the sat nav antique, granted, but the leather, the smell and that V12 sound are just the ticket, the only ticket.
But most of all, the greatest pleasure of driving an Aston, even just being in an Aston, is the fact that it is an Aston and everyone looking at you seems to love you for it, not despise, resent or envy you. They seem genuinely happy for you and for the fact you are backing an icon. Aptly, driving an Aston Martin creates a bond.