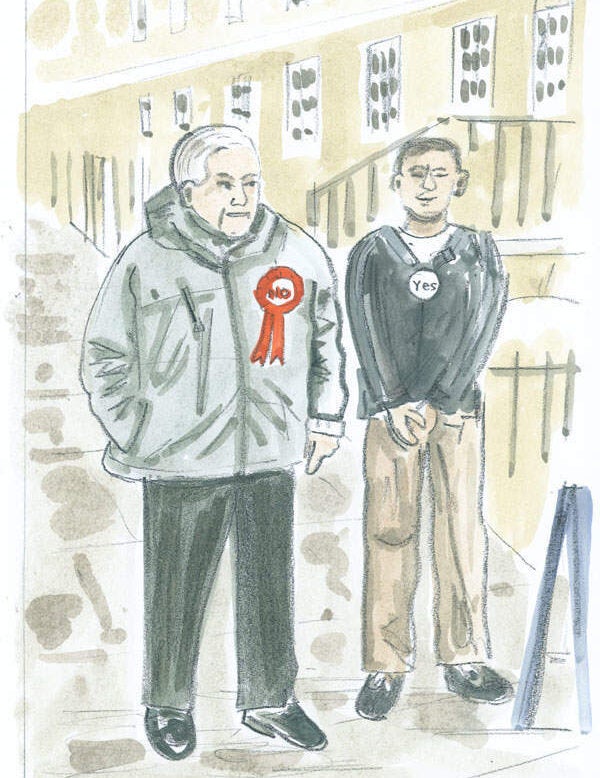 The Union may have been saved but David Cameron is waking up to a bad political headache this grey and wet morning in Scotland. The mood here in Edinburgh is anything but joyous, with a country split down the middle and old regional wounds reopened between cities like Glasgow and Edinburgh who voted differently.
Despite winning by a margin bigger than expected, there will be no room for the slightest triumphalism as Cameron faces the challenge of trying to bring back 'together' a country with a bloodied nationalist nose while also heading off a backlash from Tory MPs who believe that the devo-max 'Scottish Home Rule' package offered as a last-minute desperation measure was over-generous and could now backfire.
As a senior political source told me: 'Cameron got into a panic and threw the entire sweet shop at the Scottish people. Now others in Britain – not the least his own Tory MPs – are queuing up to ask what new powers the English and Welsh can receive. Otherwise it looks like he has sold off part of the family silver for very little in return – other than his job is still intact, for now at least.'
'The sound economist' by Adam Dant
See Adam's entire Edinburgh Observations portfolio here
The unedifying begging of Scotland has played straight into UKIP's hands with Westminster looking out of touch and unaware of what people are really thinking. 'The referendum has got people in the UK interested again in controlling their own destiny and engaging in popular democracy – which is what UKIP stand for,' added the senior Tory political source.
There's a growing sense that although Cameron has once again managed to dig himself out of the worst political hole of his tenure-ship of Downing Street – the PM has always done best when his back is against the wall – the soi-disant 'victory' is as hollow as the night he 'won' the election in 2010.
Yet he somehow still managed to knock the ball over the bar and was forced into a coalition. The memory of that missed opportunity still rankles with many Tory MPs as well as City donors who see Cameron as lacking conviction. Only Gordon Brown has emerged with great credit from the referendum fiasco, with his impassioned speech on Wednesday being regarded as a game-changer and the 'speech of his life'.
Through a combination of poor early negotiation with the SNP and even worse levels of political complacency, Cameron put the 307-year old Union in mortal danger – and doubtless gave the Queen many sleepless nights. That nearly 50 per cent of the Scottish people still voted 'yes' leaves a country with its political ribs badly bruised, determined to hold Cameron and Miliband to their 'vow' of more powers for Scotland from today.
'The Invisible Hand': Little King Street by Adam Dant
See Adam's entire Edinburgh Observations portfolio here
This poses a dangerous precedent for other parts of the Union wanting increased devolutionary powers. Former cabinet minister John Redwood has already called for nothing less than an 'English parliament'.
I had dinner night last night in Edinburgh's New Town with London hedge-fund manager David Yarrow who was educated at Edinburgh University and whose family live in Edinburgh and Glasgow where his family shipyard has built ships for the British navy and wealthy Scottish business owners and other HNW clients for decades.
The mood in the restaurant was subdued. There was little or no partying in bars around the Scottish capital where business was pretty much as usual and even the pubs which had been granted special licences to stay open all night reported little appetite for traditional Scottish revelry. Most of Edinburgh was asleep by midnight.
'The Family United': Holyrood by Adam Dant
See Adam's entire Edinburgh Observations portfolio here
'The Scots are no fools,' said Yarrow. 'We have one of the best education systems in the world. Economic fear and currency was clearly a major factor for Scottish businesses, along with the fact that many Scots tend to be private. Many of the No voters probably weren't going around broadcasting their support very vocally, especially in Edinburgh where guarded discretion is part of the city's financial culture. Anybody who knows Edinburgh from a banking perspective knows that the city wasn't likely to vote for its own extinction as Scotland's financial centre.'
As I wrote yesterday, Scottish banks (RBS, Bank of Scotland, St James's Place Bank and Lloyds to name but four) and its other financial services have longed played a hugely important role in providing Britain with its reputation as one of the great financial centres of the world.
That the United Kingdom is relatively small has always given the UK an advantage over larger countries such as Germany or America. That is one reason why financial centres such as Hong Kong, Switzerland and Singapore have done so well in being so competitive and efficient.
Among the ten most competitive economies in the 2014 IMD World Competitiveness Rankings, six are relatively small. According to the economics academic Professor Arturo Bris, the biggest threat to Scotland from the Yes vote was not so much the currency problem but 'losing its important financial services sector'.
Shortly before the vote yesterday he emailed me to say: 'Although Scotland is rich in natural resources, we do not see natural resources as a source of competitiveness in the 21st century. African countries and some countries in Latin America, for instance, are rich in natural resources yet lack competitiveness because of inadequate investment in infrastructure, both physical and intangible.'
He added that the UK's position as a global leader in the financial services sector cannot be understood just in terms of its GDP or traditional economic factors. 'The UK is a very interesting country because it ranks sixteenth out of 60 in the World Competitiveness Rankings. The main driver of UK competitiveness is the City of London and its financial sector. Without this sector – some say – the UK would not be more of an economic powerhouse than other lower-ranked European countries such as Portugal or Austria.'
Scotland's contribution to the UK's position as a financial services leader is important – although not critical – hence a certain relief in the City today. In fact the markets and sterling rallied yesterday afternoon with the City opinion clearly that the No campaign was going to win. Indeed many hedge funds – including Yarrow's Clareville – were taking large positions betting on a No vote and will be well satisfied with today's referendum result.
'Unlike father/unlike son' by Adam Dant
See Adam's entire Edinburgh Observations portfolio here
Senior bankers have been quick to point out, however, that the No vote does not mean no change. Bill O'Neill, Head of Investment Office UK at UBS Wealth Management, said this morning:
'Notwithstanding the margin of victory, there will be calls for radical devolution. The healing power of "devo-max" for Scotland's relationship with the UK should not be underestimated. Scotland's greater control over its fiscal policy and its ability to alter social welfare spending levels will be fast-tracked.'
The political and economic impact of the referendum with have wide ranging consequences for the City. 'Eyes will immediately turn to the general election. The impact on the UK economy will be minimal and it will maintain its current growth trajectory. The Bank of England will be more likely to raise interest rates as the recovery continues,' he said.
O'Neill added that the markets 'decided early' in the referendum campaign that there would be a No victory, and confidence returned to the markets before yesterday. 'There will be a relief rally, but it will be limited because the market has not aggressively accounted for a Yes vote. Sterling will benefit in the short term, while equities will see little impact. Scotland-exposed equities will retain a risk premium given requirements for greater devolution. Gilts will perform modestly better as risk as premiums fall.'
This will be encouraging news for the financial services sector. About 10 per cent of the UK's GDP comes from this sector, and another 5 per cent comes from related services. Financial and banking services employ 7 per cent of the UK's workforce – of which around only 50,000 of those jobs are based in Scotland.
The irony of today's result, however, is that if the vote had been Yes and Scotland's major financial institutions and banks had removed their brass plaques and relocated to London, the competitiveness of the UK's own financial services sector would not have been impacted. In fact some experts believe this scenario could have actually enhanced London's position, helping to make it the new Singapore of Europe.