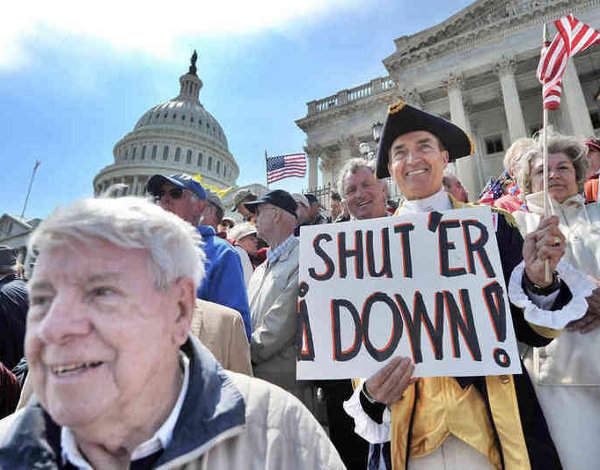 Relax: the Russians are not about to invade! Washington, however, is staring at collapse: in mid-October, the Treasury has announced that it will be down to its last $30 billion which, believe it or not, will only pay for half-a-day's Federal expenditure. Yes, it's that time of year again, when Washington stares at its Fiscal Cliff, as Congress must vote through the budget and the increased Total Federal Debt Limit.
This used to be an automatic agreement, but now it's become a partisan issue between the Republican and Democrat parties. The problem is that the man in the White House is a Democrat president and the men of the Tea Party Republicans don't like this at all. In particular they don't like Obamacare, the President's flagship policy, which begins enrolling the uninsured next Tuesday, as the rich will have to pay far higher taxes to pay for this universal healthcare for all, but especially for the poor.
Read more: Turning off the QE tap is going to be impossible
So the Republicans argue that if the president wanted to bring in this hugely costly measure at a time of global economic recession and banking crisis, he should have cut other expenditures to pay for it. The president saw it differently: he was looking at higher taxes. Last year they struck a deal, which finally ended up with the Republican $80 billion sequestration, or expenditure cuts, which hit the military procurement budget hard.
This year, however, the hard men of the Republicans are in no mood to compromise. They perceive a lame duck president, who has just lost a one-armed wrestling match with Vlad the Bad Putin over Syria. They perceive a chance to kill off Obama, Obamacare and the Democrats all in one go. They can see Hillary in the wings getting ready to stand, and the thought of Bill 'I didn't inhale!' back in their White House is just too much for them. This, they perceive, is their last chance but one to prevent the loss of four elections in a row – a calamity for the ageing, predominantly white GOP.
Read more: Obama's choice of a Federal Reserve chair could plunge us into depression
Who will blink first this time? If no one blinks, the US Federal government is bust and out of business. Washington will close and go into shut-down mode by lunchtime. It cannot pay its debts and cannot incur any more debts it cannot pay. The vote on all this is on Sunday, and it looks like a total impasse as we head for the weekend, with a 21-hour filibuster taking up all of last Wednesday.
What happens in a shut-down, the last of which was in 1996? Schools are shut, pensions aren't paid and thousands of suppliers have to wait for their money. More seriously, the chances are that one of the many expenditures to be cut will be interest on Treasury Bills, which could wreak global market havoc, send interest rates sharply up and kill off the recovery, and even trigger the next banking crisis and a global depression. This is nasty, and could get serious, fast.