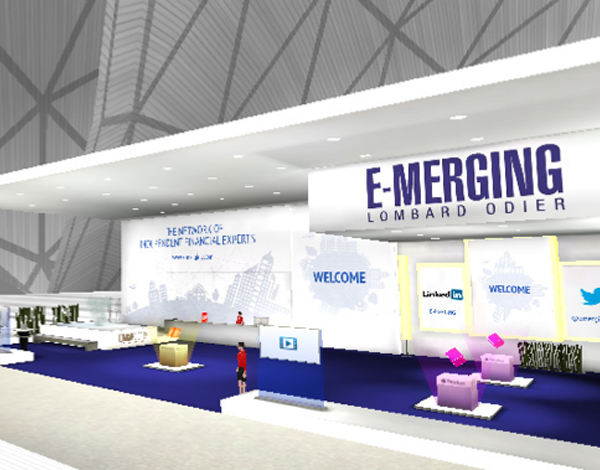 Usually, attending a professional fair means visiting some conference hall in the back of beyond, or perhaps a marquee in Regent's Park if you're lucky. But now, with the launch of E-Merging's FinFair, those in wealth management can meet each other everywhere – as long as you've got an internet connection.
Described as 'B2B speed dating sessions' by E-Merging's founder Olivier Collombin, head of Independent Asset Managers at Lombard Odier, FinFair is the first completely digital financial services conference fair. Location: everywhere.
Held in an online, digital conference centre, 3D avatars of attendees can interact with each other, connect, browse exhibitor's booths, and listen to presentations. There is no transport fee, no hotel fee and no carbon footprint. It's completely free of charge to members of the E-Merging financial services network, and is the first of its kind.
The event itself will last for twelve hours, and will see users connecting with each other by an online business card exchange, with the option for real-life contact via Skype. Exhibitors' booths allow guests to browse and connect with the 33 different companies represented in a comprehensive fashion.
Presentations including 'Social Media and the Ultra High Net Worth Market' and 'Emerging Consumers, Risk Management and Growth' will be delivered by a variety of experts in financial fields.
Collombin spoke to Spear's about the development of the network. Originally working with finance managers and independent portfolio holders through Lombard Odier, he recognised the demand for the opportunity for these finance professionals to connect with each other, as theirs is an increasingly fragmented field.
At the beginnings of the social networking boom in 2009, E-Merging was launched, and brought the concept of online, professional networking to a new audience. With the assurance that the site is a fully protected environment; users' profile information is secure and safe. Finance professionals are given the opportunity to connect with others around the world with the ease and convenience of having information available to them as part of this online platform The network has since expanded to include professions of key value to the wealth management sector, and now welcomes lawyers, HR advisers and asset managers.
Through E-Merging, a 'professional ecosystem' has been created, but as the network spanned fifty countries, bringing them together was problematic. It was with that in mind that E-Merging developed the idea for the FinFair, teaming with HyperFair, a Californian start-up. So, on 6 November, a thousand professional and fully validated visitors will enjoy the virtual reality of the conference centre and its many features. As Olivier Collombin says: 'This has never been done before, and maybe that is the reason that it is so exciting.'
In the future, E-Merging hopes to make the FinFair a monthly event, allowing participants to catch up with new service providers and techniques.
Sign up to be a member of E-Merging and to attend the FinFair itself on www.e-merging.com