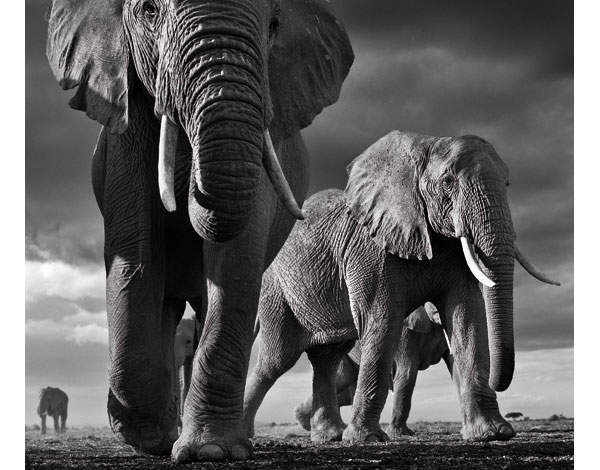 LENS CAP
Artists often have double lives. While James Boswell stalked Dr Johnson for years to write his Life, his day job — and certainly what he was known for in the 18th century — was working as a barrister in Edinburgh. David Yarrow is another example; he not only has two distinct lives — hedge-fund manager and artist — but these days it is getting harder and harder to work out which is the more successful.
At January's EuroHedge Awards, where over 900 of Europe's top managers packed into the Grosvenor House Hotel, Yarrow and his Clareville Capital partner Angus Donaldson got perhaps the loudest cheer of the night from the rabble of hedgies when their Pegasus fund won the European Equity (under $500 million) award, with an annual performance of 64 per cent.
Raed more on David Yarrow from Spear's
It was some turnaround for the fund. 2012 was Pegasus's most 'underwhelming' year since it was founded in 1997. 'We just sent people to sleep as we were seen to be boring and irrelevant,' he says. 'I had to change our approach and getting out of the office, not screen-watching, was the right thing to do.'
Pictured above: A lioness approaches Yarrow's camera (luckily it was remote controlled) in Kenya's Amboseli National Park
He wasn't going to commit the cardinal sin of 'style drift' — investing in something that is not really one's area of expertise. Instead, Yarrow made up his mind to take physical and artistic risks, with his camera rather than his Bloomberg screens. Travel with his cameras became a quixotic form of therapy as well as his way of seeing the world afresh.
Just being a financial crisis 'survivor' wasn't an option either. 'There are too many people in financial services today whom you meet at a cocktail party and they come up to you with a pompous chuckle and say, "I survived Lehman."
As if that somehow makes them the world's greatest fund manager… When I heard myself saying things like, "We were only down 10 per cent in 2008," what I was really doing was trying to justify bad performance to myself. I simply needed to do better.'
Being up 64 per cent is certainly better. When he and Angus reached the stage at the Grosvenor, the room felt like a football stadium.
'I look across this room and see many old friends and many peers whom we hugely admire,' said Yarrow. 'This industry has grown up since the cathartic events of 2008. It has greater humility, greater sense of its own fallibility and also, with thus improved modesty, it is characterised by better manners.
Longevity and grey hairs are admired, not mocked, and we are proud to be part of what is now a more collegiate and more mature collective. That all makes tonight's recognition very special for us.'
Lion's den
Two months earlier in the Saatchi Gallery, many of these financiers were congratulating Yarrow on a very different sort of achievement after he opened his new photographic show.
Entitled 'Encounter', the show was a personal odyssey over the last few years to 'some of the world's most remote and inhospitable places to photograph the wildlife and people that survive amid harshly beautiful landscapes'.
Limited edition prints in 'museum size' were on sale for £10,000, as well as a choice of differently bound coffee table books, ranging from £65 (card case) to £300 (clearPerspex case, signed and numbered to 250). Ten per cent of all proceeds went to the African conservation charity Tusk, of which Yarrow is both a philanthropic patron and a roving ambassador.
Pictured above: Yarrow's shot of an Inuit elder building an igloo on display at his exhibition
Over a thousand people attended the event, where huge tiers of Ruinart champagne were stacked on silver trays. Guests included such investors in his fund as David Ross and former F1 racing team owner Eddie Jordan, along with at least ten CEOs or chairmen of FTSE 100 companies.
Yarrow is his own worst critic and says that despite the turn-out — and the sales — he didn't much enjoy the circus element of the show. It was certainly an electric, if strange, atmosphere, with hundreds of testosterone-pumped alpha-male financiers circling giant black and white images of great white sharks munching on seals and of African warriors (high on drugs) waving Kalashnikovs inYarrow's face and of a rhino in full charge towards the camera.
Nobody was quite sure the extent to which Yarrow's wry choice of titles such as King Kong, The Prize and Jaws was teasing his own financial tribe. 'I'm not an alpha male,' he says at lunch. 'I'm a very flawed male. I think I was the most flawed male in the room.'
His friends and peers laugh when they hear Yarrow talking in such Hemingway-esque language. Martin Hughes, an old friend who picked up a EuroHedge award for his Tosca Fund, told me — from a restaurant in Switzerland — that Yarrow has been successful because he has more experience than almost anybody on the street.
'He talks about having grey hairs and he's right. Nobody under the age of 35 could survive in today's market. They have no memory. David is also one of the most amusing men I know. Part of his secret is that while he doesn't take himself too seriously, he takes both his fund and photography very seriously.'
Even if Yarrow didn't like his opening, no-one else thought it was a failure — a word he likes to use a lot, mostly about himself. Graham Greene said that 'no man is a success to himself' and certainly Yarrow can be hard on himself. But his self-deprecation and self-knowledge are an important part of his success in both art and money.
'My soul comes out of my photography so I care deeply about my photography and I care about my fund. I'm an emotional person but I'm not an emotional investor.
'People who don't know me think I am this guy who goes to Tramp or Annabel's the whole time. I haven't been to Tramp for six years. I hate pomposity and I hate arrogance. Most of the time I am just sitting at dinner with CEOs or business people who are smart. I just like to listen to people who are smarter than me.'
Especially UK business leaders who have learnt the hard way. Only the night before he was at a dinner with his friend Dermot Desmond. 'He is as tough as old boots but I respect him. He said to me, "David, good judgment comes from experience and experience comes from bad judgment." I clocked that one.'
Trade-off
So how did Yarrow find his way back into the black? The mystery is all the greater, given that he typically spends a week every two months 'on the road' — jungle, desert, Icelandic glacier or volcano — with a rucksack and various Nikon cameras protected with a custom-made steel case.
Pictured above: A great White grabs lunch in False Bay, South Africa
While rival hedgies pride themselves on being at their desks by 7.30am and think a holiday is taking half a day off when the markets are closed, Yarrow is now very much of the 'do-as-little-as-possible' school of portfolio management. He has cut his operation down to several employees and specialises in looking after the portfolio's few dozen UHNW clients.
He himself is the second biggest investor in the fund. He knows almost every investor personally and most are close friends who have stuck with him over the years. His entire fund is focused around no more than ten key holdings at any time.
'We don't really trade any more,' he says, suggesting the secret to success for a hedge-fund manager today is to stop managing. 'We know all we can about the big positions we own; our research is exhaustive. All the young turks have gone. Now the brokers won't speak to us any more because we don't give them any business.
That changed when the world changed, which was three or four years ago. Nobody spends the day trading the markets any more — that's why so many of my hedge-fund friends don't have jobs any more. We are embracing the private equity approach.'
Is there any likelihood of quitting, after fifteen years in the trenches, while he is on the top of his game? That wouldn't be the Yarrow way. Besides, his friends would never let him. He has made them much richer than they probably deserve and he is one of the few hedgies they actually stick with — good year or bad.
'I can smell blood,' says Yarrow when asked the exit question. 'I can smell opportunity right now, my sort of opportunity. The next three years are going to be fantastic for our trade and for me to quit now when we are in such a strong position is not an option.'
The emperor
What makes Yarrow stand out from the crowd is that he is the antithesis of the Gordon Gekko stereotype. If Gekko's mantra was that greed is good, then Yarrow's mantra is that art is good for alpha. Thirty-six hours after winning the EuroHedge award, he was back on a plane stalking silverback gorillas in Rwanda.
Typically getting too close, he got whacked in the head by one of them — and emailed me to say what a great picture it was going to be for the next exhibition.
Pictured above: Elephants inspect Yarrow's remote control camera in Kenya
As we have lunch near his office off Sloane Square — his office is unusual in being one-half devoted to trading and Bloomberg screens and the other half to photography with Apple Macs and pretty art-world PR girls — Yarrow leafs through the book which accompanied 'Encounter' and stops at a photo of a naked African woman in the Namib Desert kneeling next to a cheetah which she is stroking. 'Nudity can sometimes appear gratuitous and exploitive but I hope this image conveys grace, beauty and the power of trust.'
Yarrow wrote all the text that accompanies his photographs, and his choice of captions and repeated use of certain words — especially 'family', 'warrior', 'failure' and 'trust' — are revealing. In a photo called Alone, Yarrow captures an emperor penguin striding majestically on its own across a vast and empty expanse and references Shackleton and Scott in the text.
The emperor 'walks in his own world'. In the text for a photo called Inuit Family — photographed together in the freezing far north of Baffin Island — he refers to the family unit and says the photograph 'has the capacity to stir strong emotions in those that live more complicated lives'.
Yarrow is the first to admit that his photography is a form of 'escapism' from the various contradictions, failures, successes and paradoxes in his nature that have made his life complicated at times, not least when he was going through a divorce, an event that he describes as the central failure of his life, although he now says he is 'great friends' with his ex-wife.
One reason he plunged back into photography — after his student enthusiasm for the hobby — is that it was a way of escaping the despair he felt when his marriage collapsed seven years ago.
Admitting to having an overdeveloped Scottish work ethic, Yarrow puts much of his fund's recent success down to the fact that heading off to Ethiopia or Iceland meant that he could escape from London (and his moments of personal despair) and think about what were the best bets to make for this fund, as opposed to just trading for the sake of it.
He gives the example of when art and finance collided as his pilot landed on a grass strip in Kenya, near the home of the Samburu tribe, while he was on a photographic expedition. They were immediately surrounded by people waving AK-47 rifles. 'We gave them absolutely everything we had — fuel, water, cigarettes — although they were not interested in my cameras — and I thought to myself, "Here's a tribe that consider they own the rights and the land around here."
'If you are an oil exploration company drilling in Kenya in Samburu country, do you really think you are going to be allowed to do so and make people rich in SW3? Well, you are kidding yourself!
'We have been shorting mining and oil exploration companies and it has been a disaster for them. "This is Kenya, this is ours, this is Kenyan oil" — that is what the tribespeople told me when I spent time with them. You could call it privileged information — but I call it doing my job.'