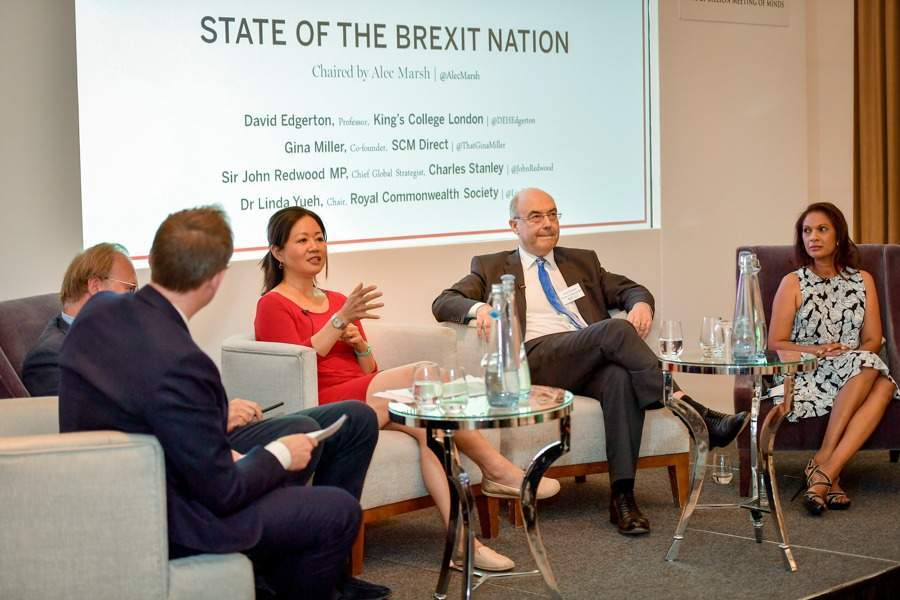 What's going to happen on 1 November? Will Britain leave the EU? Who will be in Downing Street? These were just some of the questions tackled by Gina Miller, Linda Yueh, David Edgerton and William Cash – in conversation with Alec Marsh, at the 2019 Spear's Wealth Insight Forum. Report by Arun Kakar
Theresa May remaining in Downing Street into 2020, the revoking of Article 50, a 1940s-style government of national unity – or a Tory electoral pact with Nigel Farage's Brexit Party. These are among the potential scenarios mooted by expert panellists in the State of the Brexit Nation debate – at the Spear's Wealth Insight Forum this week.
Panellists Gina Miller, anti-Brexit campaigner and SCM direct co-founder, economist Dr Linda Yueh, historian David Edgerton and Spear's founder William Cash, were invited by host Alec Marsh to envision Britain on 1 November – the morning after Britain's scheduled exit from the European Union at midnight on 31 October.
Predicting a 'constitutional crisis', Miller pointed to the parliamentary arithmetic and its inability to pass any kind of Brexit arrangement. 'Deal or no deal we need parliamentary approval because we are a representative democracy – if that doesn't happen then the Labour Party could lay down a motion of no confidence,' argued Miller, who also dismissed the possibility of an extension to Article 50.
'You can kick the can down the road if the EU agree to that,' she said. 'At this moment in time, there is no appetite for that, because they [the EU] have their own problems, they want to park us in a little dark corner.'
Historian David Edgerton warned that it was likely that neither of the Tory leadership contenders, Jeremy Hunt and Boris Johnson, would be able to command a majority of the House of Commons – predicting that come November, Theresa May might still hold office. 'The prime minster has to give the Queen the name of someone who will command the confidence of the House of Commons,' he told the forum. 'At present it looks pretty likely that a few Tory MPs will say, "Never will we vote for one of these two people arguing for a hard Brexit". Theresa May has no grounds to advise the Queen.'
Descrying both Conservative leadership candidates' claims to be able to renegotiate Mrs May's Withdrawal Agreement as 'nonsense on stilts', Edgerton stated that the only 'sensible' move for a prime minister would be to revoke Article 50 and remain in the EU.
Refusing to offer a prediction, Dr Yueh, said that the 'only certainty about Brexit is uncertainty'. Instead Dr Yueh stressed the need for government to understand the implications of what leaving on different terms might mean: 'The art of politics is the art of the possible,' she argued. 'All of these things are possible but the rest of us have to be prepared practically and mentally for what is going to happen. A lot of the economy is driven on confidence, on understanding our policy.'
Noting that 68 per cent of the UK's current trade deals (administered through the EU) will remain in force, Dr Yueh emphasised the need for comprehensive arrangement from government and business sectors. 'If you want to prevent disruption on November 1st, have to make sure people are aware,' she said, highlighting WTO terms on trading, tariff agreements and subsidies as examples of areas in need of a more intense public scrutiny.
Cash offered a more optimistic outlook, positing a sunnier perspective towards Brexit thanks to 'positive arguments' being made during the Tory leadership race. Cash insisted Britain would be out before 1 November and contended that he foresaw an end to 'a cycle of declinism' that had taken hold of Britain since the result of the referendum.
'Trying to translate the debate in purely economic terms misrepresents what the Brexit vote was all about,' Cash insisted. 'People voted for democracy, they voted for independence, they voted on the fundamental issue of who governs this country.' Cash sought to dispel the 'misconception' that France was seen as the 'economic bulwark' to Germany in the bloc, when it is in fact Britain. 'Germany is very afraid of Britain dropping out because its economic dominance will be so prevalent; he said. 'One of the biggest mistakes Theresa May made was to not negotiate much harder on that Achilles' heel of Germany.'
Miller and Cash – from sharply differing perspectives – agreed that the 'tribalism' in the Conservative Party could be a critical factor in getting some form of Brexit deal over the line – even in the context of a no-deal hard Brexit.  'While we hear there at are 20-23 MPs that will vote against the government, I think that number is probably three to four,' said Miller, outlining a scenario in which the future prime minister moves the Irish backstop from the Withdrawal Agreement to the political declaration – if the EU agree to it. She added: 'Legally that is there it belongs. The border arrangements will depend on the future relationship.'
Panellists clashed on a range of issues, including the ability of the UK government to negotiate a trade deal with other countries as well as a potential 'bonfire of regulations' after Britain's exit, whereby the UK would seek to diverge from the global regulatory standards in areas such as financial services. An area of common ground, however, was the need for a renewal of faith between politics and its electorate, whatever the outcome.
'We need to have a serious discussion about Britain's place in the world, and what can be done,' said Edgerton, asking what it means to be the country with the fifth largest economy in the world. 'It's shameful the way that British politics has declined over the last two or three decades.' We should stop 'deluding ourselves about politics and we'll start to have a more grown up politics. We're not going to have this nonsense of sending aircraft carriers to the South China Sea… I mean, grow up.'
The panellistswere addressing the Spear's Wealth Insight Forum at the Langham hotel on 1 July 2019
Arun Kakar writes for Spear's