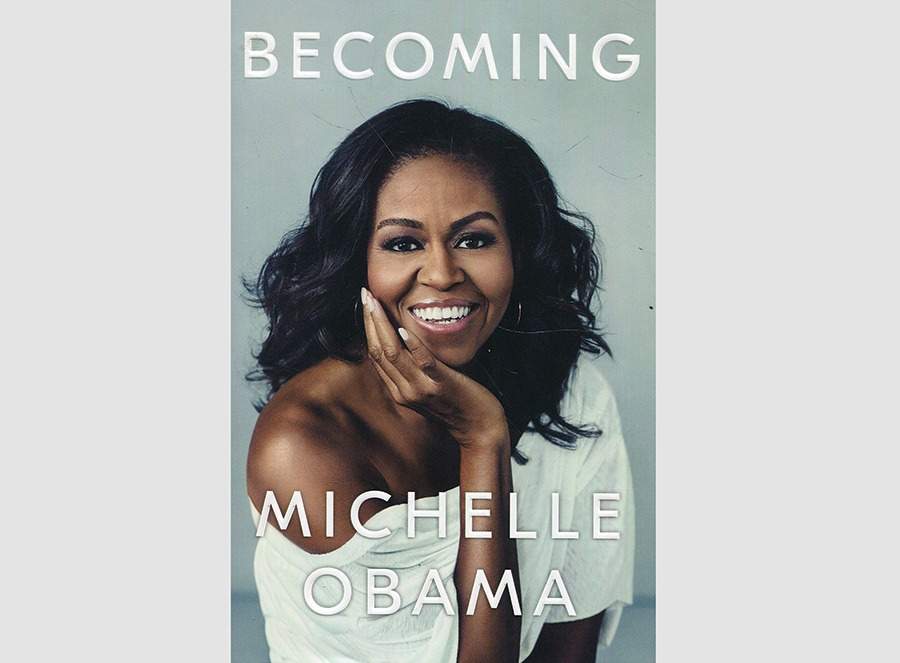 Obama's memoir is one written with captivating spontaneity and openness, writes Emelia Hamilton-Russell
If Michelle Obama's autobiography makes one thing clear, it's this: the former First Lady never had aspirations beyond a house 'with more than one floor', a fulfilling job, some children and a dog. She writes: 'It was one thing to get yourself out of a stuck place, I realized. It was another thing entirely to try and get the place itself unstuck.' While Michelle wanted to unstick herself from her working-class background – something she achieved by the age of 25 – Barack wanted to unstick an entire nation.
The memoir is divided into three sections: 'Becoming Me' describes her early life in Chicago; 'Becoming Us' deals with her relationship with a capable yet slightly hapless law associate called Barack Hussein Obama; 'Becoming More' details their eight years in the White House. If this sounds a little schematic – even lawyerly – it's worth knowing that rarely has a celebrity autobiography been so well-written and compulsive. Becoming invites readers to bask in the Obama glow while granting access to the couple's messier bits: Barack's 'disgusting' smoking habit and squalid student digs, Michelle's partiality to Sex and the City and her overzealous approach to academia.
Michelle Robinson grew up in a close-knit extended family occupying two one-bedroom apartments: her upbringing was warm, cramped, conservative. Life with piano lessons, regular attendance at Sunday school and a stay-at-home mother who 'taught me to read early' insulated her from the crime-riddled back streets of Southside Chicago (she would walk home from school carrying her house keys 'wedged between two knuckles and pointed outward.')
It was the drive to re-create that sense of familial security, she says, that later drove her to insist on being married to Barack, who would have been happy cohabiting. Their yin-yang relationship is fascinating; him the dreamer, her the pragmatist; he displaying a 'loose-limbed Hawaiian casualness', she punctual and perfectionist in tidy wool suits. In the beginning, she was Barack's mentor at the law firm where they met. She tried to set him up with single friends before conceding that he was too 'cerebral' and funny-looking in his 'white linen blazer that looked like it has come out of the Miami Vice costume closet'. This was not a clichéd love at first sight.
Yoking her neat life to Barack's chaotic one required her to relinquish a degree of control. In a revealing passage, she describes her frustration at being unable to conceive, and having to undergo IVF treatment: 'The burden would be more mine than his,' she writes. 'He wouldn't have his blood drawn. He wouldn't have to cancel any meetings to have a cervix inspection…. I found myself in a small moment of reckoning… I hoisted the needle and sank it into my flesh.'
Obama conquers the reader with her spontaneity and openness (something that is especially true of the audio book – which she reads herself). By the time she tells of how she 'levered' herself out of corporate law into 'a more community-minded' job at Chicago town hall, it is hard to feel anything but admiration. She describes the exhaustion of being a working mother, admitting that her own mother would come over at 5am so that she could fit in a gym session.
The book is weakest when dealing with her time as First Lady. While it does contain some nice detail (comparing notes with the Queen on the pitfalls of Louboutin heels, or receiving a call from Barbara Bush to welcome her to the White House), the section largely reads as a plug for her charitable causes. It is here, too, that the memoir most often lapses into self-help speak. 'We were planting the seeds of change, the fruit of which we might never see,' she writes.
Still, with the state of international politics as it is, we might be forgiven for indulging in a little nostalgia and absorbing a portion of the pair's optimism.
Emelia Hamilton-Russell is junior staff writer at Spear's
Related
PPFM: What to see, visit, read, spend and do in January
Books: The Spear's big reads of 2018
Review: Adaptive Markets by Andrew Lo