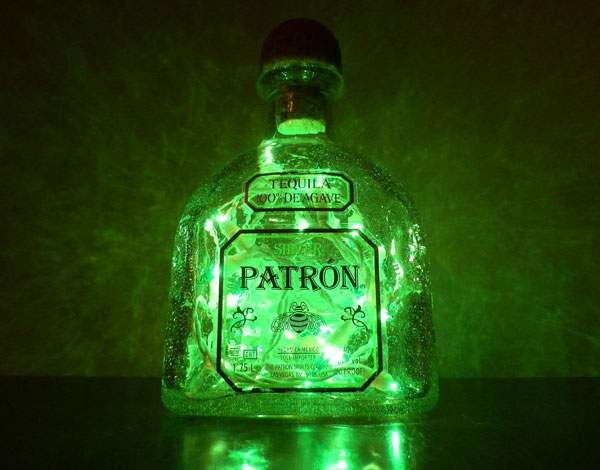 Sophie McIntyre samples a tequila unafraid to showboat its spirit.
'Tequila is cool. That's all there is to it really,' announces Patrón agave-master, Dan Redman-Hubley at the start of the Art of Patrón tasting session in a draughty Shoreditch outbuilding.
The public school boy turned Hackney hipster – complete with an RP accent, tweed three-piece suit and big tattoos, cracks on the charm – turning the evening into a sophisticated celebration of Patrón's tequila revolution.
Patrón's 'ultra-premium' tequila makes up 27 per cent of the global ultra-premium spirits market, with mixologists from Hoxton to Mayfair clamouring for the cult product. It is a cool brand. And one with strong connections to the world of rap music – Patrón features in over 300 rap songs and it's easy to see why, as bottles sell for up to £500, with some even presented in crystal covered bottles.
VP and Managing Director EMEA, Matthias Knoll, is not really that into rap (although he had a great time at The Box last year, when Grandmaster Flash was playing) but he is clearly pleased with Patrón's success.
But is he concerned about the brand's association with the more iniquitous connotations of the rap world?
'No, look it became very popular and we were mentioned in twenty hundred different rap songs. I can't say "don't do that".
'I don't have a problem with it being drunk out of an ice bucket in a club in three litre bottles.'
And he means it. The Art of Patrón party (part of a range pan-European events hosted by Patrón over the next few months), dutifully attended by Spear's following the tasting, was something of a 'rent a crowd' rap video. The coolest kids east of Farringdon packed out an 'underground' Shoreditch venue. Eight cocktail stations were manned by London's top mixologists and party goers danced to old school hip hop, R & B and reggae, thanks to 90's urban music queen, and sometimes DJ, Neneh Cherry.
Rap culture and clever marketing aside, the tasting demonstrated that Patrón tequila is a luxury agave plantation away from the classic late night shots many remember from their university years.
After a surprisingly fresh Patrón and tonic, we were presented with six glinting tequilas – varying in colour from iridescent silver to decidedly tawny.
We were told the tale of Patrón – how the 'artisan' and 'handcrafted' product is created via traditional processes under the watchful eye of Franscisco the master distiller at Hacienda Patrón, Jalisco.
The tequilas are surprisingly varied in style. The standard range covers the Silver tequila; the Reposado (aged in four different barrels) and the raisin toned Anejo. The Silver is light and sweet, without the bitter tones you would normally expect, and is genuinely an excellent replacement for gin or vodka – mixologists love the Silver. The Reposado (the master distiller's drink of choice) is more the classic tequila. It's got the familiar punch, but it's interesting and moreish. Dan Redman-Hubley puts this down to the quality of the Agave. Then there's the tawny, vanilla scented Anejo – a sensual and sophisticated digestif style spirit and my favourite of the evening.
The brand's super-luxe Gran range is, of course, the toast of the rappers. But, flavour wise, this is where Patrón seems to lose its identity somewhat. The Platinum is a triple-distilled, dangerously smooth and sweet tequila – something for those who don't really want to taste their booze in a cocktail, or want something clean on the rocks, perhaps. The Piedra is Patrón's nod to whiskey. It is rested with agave fibres and then aged (briefly – Patrón tequila is never aged for longer than three years as it takes on flavours fast) in bourbon barrels.
Finally, there is the Bordeos, a Cognac style tequila, aged in first growth Bordeaux barrels (the chateau is not revealed). It is unsettlingly similar to Cognac – Redman-Hubley says he ran out of the room hysterical with disbelief when he first tried it. The Gran creations challenge what we know tequila to be and are a very clever way of expanding the brands market. But if you want a Cognac, and you're happy to forgo your rap image, why not have a Cognac?
Patrón will be holding events in Paris on 16 June and Munich on 21 July