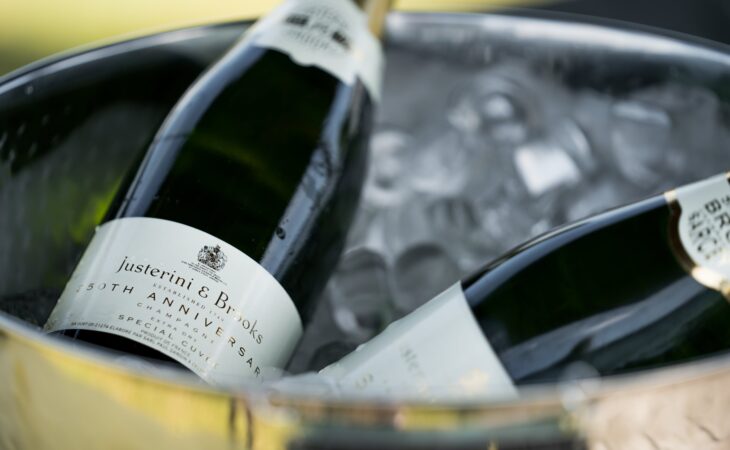 Sponsored: The quality of grower champagne is higher than ever before.
Many of us will have reached for a bottle of bubbly to kick off the celebrations and toast in the new year. With the festive season well and truly behind us, however, the bleak winter months often offer less cause for celebration. But, according to Julian Campbell, Justerini & Brooks' buyer for champagne, times are changing – both in terms of what champagne we should drink, and when.
"There's been a huge increase in grower champagnes and the quality is higher than it's ever been before," he says. "People are much more willing to explore; they're realizing that for a similar amount of money, you can buy wines of real interest."
And it's not just this diverse choice that makes it an exciting time for those with a penchant for fizz. Campbell believes the notion that the quintessential French sparkling wine is only for special occasions is finally starting to lift. "I think people are finding more reasons to drink champagne as part of an evening," he reflects. "They're seeing it more as a fine wine, rather than just a nondescript celebratory drink."
The rise of grower champagne
As London's oldest fine wine merchant, Justerini & Brooks has an impressive array of champagne on its books, spanning both the Grand Marque heavy hitters and boutique houses including Egly Ouriet and Ulysse Collin. But that's not all. Back in 1999, to mark its 250th anniversary, J&B decided to create its very own champagne.
"Our buying director at the time, Hew Blair, wanted to find a champagne that was pure Pinot, so he went to the Aube – a region in Champagne that's closest to Burgundy which has great ripeness and very good Pinot Noir," recalls Campbell.
It was here, in the heart of the Côte des Bar, that Blair found the small family run house, Paul Dangin. Over two decades later, J&B's 250th Anniversary Cuvée champagne is still made entirely from Pinot Noir grapes by the same grower. Aged on its lees for three years to build a fruity richness, the sparkling wine remains a popular choice with the merchant's loyal customers.
Having worked at J&B for just shy of 17 years, Campbell has watched first-hand the rise of grower champagne. He explains that progress has been relatively slow, especially given that growers have little spare cash for marketing and must instead rely largely on word of mouth from sommeliers and merchants.
"It's only really in the last 15 years or so that the sector has stopped being dominated quite so much by the Grand Marques," notes Campbell. "It feels like we're about to crest the wave where acceptance of these smaller houses becomes much more widespread."
So what sets these grower champagnes apart from the big names? For a start, explains Campbell, growers' ranges tend to be more varied, often reflecting the unique terroir of an individual plot. Sustainable viticulture also comes into play, with many growers choosing to farm organically.
"There's much more interest in individual vineyards now in Champagne, which is more akin to the way we think about say Burgundy or Barolo," he continues. "If you're a grower who is tending to their patch of vines, you have control over the entire process. You're aiming to put the finest wine into the bottle because it's going to have your name on it."
Finding the perfect fizz
When it comes to choosing a bottle of champagne, you might have noticed Grand Cru or Premier Cru written on the label. This classification system ranks villages within the Champagne region, with Grand Cru scooping the top spot. Devised in the 1920s to quell growing unrest from growers who felt undervalued as their grapes were being bought at low prices by the big houses, the same designations are still in place today.
But Campbell cautions against paying too much attention to this somewhat outdated system. "I think it's a misconception that Grand Cru is always better," he says. "It's quite strange but the designation in Champagne applies to entire villages, not individual vineyards. So there are some Grand Cru quality vineyards in Premier Cru villages and vice versa. The distinction between them isn't always clear cut."
For those willing to put brands to one side, Campbell says there's a "whole world of champagne out there to explore". He cites Pierre Paillard, a family run estate located in the famous village of Bouzy in the Montagne de Reims region, as well worth exploring. With just 11 hectares of prestigious terroir, the Paillards have been handcrafting champagne at the property for over two centuries.
"The two brothers, Antoine and Quentin, have been at the helm for about a decade, transforming what is being done there with fantastic results," says Campbell. "They now vinify their entire production in barrel, parcel by parcel, to really get under the skin of their individual plots. And what plots they have, full of wise old vines from which they carry out massale selections for the rest of their production."
This traditional method involves replanting the vineyard with cuttings from choice older vines in order to increase the overall diversity and health of the vineyards.
Another high performing estate to look out for is Philipponnat. Campbell highlights their distinctive flagship wine, Clos des Goisses, as worth seeking out. Made using grapes grown on the chalky hillside of Mareuil-Sur-Ay, pinot noir is blended with chardonnay and partially vinified in wooden barrels before being aged for around eight years at the estate's historic 18th century cellars.
"It's a phenomenal vineyard that produces phenomenal wines," reflects Campbell. "As a medium-sized house they make a fraction of the amount of wine as the big houses, so it's very quality focused, but they're also large enough to ensure real consistency."
With quality soaring to ever greater heights, J&B's buyer for champagne offers some sage words of advice for those eager to branch out and explore what the region has to offer. "Visit wine friendly restaurants and start to work out whether you prefer Chardonnay or Pinot dominated wines," he says. "Talk to the sommeliers, taste as much as you possibly can and enjoy discovering new things."
Learn more at justerinis.com