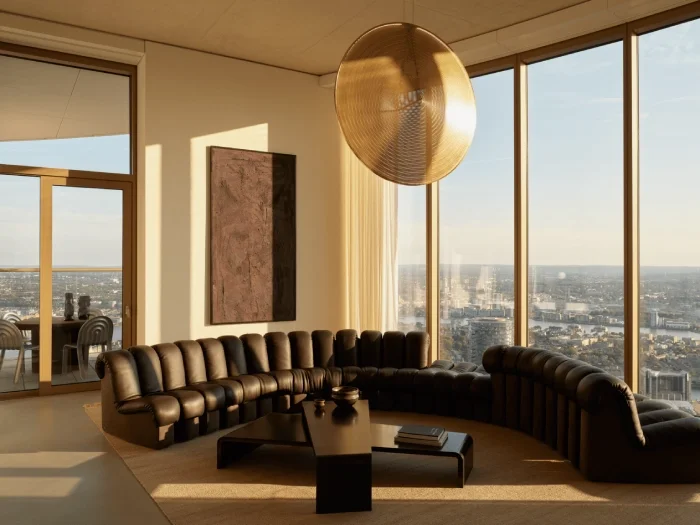 Canary Wharf's One Park Drive is a standout design collaboration between Herzog & de Meuron and Tom Dixon. Spear's takes a tour of Canary Wharf Group's 'pinnacle of living'
For HNWs looking for their dream homes in the capital, the sky is awash with beautiful 'scrapers to choose from.
Yet few new projects come from architects with quite the same level of esteem as Herzog & de Meuron. The acclaimed Swiss architecture studio behind Beijing's Bird's Nest stadium and London's Tate Modern has put its stamp on Canary Wharf with its first UK residential project, One Park Drive.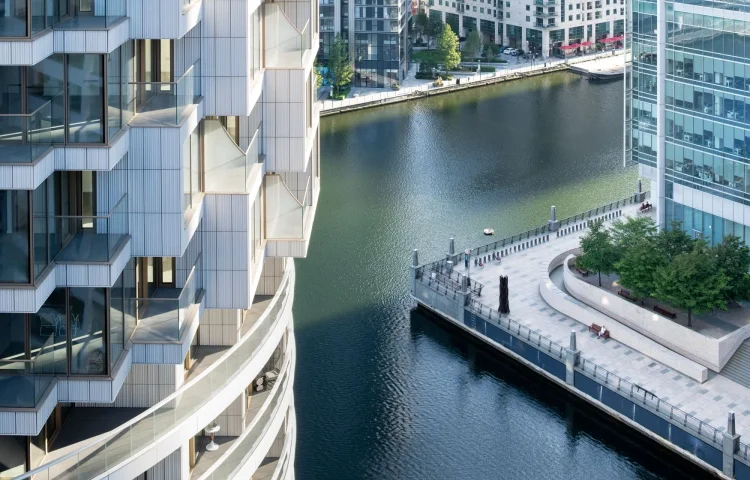 An innovative 57-storey cylindrical building, construction of One Park Drive by the Canary Wharf Group itself took half a decade, with the project ready for HNW residents in 2021.
Now standing proudly on the 128-acre estate's South Dock, One Park Drive is an elegant landmark – possibly the group's most luxe undertaking – and the signature building of the newly evolved Wood Wharf neighbourhood.
One Park Drive undoubtedly has an air of exclusivity, something further enhanced by its title. In recent years the residential super-prime market has experienced a 'One' naming trend, explored in depth by Alexandra Goss, with a proliferation of luxe developments including One Hyde Park, One St John's Wood, and 1 Mayfair carrying the moniker.
Dubbed 'Europe's largest regeneration project', the new neighbourhood is part of an ambitious strategy by Canary Wharf Group CEO Shobi Khan to diversify the appeal of the area and shift perception of its residents as corporate banking entities.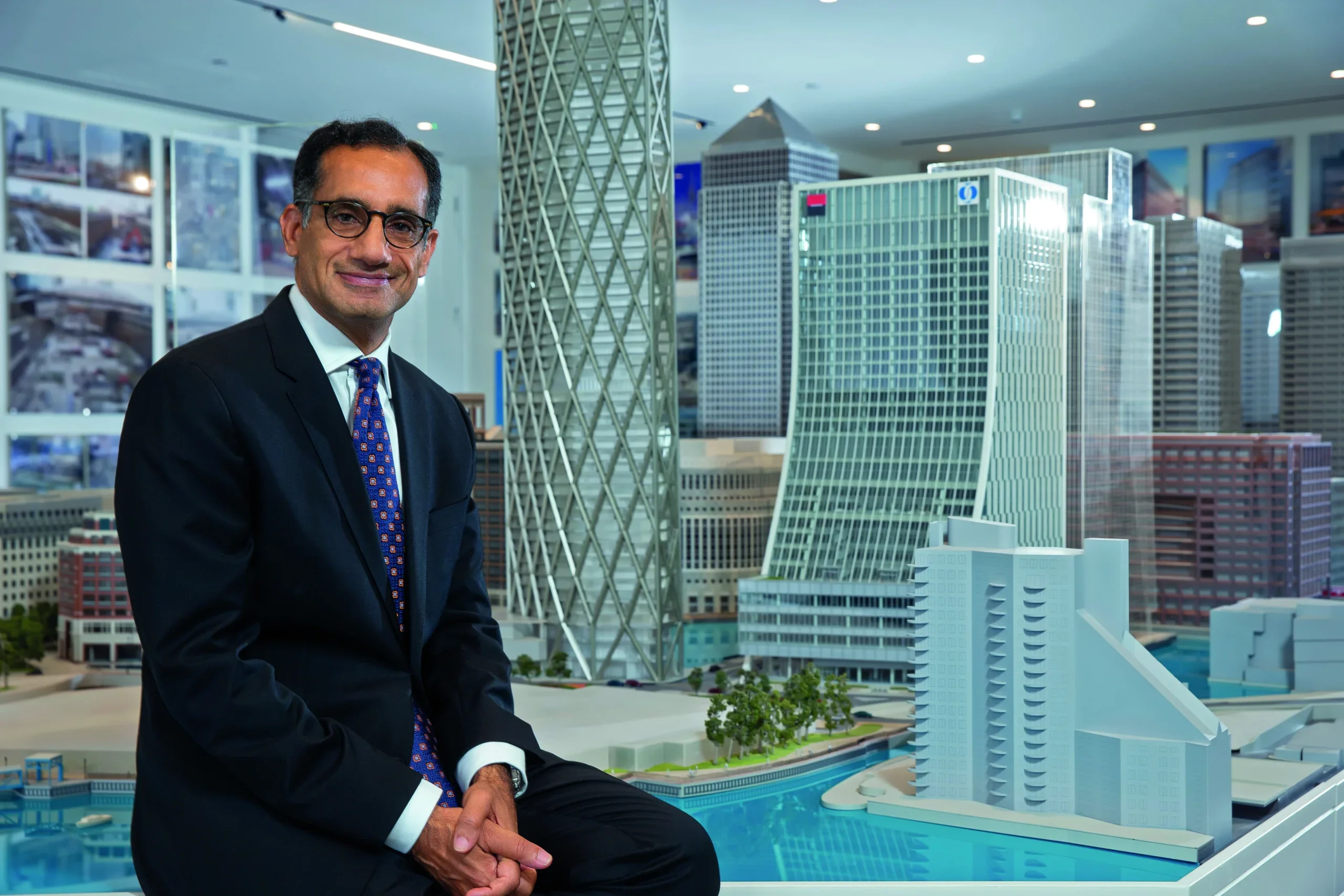 One Park Drive is also significant for another reason: as Khan makes a full-scale pivot towards new build-to-rent projects, it is one of the few new projects of 'for sale' apartments that the group will build.
Khan, who took over from Sir George Iacobescu in 2019, told Spear's that he believes many of today's twentysomethings will rent housing just as they 'will get their music from Spotify, get their cars from Uber, [and] get their movies from Netflix.'
Creating 'the sense of a private gallery' at One Park Drive
With three contrasting architectural typologies (bay, cluster and loft) separating the building into distinct vertical sections, One Park Drive's unique façade stands out on the Wood Wharf landscape.
In designing the building, architects were eager to explore the idea that a high-rise skyscraper can have its own 'vertical context', the same way that a street has its own variations along its length.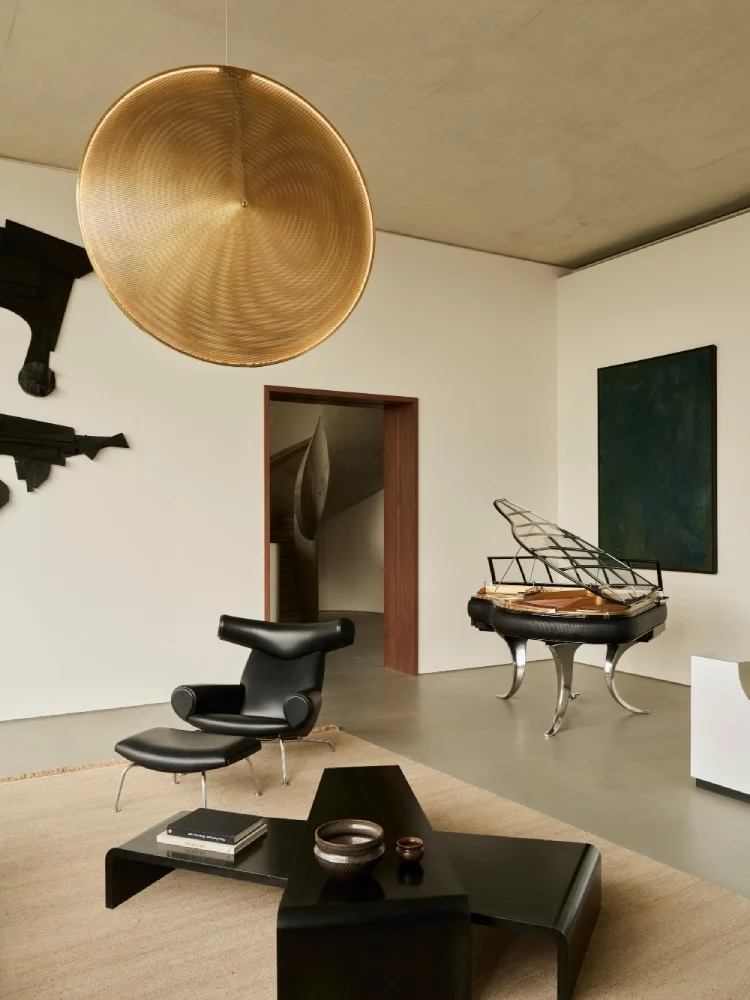 Meanwhile, Tom Dixon's Design Research Studio was drafted in to craft the interiors of the penthouses.
On entering one of the 56th-floor duplex apartments, on a tour conducted by the Canary Wharf Group's amiable head of residential sales, Brian De'ath, it becomes immediately clear to me what Dixon is going for.
Gliding round the industrially-inspired spaces, I keep forgetting I'm not inside another of Herzog & de Meuron's notable buildings – the Tate Modern, which was completed by the architect in a £134 million renovation in 2000.
But the aura of an art collector's den is no coincidence.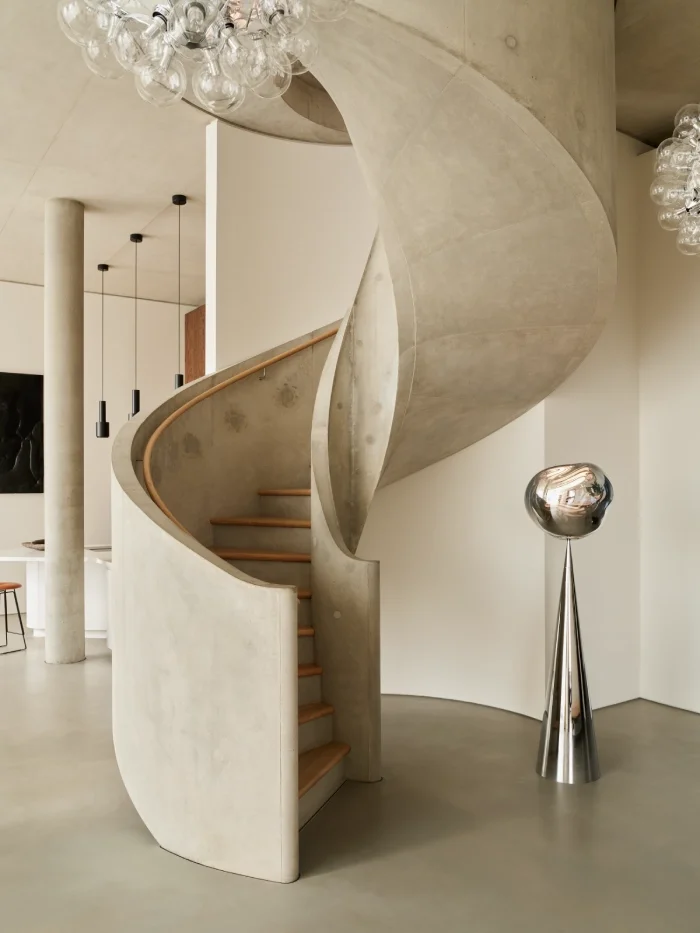 Inside, Dixon has assembled an array of artefacts – eclectic artworks and sculptures, accented by minimalistic flourishes of wood, silver and leather. Every bit of floor space has been negotiated and tinkered by the curatorial master – and yes, it is aesthetically pleasing.
A sense of minimalistic beauty permeates the concrete columns, floors and signature spiral staircase, which was constructed by pouring concrete into a specially-designed mould.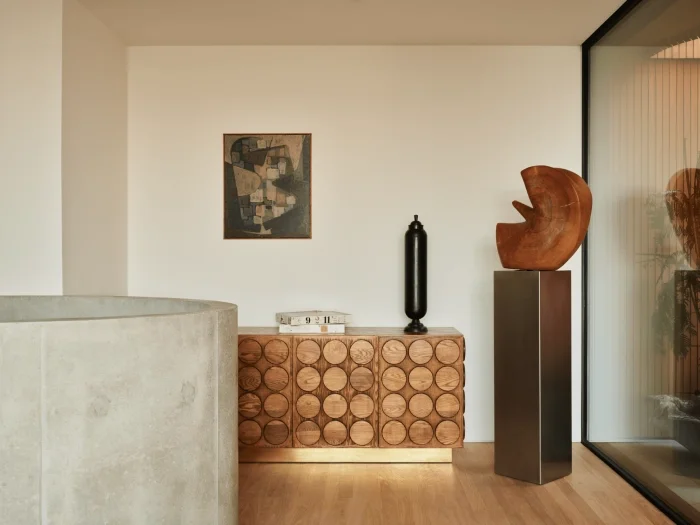 'We decided to imagine the spaces through the persona of an international collector, a lover of architecture and travel that has decided to make their home in London and has curated, over time, a selection of extraordinary objects, art and furniture,' Dixon says of his approach to the design.
'It should feel personal, convincing, compelling and aspirational – we didn't want to design a typical luxury apartment,' adds Dixon. 'The beautiful, fluid spaces feature high ceilings and large expanses of wall and windows and the artworks create the sense of a private gallery.'
De'ath, meanwhile, calls the duplexes 'the pinnacle – both literally and metaphorically – of living on the Canary Wharf Estate'.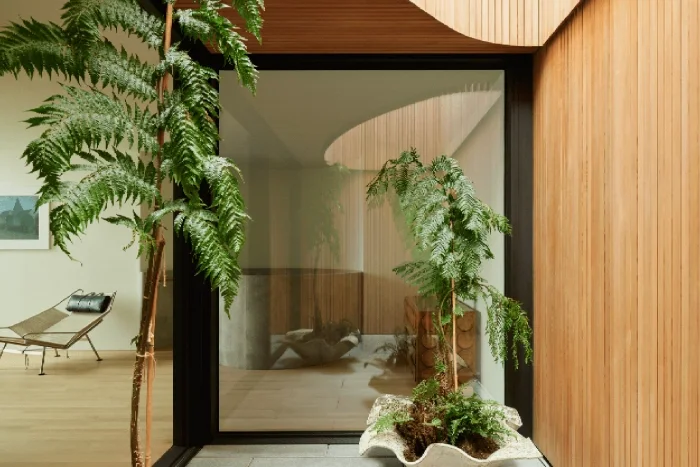 Several penthouses also have their own private internal garden space to give HNW punters a private view of the sky from the 57th floor.
A millennial reveller's paradise?
The wider development contains 434 apartments, an 18-seater cinema room, private bar, library and lounge, and of course, a 24-hour concierge.
Residents can also unwind in One Park Drive's fully-kitted-out gymnasium, or its 20-metre swimming pool. On the same floor, an outdoor decking area hovers elegantly above Canary Wharf's South Dock waters.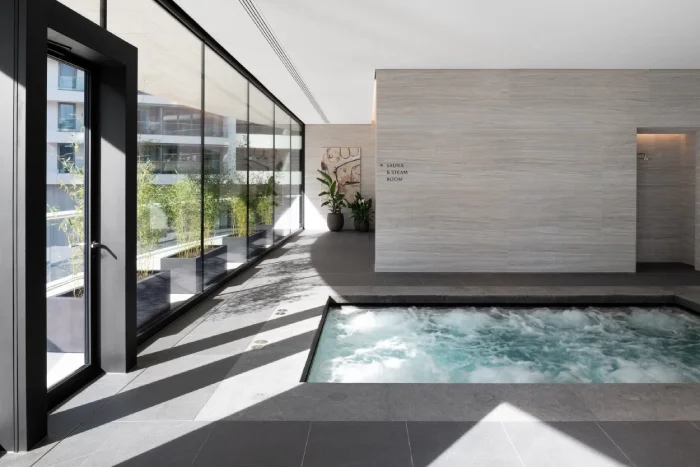 As the wider neighbourhood continues to evolve, CWG is redefining the confines of a traditional home with amenities spilling out into the wider streetlife. Outdoor cinema screenings take place in the summer, and Canary Wharf is home to London's largest outdoor public artworks collection.
Due for completion in 2028, it will be intriguing to see how the built environment at Wood Wharf will further change over the next half decade.
Seven penthouses are available in the cylindrical building – with a four-bedroom duplex available for £9.25 million. For more information, contact the Canary Wharf Group's residential team.
Images courtesy of the Canary Wharf Group
More from Spear's:
Luxury homes in London are in high demand – inside the new kind of space race
Wardian: An oasis in the heart of the city