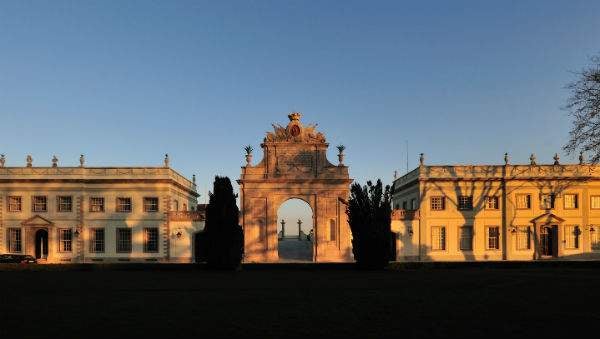 Sintra's Palacio de Seteais, which has appealed to many in the past, from Portuguese royals to Lord Byron himself, is still as magical today, writes Sophie McIntyre
'Lo! Cintra's glorious Eden intervenes
In variegated maze of mount and glen.
Ah, me! what hand can pencil guide, or pen,
To follow half on which the eye dilates,' Childe Harold's Pilgrimage, Lord Byron.
Tivoli's Palacio de Seteais is set in an area so magical that even Lord Byron struggled to put its otherworldly qualities into words.
The Portuguese hill-town of Sintra is a maze of monumental palaces, quintas and gardens tucked into lush and ornamental woodland on the cool upper slopes of the Serra de Sintra, just an hour's drive from Lisbon. Narrow winding roads, overhung with branches, connect the residences and pretty town square and all is patched with moss and lichen – lending the area a fairy-tale quality.
Portuguese royals, aristocrats and many a lofty Englishman (including Byron himself) summered here during the 18th and 19th centuries. Approaching the grand neoclassical façade of the Palacio de Seteais in a horse-drawn carriage, it is easy to transport yourself back to the hilltown's Romantic heyday.
Built in the 1780s for the Dutch consul, the elegant sandstone residence has since been carefully transformed into a luxury hotel. Despite the scale of the building it still feels like a private residence, and has only 35 rooms. Guests are welcomed into the drawing room on arrival and are able to spend their stay enjoying the palace as it was intended to be enjoyed, but with the addition of a high-end spa and modern Portuguese dining options – perfection.
The expansive terrace, overlooking the orchard, arboretum and hillside, is a spectacular spot for lunch. Wander up from the tranquil pool or tennis courts, set in the gardens below, and choose from an enticing selection of Portuguese delicacies (go for seafood, as Seteais is 12 kilometres from the coast) for lunch. Staff can also arrange for you to dine in the Salao Nobre room, surrounded by the romantic frescoe'd walls of the romantic parlour.
The bedrooms hark back to the 18th century. There are no key cards here, just large, jangly brass keys. Each room is packed with exquisite antique furniture and elaborate fabrics, creating a truly traditional experience. Opening your shutters in the morning onto the mist swathed lawn is truly magical.
A little, welcome modernising has, of course, taken place. The newly-added Anantara Spa allows guests to enjoy holistic, Asian-inspired wellbeing and beauty treatments in the XVIII century palace – the perfect mix of Old World and new age. And, if you haven't consumed enough by mouth, you can indulge in a Vinotherapy facial which uses extracts of local Sintra grown Colares Wine to rejuvenate the features.
Although difficult, it would be criminal not to venture outside the palace walls and explore the warren of palaces, gardens and residences surrounding Seteais.
Sintra is a UNESCO World Heritage Site and is famed as the 18th Century home of Romantic architecture. The most notable figure behind Sintra's notoriety was king Ferdinand II of Portugal. Ferdinand was the 'brains' (and wallet) behind the eccentric and colourful Pena Palace – an architecturally Romantic hotch-potch blending Gothic, Egyptian, Moorish and Renaissance elements. It's a truly extravagant display of palace and parkland, but it is not to everyone's taste.
Conversely, the Monserrate Palace and is hard not to fall for (a spot for which Byron held particular affection). The residence itself a mix of Indian, Moorish and medieval influences, and was the brainchild of romantically minded Englishman, Francis Cook. The unusual gardens – featuring waterfalls, ruins and grottos in addition to an exotic array of plant life, were the project of two other notable masters – painter William Stockdale and gardener, Francis Burt. The English influence continues.
And if all the Romanticism is too much for you, why not take a helicopter ride from the palace's lawn to the Portugal's wonderful Cascais coast, for some sea-breeze and seafood – it's a neat way of avoiding Sintra's only downfall, the traffic.
TAP Portugal flies direct from London Heathrow, Gatwick and Manchester to Lisbon up to 10 times a day, prices start at £42 one way including all taxes and surcharges. For further information, visit www.flytap.com or call 0345 601 0932.