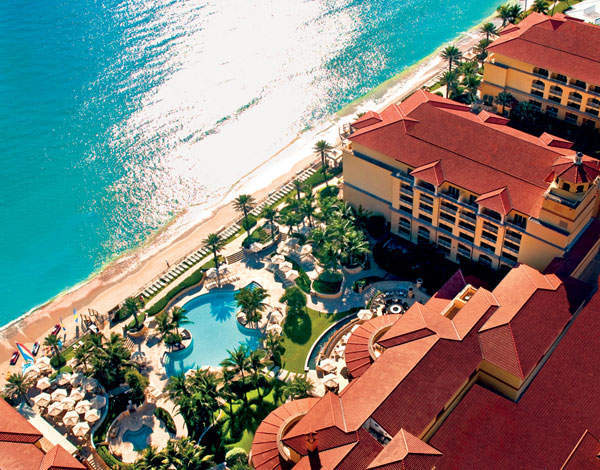 There are fictional utopias and paradise gardens, like Shangri-La, where people hardly age and the azaleas are always in bloom. Then there's Palm Beach, the Florida resort — a heaven on earth for families who can afford a few million dollars for a property that they will probably only visit for a few weeks a year. What a joy it is. I last visited in the 1980s. It's not merely unchanged, but actually, in terms of the number of beguiling, Spanish-ish buildings, better. One of them houses the Palm Beach Preservation Foundation, which patrols taste in these parts. It's less than a decade old.
I was there in January, when it was quiet. Very quiet. The crowds that had mobbed the Breakers (a hotel built, in its present form, in 1925) between Christmas and New Year had dispersed sufficiently for me to reach the Seafood Bar, where fish were swimming beneath the glass counter. Although one long-time visitor told me that locals had become concerned about the volume of traffic, the occasional car that came purring along the beautifully manicured streets hardly constituted a rush. It would be unkind to say as quiet as the grave, because for a fair number of residents that will be the next destination.
Quiet is, understandably, a condition much valued in this supremely well-tempered environment: Donald Trump, owner of the Mar-a-Lago private members' club, feels sufficiently strongly about it to be suing the airport for the planes that (as they always have done) fly overhead. And yet, I couldn't help noticing a degree of self-inflicted noise. Gardeners are forever trimming the palm trees with electric saws and blowing away any errant leaf that has despoiled the perfection of the lawn.
Palm Beach simply doesn't do the sere and yellow that Macbeth found his way of life had fallen into. Age doesn't wither anything or anyone around here. It's a place of joggers. I was the sole person to be walking on the streets, in, if I say so myself, a rather natty apricot-coloured suit. Everybody else wore baggy bottoms (I refer to their clothes) and perspiring brows. History doesn't reveal how old the fossils dancing the tango in my hotel were — several decades older than their faces, I should say. But then artifice is what Palm Beach is all about. It's both balmy and barmy.
I don't know how many palms were here originally; certainly some of the ones I passed had been brought in fully grown. A century and a half ago, Florida was still a swamp. Enter that Titan of capitalism, Henry M Flagler: a former partner of John D Rockefeller in Standard Oil, he constructed a railroad to the Keys. It was the making of the state. By 1907 Flagler could build himself a Beaux Arts mansion, Whitehall — home, while I was there, of an Oscar de la Renta fashion show.
Flagler died in 1913, just before the Palm Beach boom caused by the European conflagration; the Riviera was off limits during the First World War. Anything could happen, in those early days: according to one source, 'a Vanderbilt may ask you what the time is'. But the Vanderbilts and other families were soon safely locked behind the closed doors of their palacio houses, often built by Addison Mizner — artist, wanderer, wit, bon vivant, carefree Bohemian, capitalist, builder.
Out of his architectural cauldron came a kind of Mediterranean bouillabaisse, which, in form, was almost the exact opposite of the originals which inspired it. Genuine Spanish houses had few outside windows, in order to repel enemies and the sun. Palm Beach wanted to live as much as possible in the sunshine and open air. As Mizner wrote, 'There was nothing to do but to turn the old Spanish house inside out.' Bumpy tiles, seemingly worm-eaten furniture and electric light fittings made of wrought iron were the note.
I also have a soft spot for roly-poly Joseph Urban, previously known as a set designer for the Ziegfeld Follies. Not only was he responsible for Mar-a-Lago, but also the more discreet B&T Club next door. If you have to ask what B&T stands for (Bath and Tennis), you're not one of the elect. The B&T combines standards (absolutely no mobile phones can be used, shirt tails must be tucked in) with a charming informality, which allows some of the richest people in the world to pretend they're like ordinary people. Lunch is cafeteria-style — you queue up with a tray — and eaten with sand between your toes. The very lucky repair to a cabana — a kind of beach hut, for which the competition is intense. America can do relaxing better than any country in the world. God bless Palm Beach.