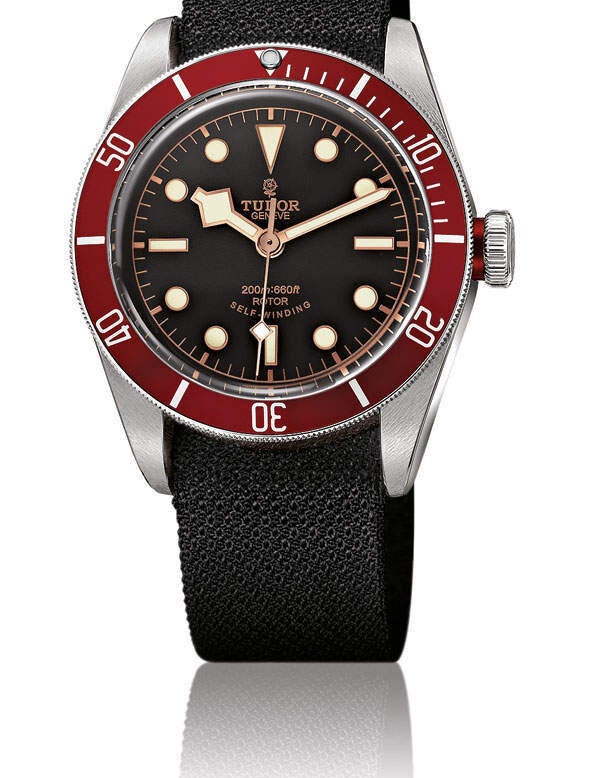 It sounds like a riddle, but it isn't one: what links a 94-year-old former serviceman living in Rochester, an artist building a boat out of Manhattan's rubbish, the French Navy and Hans Wilsdorf, the founder of Rolex? The answer, Tudor, is a watch company that even a couple of years ago was likely unheard of by most people in the UK. It's still some way from mainstream recognition here, despite its distinctly British name — its original logo was even a Tudor rose — and the fact that it was established by Wilsdorf himself as a sister brand to Rolex almost 70 years ago.
That the world's most recognised luxury brand should have a sibling so overlooked is itself something of a puzzle. Until a year ago it had not been sold in the UK for over a decade, and had been in the doldrums globally for rather longer than that. Its current revival, however, has seen Tudor go from brand in decline to one of the hippest, most influential and interesting marques in the world — a turnaround that's occurred in the space of around three years.
Tudor's superb build quality and forceful designs — influenced equally by its history and a profoundly modern sense of style and colour — have seen it adopted once more by the connoisseur class, as well as by the entry-level market that its price point (averaging around £2,000) suggests. Its renaissance is, I think, one of the most telling narratives in modern watchmaking, and it's tied to a back-story as colourful as its modern collection, with interesting Anglophile connections.
Which takes us to Roy Homard, a retired army officer living in Rochester — and specifically to the back of his kitchen drawer, where last year he discovered a watch he hadn't seen in decades. Homard was part of the British North Greenland Expedition, a scientific survey of Greenland's uncharted northern territory which took place between 1952 and 1954. With Wilsdorf's blessing, the expedition was provided with 30 Tudor 'Oyster Prince' watches — then a brand-new collection — to use during the expedition, the explorers logging for Tudor the performance of the watches under extreme Arctic conditions.
This was a useful testing exercise for what was then a young brand with much to prove: specifically, that you could apply the legendary robustness and reliability of Rolex to a more affordable type of watch. First registered as a brand by Wilsdorf in 1926, Tudor was only properly kicked into life just after World War II. It used Rolex's 'Oyster' watchcases — tough and waterproof — with cheaper movements supplied from outside the company and fine-tuned by Rolex's expert watchmakers, offering a value proposition and smart design that remain at its core today.
It's appropriate that so very British a caper should have influenced the early identity of Wilsdorf's junior brand — ever the Anglophile (he founded Rolex from London, after all), the name Tudor reflected his British tastes. Tudor's publicity materials made much of the British North Greenland Expedition even while Homard et al were still out on the ice, its adverts praising 'these courageous men who wear these Oyster Princes [and] have unerring faith in their ability to withstand these tremendous hazards'.
Pictured above: Tudor's claret-bezelled Heritage Black Bay watch
This adventure subsequently became part of Tudor lore, referred to in its catalogues, celebrated by collectors and crucial in establishing the brand's rugged identity. Over the decades Tudor would produce a great diversity of watches, from colourful chronographs to robust field watches in the vein of the Oyster Prince. In 1954 it started making dive watches that were so closely affiliated with Rolex's diving models that they even shared the same name, Submariner.
These were supplied to various military forces around the world, most famously to the French Navy, which played a key role in field-testing the watches in a partnership that lasted three decades. These are now highly collectible, and while a vintage Tudor 'Sub' has long been a more affordable alternative on collector markets to its Rolex equivalents, prices are rising quickly, particularly for the military models.
Tudor drew on Rolex's case designs and engineering, but it often occupied a more breezy, less austere aesthetic, with some interesting design flourishes. Its Submariners became known for bold, square 'snowflake' markings, for instance, while in the 1970s its sports chronographs picked up the nickname 'Monte Carlo' for their richly hued dial patterns, suggesting a world of casinos, speedboats and fast cars.
However, in the 1980s and 1990s this design energy dissipated. Rolex cases were ditched, and the brand more or less ran out of steam, eventually exiting Western markets and largely focusing on supplying Rolex-lite watches to Asia.
'It was being kept alive without focus and vision,' says Davide Cerrato, the man now responsible for Tudor's design and identity, a bow tie-sporting dandy with an aesthetic instinct profoundly at odds with the dowdy depths to which Tudor had sunk. 'Now we're injecting a level of pleasure into the watches, of cultural content that you recognise as a watch lover. It's all based on the power and richness of our history.'
The change began in 2011 with the launch of the Heritage Chrono, a watch that went back to the look and feel of the Monte Carlo watches. Next came the Heritage Black Bay, an über-suave casual watch with a claret bezel that summoned up the spirit of the vintage submariners — its gold-tinged dial markings even suggested the patina discoloration of vintage dials — without being so obvious as to re-create them.
Other models have followed the same ethos, with an attention to detail that's simply not been seen at Tudor's price point: the Pelagos is a robust, true diving watch (unlike the textile- or leather-strapped Black Bay) that reintroduces the 'snowflake' dial; the Ranger is a classic, Explorer-style field watch that feels both modern and classic. Late last year, Roy Homard donated his rediscovered Oyster Prince (pictured top) back to Tudor for its archive (where the log book applying to it from the Greenland expedition was still kept) and was presented with a specially engraved Ranger in return.
Having re-entered the US and UK markets with gusto, Tudor's designs have been noticeably influencing those of other brands — colour, textile straps, patina dials and the like have been everywhere, amid a generally invigorated sense of smart design that emanates directly from Tudor. This year it has gone adventuring into entirely new territory, however, which Wilsdorf would never have envisaged: it has launched its own movement. Developed within its facilities — not those of Rolex — it's a typically robust, highly engineered but economical mechanism that has made its debut in an entirely new watch, named the North Flag.
It's conceived as an explorer's watch, a cool, sporty piece with which you might trek into the snowy yonder just as Homard and his comrades did in the 1950s. And in fact, someone's planning to do just that. James Bowthorpe is a filmmaker and adventurer who, in an act designed to draw attention to issues around the environment and urban waste, is building a boat out of Manhattan refuse that washes up in the Hudson river. With Tudor's financial support and a North Flag watch on his wrist, he's then going to trek up into the Adirondack mountains to the source of the Hudson, and row the thing back to Manhattan.
OK, it's a distinctly whimsical project that has 'hipster' written right through it. But Bowthorpe is an Englishman, with an old-fashioned take on exploration and adventure. Of that, Hans Wilsdorf would surely have approved.