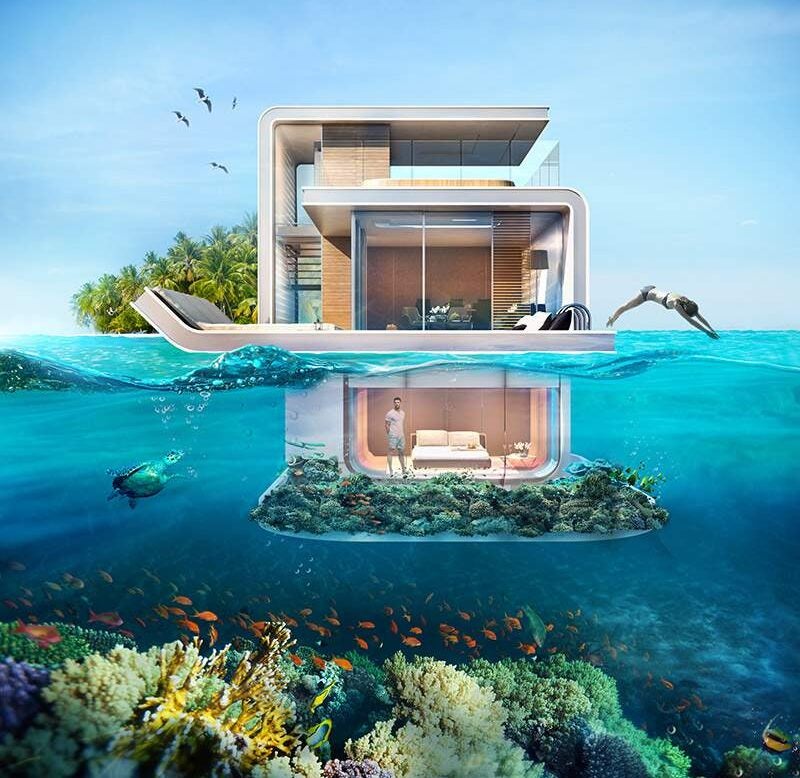 Dubai is a city-state known for its spectacular landmarks and lavish projects which embody the essence of luxury. Their latest project is the 'Floating Seahorse' — a contemporary marine yacht that boasts underwater rooms with uninterrupted ocean views. The 270 square feet property is essentially a boat that doesn't move, with a fully-fitted kitchen and a glass-bottomed jacuzzi on its sun deck.

The £1.2 million villas will flaunt three levels—the main floor at sea-level, an upper deck, and a lower level underwater. The lower level includes of a master bedroom with floor-to-ceiling windows for oceanic views. The master bedroom and bathroom will be totally submerged in the clear sea, delivering a 360 degrees view of the surrounding coral reef and ocean scene.
Explore this exceptionally lavish floating home with underwater rooms.
The exclusive marine style retreat shaped like a seahorse, hence the 'Floating Seahorse' is a partially-submerged property development dreamed up by Dubai's Kleindienst Group with completion scheduled for late 2016. Intelligently designed, engineered and developed in Dubai, the unique concept will comprise 42 units to be moored near The Heart of Europe islands, part of Dubai's artificial island project The World.

On the upper deck is a fully-fitted kitchen, with a dining area and an open plan living area, featuring floor to ceiling windows for scenes, as well as a sun deck for relaxation. For added luxury, the upper deck also features an informal bed, a mini bar and a glass-bottomed jacuzzi .

The villas have been built using high-quality marine materials. The luxury project is set to be completed by the end of 2016 and tenants can move into their floating home in 2017.
CEO of Kleindienst Group, Josef Kleindienst commented "Many months of research, design and planning have gone into the floating seahorse and we are excited to be able to officially launch and build it in Dubai. We are confident that it will set a new benchmark in the luxury lifestyle market worldwide for outstanding innovation, contemporary design and underwater living at its best."
Image Credit: The Floating Seahorse