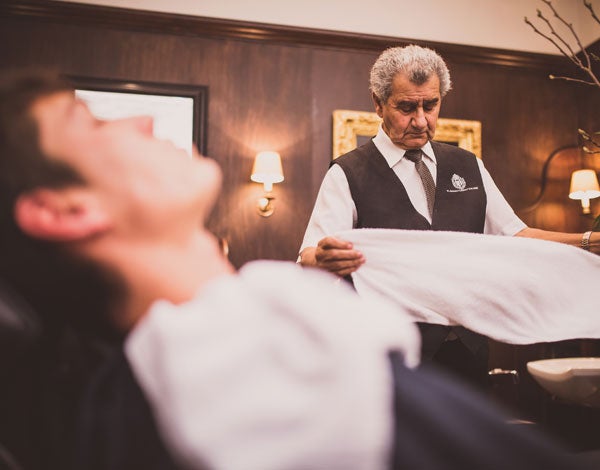 'Montgomery ordered a pair of brushes from Truefitt. He sent a piece of German propeller, and he actually wanted the brushes fashioned from the bit of propeller. He wanted two pairs, one for himself and one for Eisenhower'.
So says Joanna Broughton, the executive director of Truefitt & Hill (est. 1805), the oldest barbers in the world. On receipt of the brushes, Montgomery replied with a hand-written letter of thanks on, what transpired to be, the eve of D-Day. It seems only good sense to be particularly well-groomed for the largest seaborne invasion in history.
From suave military moustaches to clean shaven City boys and bushy hipsters, tonsorial fashion is always changing at a clip. The diverse barbers and hirsute retailers of St James's have seen it all.
The fact that a lot of the top-end barbers are nestled in cosily among some of the most exclusive clubs in London has no doubt shaped much of their traditional clientele. Alan Broughton, managing director of Truefitt & Hill, gleefully recalls some of the more memorable clients over the years: 'When his Lordship has come down from his club, completely pissed, and sits in the chair and has his experience… and then the next day he's come back, forgotten he's been here, and had another one.'
Despite a proud tradition of serving royalty and aristocracy, Truefitt & Hill, whose products were brought up from the Titanic, have also seen a sizeable shift towards younger, City professionals. 'You literally never know who's sitting in the chair, from members of the Royal family to… lowly journalists' jokes Joanna.
92-year-old Philip (who doesn't offer a last name) is the owner of, and sole barber, at Briggs barbers on Ormond Yard. Cutting hair in St James's since 1949, Philip's idiosyncratic shop is decked out with Greek Orthodox icons and original 1937 basins, chairs and mirrors. He is proud of his traditional methods and style. 'I think many young people who come in are very impressed or surprised to see me cutting hair with a hand machine' (a manually-operated clipper). While some customers that Philip met in the 1950s are still coming to him with their grandsons in tow, a lot of visitors from abroad are also enjoying this novelty bubble of luxury in London.
A well-documented shift in the last couple of decades has been a return to traditional methods of wet shaving with cutthroat razors, benefitting establishments in the St James's area hugely, as demand for beautifully crafted products and classic haircuts soars. 'Certainly, men are now not afraid of using moisturisers…they take a lot more care of themselves', comments Barry Klein of barbers The Taylor of Old Bond Street (est. 1854). Just round the corner, Julian Moore of chemists and perfumers D. R. Harris (est. 1790) says he has seen a rise in the American and German anglophile market in particular, with the area seen as something of a tourist attraction.
This global desire for British custom and quality is without doubt something that Truefitt & Hill has been able to capitalise on, with stores from Toronto to Baku (as well as five in Kuala Lumpur). Joanna Broughton describes their business model as slightly 'erratic'. Following demand overseas rather than systematically targeting areas has allowed the franchise to exist simultaneously as a bastion of tradition in the heart of London, as well as an organically growing business on the global market. 'It's not a hard sell,' she explains, 'because right across the world there are men who recognise the importance of being flawlessly groomed, and they appreciate it being done in a very sophisticated masculine environment.'
However, for those barbers not bent on 'global dominance' (as Joanna Broughton says semi-seriously), the revived image of the traditional grooming scene might be something of a mixed bag because of the pretence of tradition from other establishments. In her seventeen years of experience, Master Barber Ola Jafar has noticed a growth in barber stores mimicking the model of Truefitt & Hill: 'This image does engage a lot of trust – they want to keep that traditional confidence.'
Demand is constraining supply as visibility has bred almost too much interest from the man on the street. Klein tells me how, after providing the cutthroat razor used in the steamy shave scene of Skyfall, the waiting list for orders from the German supplier rocketed to three years – 'Every month we get an allocation, but now they tell us what we can have, rather than us placing an order.'
For smaller, independent stores, the rising rents in the Mayfair area may also prove difficult. Many people I spoke with suggested that the recent closure of Czech & Speake, a Jermyn Street-based men's grooming and accessories shop set up in 1978, was due to rent issues. Fears circulate at The Taylor of Old Bond Street of an impending rise of almost 100 per cent on top of already six-figure yearly rents, from £112,000 to around £200,000.
But because of the efforts of the Crown Estate, which owns much of St James's, to limit the number of large chains entering the area, Moore hopes that the unique character of the place will be maintained. On top of barbers, the area is populated by luxury male fashion brands, creating a unique environment where a man is not afraid of treating and pampering himself.
In a highly changeable marketplace, both the products and the service of these ancient establishments will continue to set the standard of quality. Yesterday as today as tomorrow; the clientele may change but the service they seek remains the same. 'I'm still the same as I was 70 years ago. I'm 92 years old, and I've cut hair for 78 years now, and I still enjoy it', says Philip.