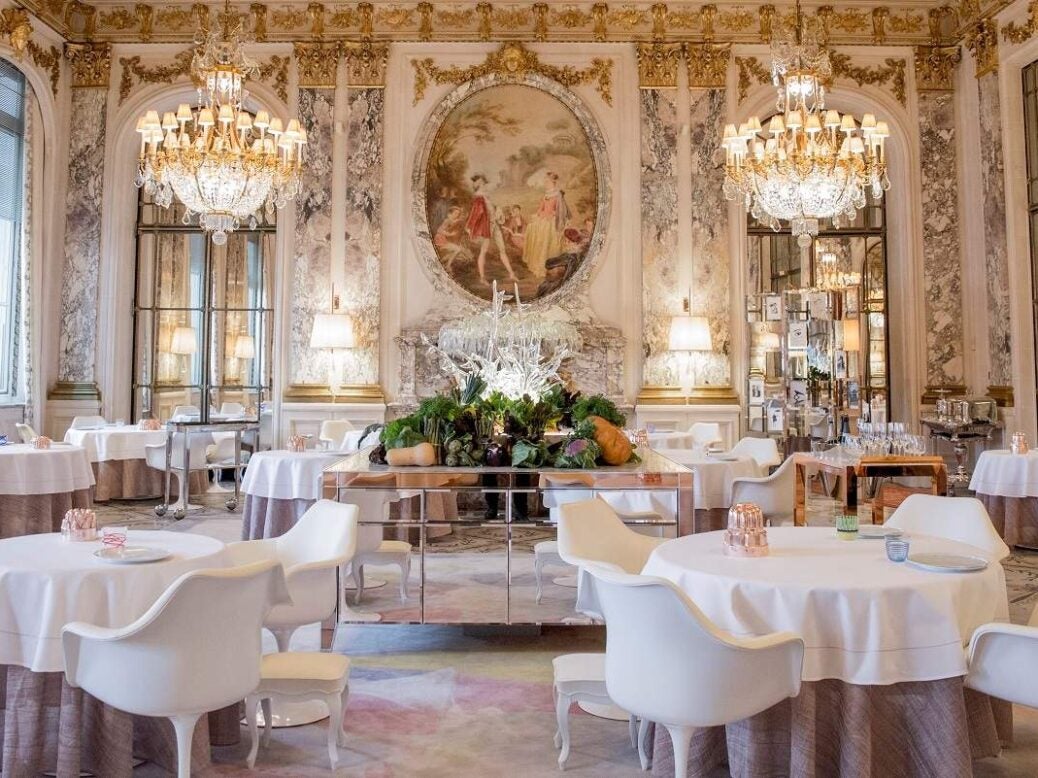 Le Meurice, the historic Paris hotel and one of the premier properties of the Dorchester Collection, has once again entrusted contemporary designer and architect, Philippe Starck, to redesign the hotel's restaurants and Bar 228; and world renowned chef Alain Ducasse to introduce a new menu at Le Dalí.
Nine years after the first redesign, Starck highlighted the hotel's surrealist setting combining their chic French history with a revised contemporary experience.
For Le Dalí restaurant, Starck recreated a surrealistic vision with a new ochre-hued carpet and ceiling tapestry, designed by his daughter Ara Starck. Evoking the spirit of Le Meurice's French genius art of living, Starck adds new chairs adorned with canvas drawings by Ara alongside a tilted mirror, reflecting the picturesque dining room and ceiling. Lighting with crystal droplets and original pieces such as the swan chair and the rocking chair give the Salvador Dali inspired restaurant a whimsical ambiance.

The change in interior At Le Dalí has come with a change in cuisine. Alain Ducasse has created a menu that combines the traditional Parisian brasserie with Mediterranean cuisine. With a continued focus on provenance and quality of ingredients, the new menus which offer half portions, encourage a convivial style of dining by sharing plates tapas style and enjoying great conversation.
Meanwhile, Bar 228 received a masculine touch with deep browns, deeply comfortable leather chairs; and a contrasting brightness and pink copper and marble-topped tables making the it just the spot for cocktails. The Galerie Pompadour, now an extension of Bar 228, captures the surrealist spirit with a carpet designed by Ara Starck and portraits of 18th century personalities featuring on the back of the leather armchairs.
With a backdrop of Eero Saarinen Tulip chairs, baroque chandeliers and Aristide Najean's bespoke crystal sculpture, Starck enhances the Versailles-inspired interior at the gourmet restaurant le Meurice Alain Ducasse. Starck added elegant modern touches with the use of crystal, rose copper on the furnishings and a new custom-made carpet in harmony with the 18th century inspired fresco ceiling. Two screens incorporating a framework of photos and sketches from Starck's private collection heighten the sense of seclusion and privacy.
Led by executive chef, Jocelyn Herland, the restaurant offers exceptional French cuisine, implementing Ducasse's philosophy of preserving the taste of each ingredient. Highlights on the menu include, a turbot fillet cooked on a slice of bread with a truffle and spring onion sauce, served with olives and salad; or a veal medallion with marinated anchovies, served with seaweed and Swiss chard.
Commenting on the new design, Le Meurice's general manager, Franka Holtmann, said: 'We are delighted to revive our relationship with Philippe Starck to redesign our interiors as well as work with Alain Ducasse to further evolve our gastronomic identity. Both men are exceptional visionaries in their fields and have succeeded in recreating a contemporary atmosphere whilst maintaining the spirit of Le Meurice.'
Travel to a finer era, to the original Parisian palace hotel on Rue de Rivoli from London aboard one of Eurostar's new fleet, fully equipped with Wi-Fi. World famous Italian design house, Pininfarina, renowned for its iconic Ferrari car designs, has transformed the look and feel of the train, with elegant colours and chic interiors selected to enhance each passenger's sense of personal space and comfort.
Eurostar offers the fastest London-Paris journey time is 2hr 15 minutes. Fare for a Eurostar Business Premier ticket from London to Paris is £245 based on a return journey.
Le Meurice is located at 228 Rue de Rivoli, 75001 Paris, France. For more information, please visit dorchestercollection.com/en/paris/le-meurice or call +33 1 44 58 10 10.