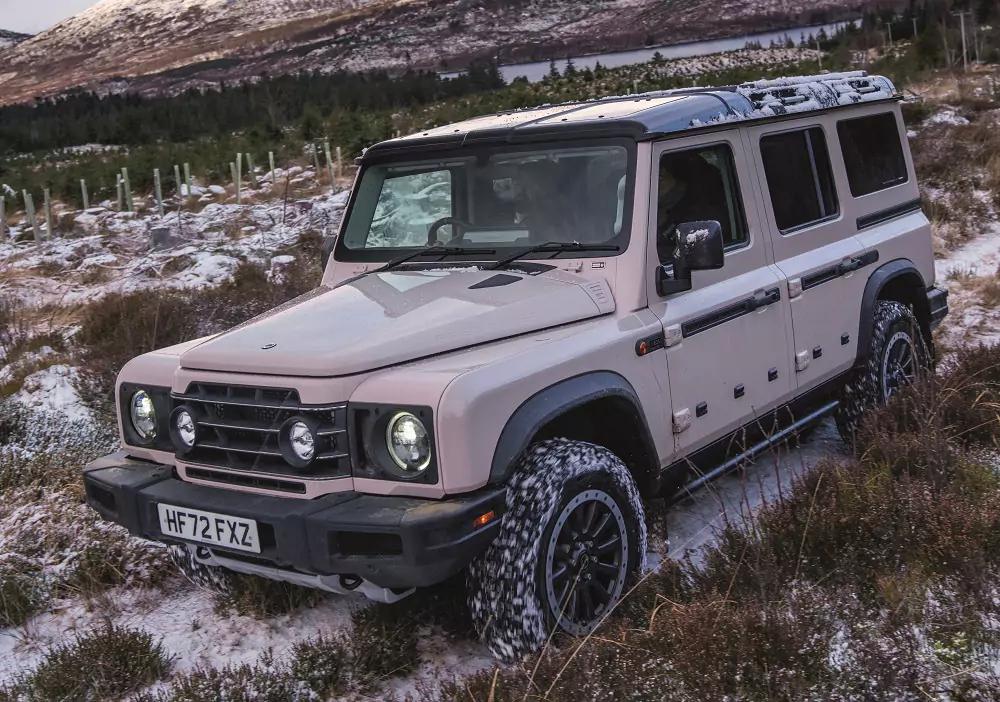 In his 2005 book Blink, Canadian journalist Malcolm Gladwell argues: 'There can be as much value in the blink of an eye as in months of rational analysis.' In other words, snap judgements often prove to be accurate, and 'decisions made very quickly can be every bit as good as decisions made cautiously and deliberately'. Well, my snap judgement on the Ineos Grenadier for this review didn't come with a blink so much as a clunk: the first time I closed the door.
The context is important. I'd woken up at 6am and it was snowing outside. After walking across the car park, blizzard whirling in the dark, I climbed up into the new Grenadier and when I slammed the door with a solid, satisfying 'clunk!', my prehistoric brain told me I was now safely in my cave.
With heated seats. And in a blink of an eye, I loved it. The Grenadier is a miracle, really. It shouldn't exist. In 2017, when British billionaire Sir Jim Ratcliffe announced that he was going to build a tough, old-school 4×4 in the mould of the original Land Rover Defender (which had gone out of production the year before), most industry insiders doubted he could pull it off.
The auto business is hard – the legislation is a minefield, modern build standards are ludicrously high, and for a petrochemical company to start from scratch was deemed recklessly ambitious. Yet here we are, six years later, and I'm driving the production car in the Highlands of Scotland on its international launch. It's an incredible achievement – as Ratcliffe himself admits in a fireside chat at the launch.
Making the Grenadier 'has been much more difficult' than he'd expected, he concedes. 'If you were to ask me the question, "Would we make the same decision, knowing what we know today, in 2017?" – I'm not sure we would. What wasn't helpful is that in the midst of it all we've had Covid, Ukraine and China. Three immense problems. How many parts did we have being made in Ukraine – 158, something like that. All sorts of software coming from China. Having all that, in the middle of designing your first car, was tough.'
[See also: The world's most extravagant personal car collections]
Ineos Grenadier: Well-built, comfortable and full of character
But when it comes to investing in a new venture, Ratcliffe is renowned for going all in. 'Originally we thought it would be about €1 billion,' he says. 'In the end it was about a billion and a half.'
When you drive the car, you can feel every last penny of that monumental sum. Setting off from our snowy car park, the Grenadier immediately feels roomy, well-built, comfortable and full of character. The illuminated, aeroplane-inspired dashboard is absolutely unique, the Recaro seats are incredibly supportive, and visibility out of the flat, upright windscreen is great.
The most impressive thing is the ride. When Ratcliffe first outlined his car he wanted a ladder-frame chassis (basically steel girders under the body), rigid axles and heavy-duty suspension – essentially the way old Land Rovers were built back in 1948. But there's a reason most manufacturers have moved away from that configuration: 'heavy-duty' also means heavy. The Grenadier weighs around 2,700kg (depending on spec) – much more than the new Defender. But the Ineos team has hidden this mass well, and the Grenadier's ride feels yielding and compliant but also taut. Body movement is well controlled.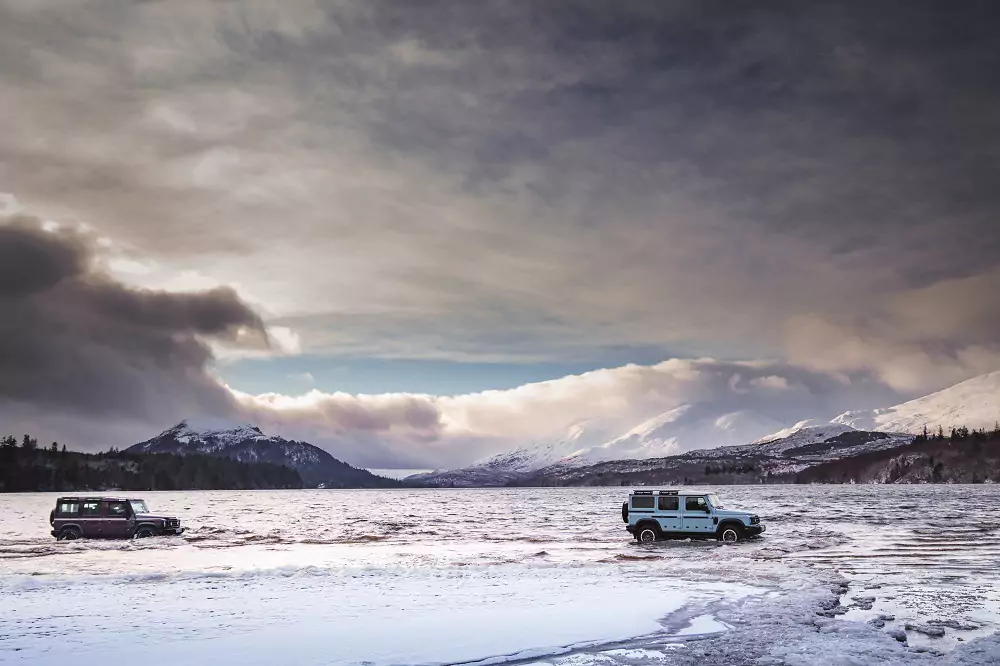 For the company to achieve such a high standard on its first attempt is impressive, but it did so by choosing great partners, rather than trying to do everything itself. 'When we move into a new ar-ea,' Ratcliffe explains, 'you have to accept that it takes time to learn, and you need to bring some really high-calibre people in from the industry. Automotive is no different.'
So the Grenadier has a choice of petrol or diesel 3.0-litre straight-six engines, supplied by BMW; the eight-speed gearbox is from ZF; axles are by tractor supplier Carraro; and the springs and dampers are Eibach. All premium quality. But the key partner was Magna Steyr, based in Graz, Austria. Magna is an engineering company that develops cars for other manufacturers – most notably, in this story, the 2018 Mercedes G-Wagen.
Magna Steyr had 250 engineers who spent seven years working on the new G-Wagen, Ratcliffe says. 'Then the new G-Wagen was launched, and those 250 engineers, about three years ago, moved on to the Grenadier. That transformed our progress and it's why there are many elements of this vehicle that are similar to the G-Wagen. The engineers in Austria and Germany don't know how to make a poor car. They only operate to one standard.'
A tale of on- and off-road
It's true: one of the things I love about the G-Wagen is – yes! – the way the door closes with such a heavy, solid clunk. You can feel the similarities in the Grenadier.
With one important exception: I'm loving the drive but I notice there's a vagueness to the steering – a few degrees of wander that you constantly correct to keep it straight. Then, the first time I get to a roundabout, I turn the wheel but the car doesn't steer as expected. So I whirl my arms round, and as I come off the roundabout I realise I'm not taking the steering off quickly enough, and there's a moment when I'm flapping my arms around to get the car straight.
This laggy, imprecise steering is a consequence of Ratcliffe's old-school solid beam axles. They're great if you're crossing dunes or a bog, but they also require a particular type of steering box that isn't 'car-like' compared to most modern SUVs – including the G-Wagen, which has more modern independent front suspension. Compared to the Mercedes (or modern Land Rovers), the Grenadier's steering feels slow and vague.
On the road at least. Off road, the Grenadier – and its steering – feel totally at home. We pull off the road and enter the Ardverikie Estate in the Cairngorms, which stood in for Balmoral in The Crown. I stop to engage low range and lock the centre differential, using a big mechanical knob next to a BMW-sourced gear selector.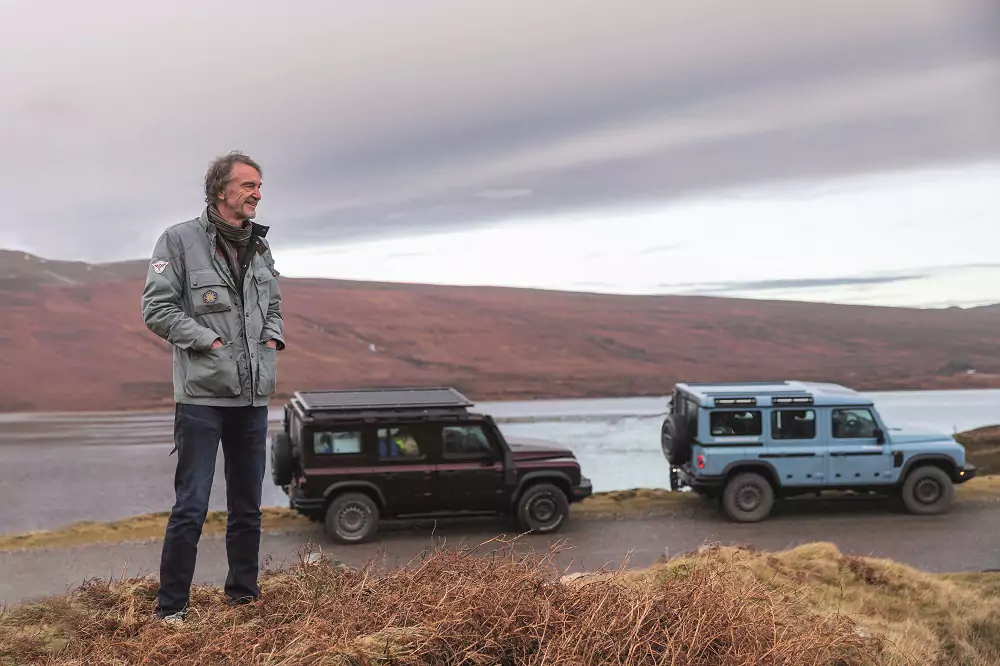 Soon the track turns into a challenging off-road climb with icy ruts and rocks, and we crawl our way up, suspension and skid plates bumping and scraping. Here, the Grenadier feels unstoppable – and in this environment, slightly disconnected steering is just what you need.
So Ratcliffe is unrepentant about his car's old-tech, mechanical approach, versus the complex air-suspension and electronics you'll find in many modern SUVs. 'The Grenadier's off-road thing is clearly its USP,' he says. 'I love the G-Wagen; I've got several G-Wagens, I love driving them. But I wouldn't want to cross Africa in one, and I'm not going to drive it down a track in Iceland when I go salmon fishing. I'm going to drive a Grenadier.'
Soon we're back on the road, and while the steering remains the Grenadier's weakness (when you're not traversing Africa or parking on a glacier), it doesn't take away this car's huge appeal. The sensations of solidity and bomb-proof confidence are palpable – a testament to the former Mercedes factory in Hambach where the car is built. And the knowledge that you could take it anywhere if you chose to – just skip the school run and drive to Senegal instead – is seductive.
So at around £70,000-£80,000 the new Grenadier doesn't glide along or steer like a new Defender, and it doesn't have the trusted dealer network of a BMW or an Audi, but as Gladwell wrote, decisions made from the heart are often good ones. The Grenadier will absolutely find its audience – among farmers, adventurers and dreamers like me.  
[See also: Mark Walton drives the Charge '67 electric Mustang]