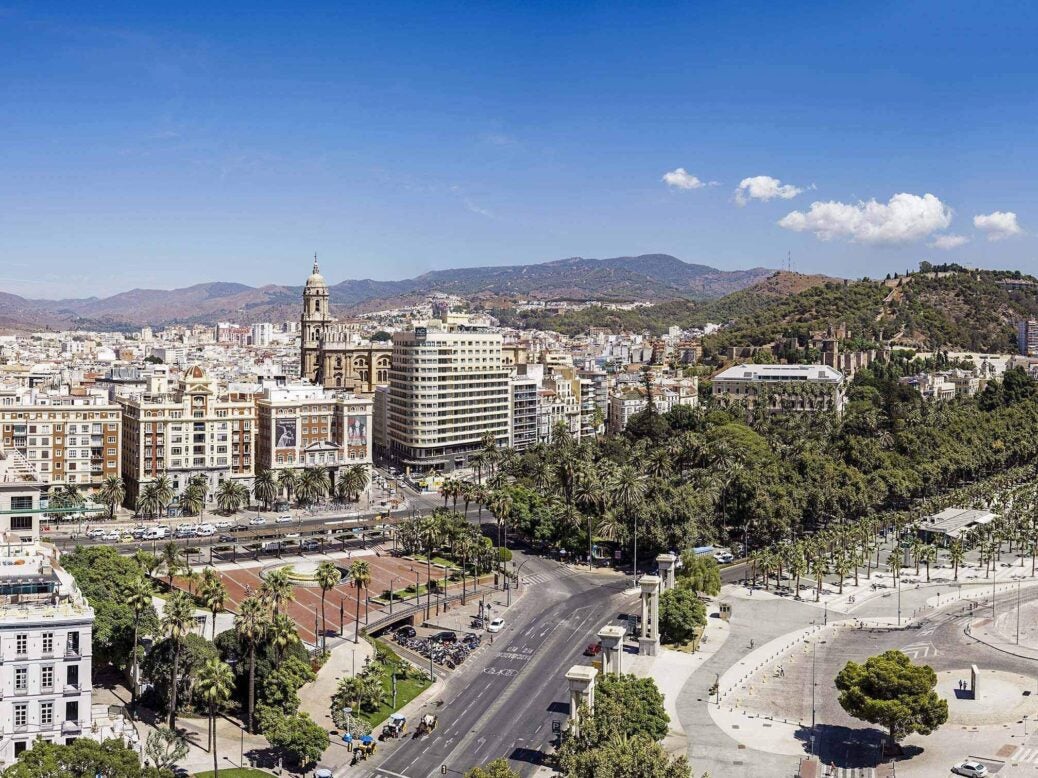 Malaga often takes a back seat to other Spanish cities and beach resorts, but these days it's definitely not a place you should ignore, says Andrew Harris
Malaga might claim to be Spain's sunniest city, but it's lived long in the shadows, always the ugly duckling to Andalusia's preening swans: Seville, Cordoba and Granada. Even now, the millions of travellers who would pour through its airport in a 'normal' year largely eschew the city that's just 11 minutes away by train.
For two decades, though, the gradual rebranding of Picasso's birthplace has incorporated the wholesale restoration and pedestrianisation of Malaga's historic centre, the installation of a plethora of museums, drug dealers driven out, and hookers told to sling their hook.
Last November, in the former red-light district of Soho, Antonio Banderas conveyed a seal of celebrity approval on this cultural renaissance, realising a long-held dream of opening a theatre in his home town: the Soho Theatre. Starring in the opening production, his enthusiasm was manifest: 'We want to change the usual process and for Malaga to be the city hosting the official premieres instead of just hosting productions already premiered elsewhere.'
In the heart of the old town, opposite the 14th-century church, where Picasso was baptised and his parents married, sits Palacio Solecio, a stylish boutique hotel. Constructed as an 18th-century palacio for Genoese aristocrat Felix Solesio, the building had lain derelict for 80 years. Its restoration delivers a degree of subtle sophistication hitherto absent in the Malaga hotel scene.
The location is perfect, near the Picasso museum, the Roman theatre, and just along the street from the achingly atmospheric El Pimpi, a rambling bar and restaurant.
Part of the Marugal group that includes Akelarre (with its three-Michelin-starred restaurant) outside San Sebastian and Gecko on Formentera, Palacio Solecio has 68 rooms and suites. While Malaga's Grand Hotel was also recently rescued from decades of obscurity, it's Palacio Solecio that appears primed for pole position, slotting into the stylish streetscape like a rare bird carefully laying its egg in an elaborate nest.
In little more than a square mile, the historic heart of Malaga presents as the ideal urban escape, encompassed within its subtropical micro-climate of warm winters and sea-breezy summers. Everywhere is a short stroll through a maze of spotlessly clean squares and pretty passageways. The Atarazanas market, with a Moorish entrance at one end and a huge stained-glass window at the other, is a sensory feast. On a stool outside, a delicious no-nonsense tapas lunch confirms how deeply food and drink are embedded into the city's soul. Should an aperitif beckon, the nearby Antigua Casa de Guardia has been serving up every type of Malaga wine from huge barrels since 1840.
Elsewhere, there's Al Andalus (an opulent re-creation of a Moorish hammam), the Alcazaba fortress affording spectacular views, and endless opportunities for people-watching from endless bars and cafes.
In any year other than 2020, restaurants spill outside into shifting shafts of sunlight, full of people having lunch at dinner time and dinner at bedtime in a celebration of Andalusian alegría de vivir (joie de vivre). Dining is a highlight of any visit, where Malaga's wilderness years probably helped preserve the integrity of its cuisine. At the simpler end are chiringuitos barbecuing sardines along the seafront, and at the sharp end sits Restaurante José Carlos Garcia, overlooking the harbour. Garcia delivers a gastronomic experience more than justifying his Michelin star, the only one in the city. He is also executive chef at Palacio Solecio's new restaurant, Balausta.
Then there are all those museums: 37 at the last count. Malaga, suddenly so cultured it hardly recognises itself, even brandishes the tagline 'city of museums'. From the Picasso to the Carmen Thyssen, the CAC, Modern Art Museum in the old wholesale market, the former cigarette factory housing collections from the St Petersburg State Russian Museum, along with a fabulous private car collection, and an outpost of the Pompidou: city of museums it indisputably now is.
On the terrace bar of the Alcazaba Premium hostel ('hostel' shouldn't deter anyone from this perfect perch), absorbing the same spectacular views of the Roman theatre as Banderas from his own nearby terrace, travel writer Andrew Forbes elaborates on what has kept him here since 2005. 'In many ways, Malaga stands apart from other Spanish cities,' he says. 'It retains an underlying authenticity that's uniquely Malagueño, with its own traditions that, so far at least, aren't distorted by tourism. Life here is laid back; it's a very Spanish city.'
Malaga languishes in something of a sweet-spot: so much under its belt, yet still flying under so many radars. The ugly duckling has waddled into its moment in the sun after all.
Rooms at Palacio Solecio from 200 euros: palaciosolecio.com
Ryanair flies direct to Malaga from various UK departure points including four London airports: www.ryanair.com
Web: malagaturismo.com
This piece first appears in issue 75 of Spear's magazine, out now. Click here to buy the latest issue and subscribe
Read more from the issue:
Engineering the future: Lord Browne on why Britain should create again
Matthew Goodwin: Beware 'confident' predictions when it comes to Covid-19
Introducing issue 75 of Spear's magazine