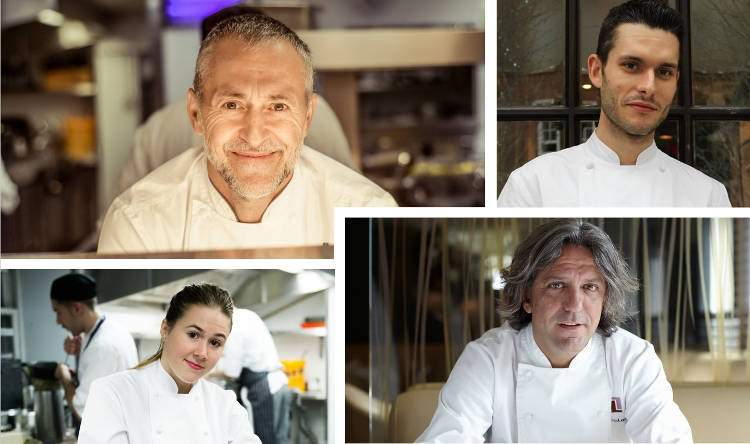 The culinary rivalry between France and Italy turns out to be a sensuously delicious experience, writes Emelia Hamilton-Russell
There's a friendly – and at times not-so-friendly — rivalry between Italian and French restaurants. Both produce food based on the same fundamental ideas: big, rich flavours using the produce of their respective region, cooked with a culturally ingrained reverence for food, but the endgame is entirely different. The best Italian cooking is bold, colourful, and fun. It expresses a joie de vivre entirely different to the delicate, pretentious perfection of French culinary masters.
It was with this conflict in mind that I eagerly accepted the invitation to Giorgio Locatelli's pop-up at Le Gavroche. It promised a master of Italian flair let loose on the most prestigious of French restaurants. Le Gavroche's subterranean lair is a piece of classic restaurant design: heavy flowers ornament the soft, art deco lighting, providing privacy and subduing the clatter of neighbouring tables. There's strength in it's anonymity: the diner could be in a restaurant anywhere in Paris, Rome, London, or New York, at any point over the last century – ideal for a euro-fusion pop-up.
At the start of the evening – and before either the food or wine could distract us – we were greeted by a short introduction to the team behind the night's menu. Michel Roux Jr, a man comfortable in the spotlight, took centre stage, and explained that the event was really organised around his daughter, Emily – herself an accomplished chef who learnt her craft in the kitchens of La Trattoria and Le Louis XV – and her Italian husband Diego Ferrari, head chef at Le Gavroche.
The dinner opened with a delicate tartare of Sicilian prawns, consommé, and caviar, but it was in the rabbit porchetta that the experience of Locatelli and the middle Roux showed through. Moving from the tanginess of a consommé-and-fish starter to the liveliness of the pasta, the meat provided a deep, heavy counterbalance to the earlier courses and sated a palette questing for a hint of darkness. Pushing the upper limits of acceptability in its saltiness, it sat on a heady bed of artichokes, olives, and rocket. The matching wine, magnums of an exquisitely aged Chateau Cos Labory 1975, was liberally distributed, turning the rabbit into something unusually sensual, an impression only enhanced by the atmosphere long established in Le Gavroche. The stand out dish was the delightful egg yolk raviolo, immersed in pungent truffle and fresh vignarola and the yolk cunningly contained within the centre of the raviolo, oozing richness when pierced.
Pudding was almost quintessentially French, marrying the tartness of fresh pink grapefruit to Le Gavroche's famous dark, velvety chocolate. The wrapper for all of this was sumptuous pastry, loosely forming a cannolo. All in all, the experience was revelatory, a rare reconciliation of the two great forces in continental cooking.
Emelia Hamilton-Russell is a writer at Spear's