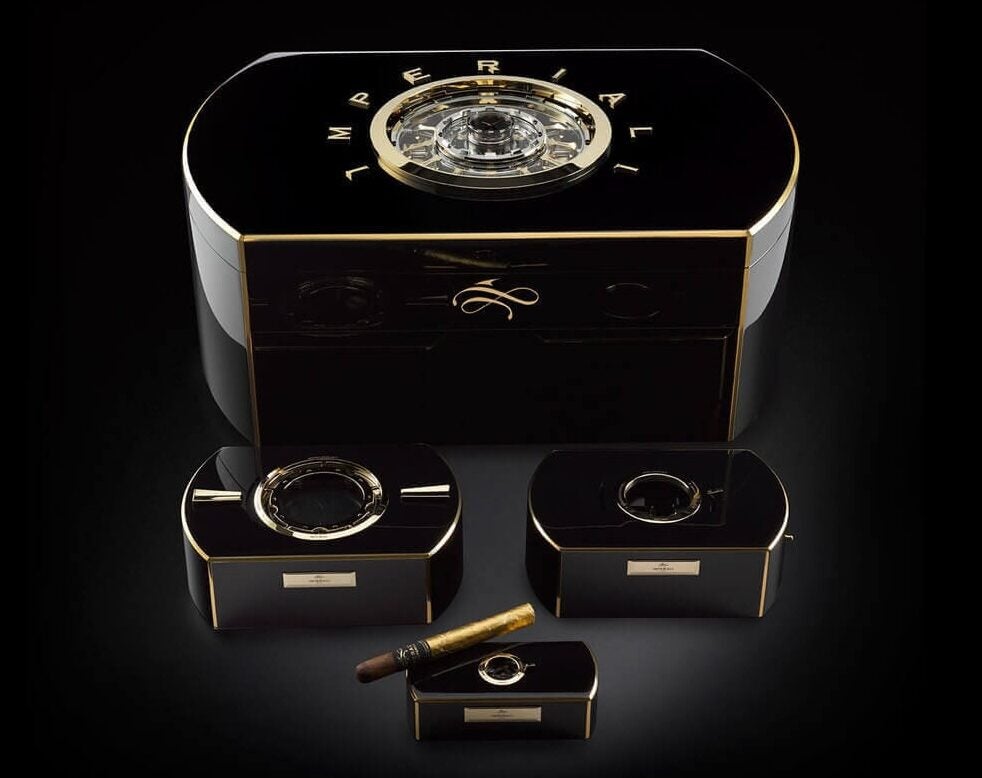 Author: Zahra Al-Kateb


Designed to keep your cigar at its best, humidors will store and age cigars with an optimal humidity range of around 70 per cent. A good quality humidor should be seen as an investment that will serve you and your cigars for many years to come. We have gathered our top five favourite humidors and accessories to help guarantee that your cigars can stand the test of time.
TomTom – Aficonado Collection
£419,00
www.tomtom.co.uk
Purchasing a cigar humidor will allow you to keep your cigars in tip-top condition, ensuring they maintain their taste and stay pest-free. This humidor comes in a walnut finish and contains 10 of the finest Cuban cigars ranging from mild to full bodied in flavour. A TomTom Cutter and matches also come included.
S.T. Dupont – Derby Brown Cigar Cutter
£170,00
www.st-dupont.com
Cut your cigar like a pro with this sterling silver cigar cutter from Fortnum & Mason. The sharp guillotine style blade will ensure you cut off the head in one motion and leave the wrapper intact. Made in England, this cigar cutter is engraved with the Fortnum's logo and presented in an elegant gift box making it an ideal gift.
Elie Bleu – Red Flor de Alba
€2.448,00
www.eliebleu.com

This striking red humidor is by world renowned humidor makers Elie Bleu. Not does it offer you cigar preservation, it is also a distinctive work of art. Made from the finest sycamore wood, this humidor can store up to 75 cigars at a time.
Davidoff of Geneva – Travel Humidor
£299,00 – 350,00
www.davidoff.com
This stylish travel humidor is ideal for the cigar aficionado on the move. It is lightweight, can store up to eight cigars and is available in four different styles: Explorer, Outside, Business and Winston Churchill Limited Edition. To create the symphony between design and function, Davidoff partnered up with the Italian designer and craftsman Marcello Bottino.  
Imperiali

Genève

 Emperador Cigar Chest
Ca. $1.000.000,00
www.imperiali-geneve.com
Extravagance is the leitmotif of the Swiss-based Imperiali Genève brand: Its Emperador Humidor is the among the most prestigious and sophisticated cigar chests to have ever been produced. 
A unique mechanical masterpiece, the innovative chest combines cutting-edge technology and high-tech mechanics. It's also crowned by a Imperiali Tourbillon, which unites the Swiss art of horology with the beauty of traditional design.  
Some 24 gold-leaf-rolled cigars – a blend of selected tobaccos from south Honduras and north Nicaragua –are preserved in individual glass casings and protected by password. 
The chest also features a laser-guided cigar cutter, a torch lighter and an ashtray, all stored away in a hidden compartment. 
More from Spear's
The cigar that has found its perfect rum accompaniment after 225 years
Dunhill's 1A St James's combines the best of cigars and Clubland
Meet the go-to cigar sommelier of London's clubland