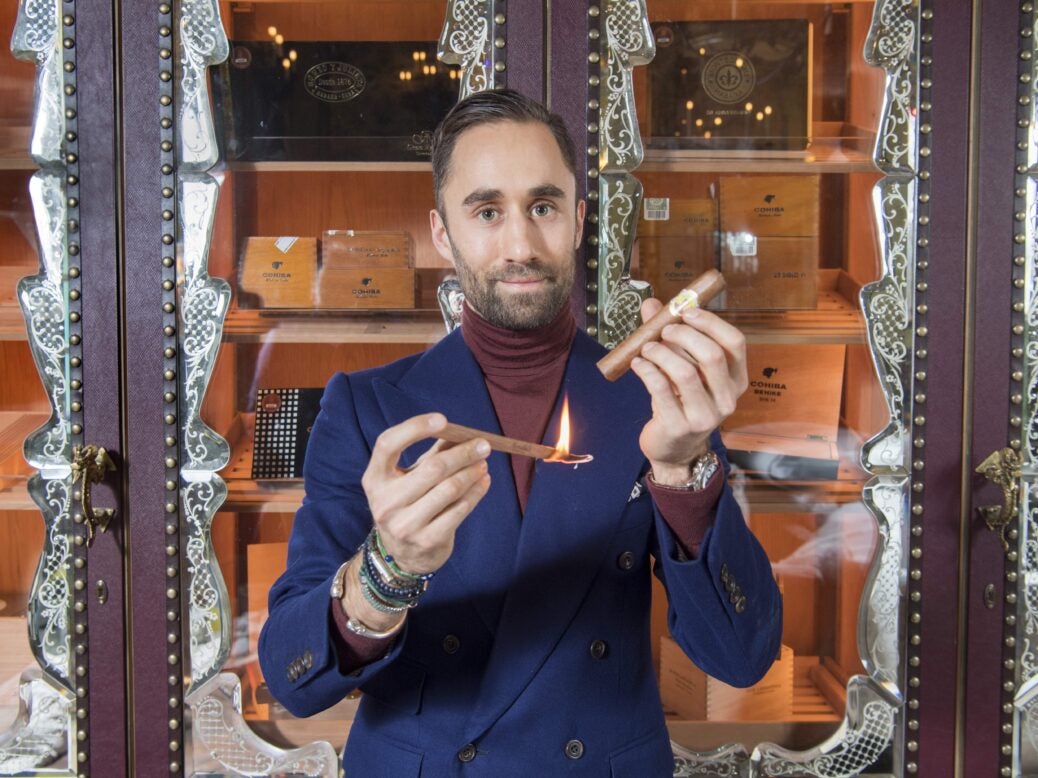 Darius Namdar is the man to go to for advice on cigars in London's clubland – and you'd better believe he's done his homework, writes Christopher Silvester
Darius Namdar reckons he was 12 or 13 when smoked his first cigar. It was a Montecristo No 4, although he probably didn't smoke the whole thing. Namdar is cigar sommelier of the Birley group of clubs as well as director of Mark's Club, and he was recently named as winner of Havana's International Habanosommelier Contest 2018.
'My father smoked a lot of cigars,' he recalls. 'He was a larger than life character that I found myself imitating at first, after he sadly passed away when I was 15, and then as I got a bit older I started emulating him instead.'
Namdar's Iranian father had the bottling franchise for Coca-Cola in Iran until sanctions forced its transformation into a local soft-drinks manufacturer, and he was later based in the UAE. Darius's parents had first met in San Francisco when his British mother was an air stewardess for Pan Am, so he spent his childhood between London and Dubai.
His introduction to cigars was through his father, whom he never saw without a cigar in hand. 'I think perhaps in my late teenage years, I began thinking, "I know what I'm talking about when I have a cigar, I'll have this." Really, I knew nothing.'
Namdar had smoked cigarettes at university, and a bit at school, but when he got to Mark's Club he hadn't smoked a cigar in years. He had begun his career in finance but quickly made the switch to hospitality, first at the Wolseley, then as maître d' at the Chiltern Firehouse when it launched. He oversaw the refurbishment of Mark's Club in 2016.
'I knew nothing about cigars, really. I knew my favourite go-to pieces, made out as if I knew a lot more, and actually when I got here and had the opportunity to learn, I jumped in at the deep end. No one in the club had much knowledge about cigars. They knew a bit, but needed someone who knew the range of different types of cigar, how to smoke them, how to cut them, how to light them, and how to suggest things to members.'
It took Namdar about five months to become a Master of Havana Cigars – not quite as long as it takes to become a Master of Wine, but it is nonetheless incredibly complex.
'It's a lot of bizarre shapes and sizes and names and numbers and things that don't really make any sense… A factory may call a cigar one name, but then five different brands will call it a different name. So you need to learn all these little nuances.'
The theoretical part is followed by a practical exam in front of a panel wherein the candidate is asked to choose the correct cigar from a list for several different situations.
The go-to length and size for cigars used to be a long cigar with a slender ring gauge, but as people's time for smoking has been abbreviated and one is no longer permitted to smoke a cigar over lunch or dinner any more, so thicker and shorter cigars have become much more popular. Most new releases each year are a limited edition or a regional edition, in an established style but maybe new to that particular brand.
'Limited editions and regional editions have become very popular,' says Namdar. 'Having said that, the general classic range from the 26 brands that are available on the market are still in hot demand.'
Mark's Club keeps a fairly narrow range of cigars, from £12 to £150 a stick. Some will trade at higher prices than that, depending on whether they are pre-emabrgo or discontinued limited editions, rather like single malts where the distillery has closed down. Namdar likes to keep the stock narrow because 'what most people say about the club is that it feels quite homely. If I'm at home, I wouldn't offer someone a £2,000 cigar. It doesn't really make much sense.'
The cigar shop in the new Annabel's is an altogether different proposition, since the space available to store new cigars in the correct conditions is far greater than in the old premises, with secure storage space for proper ageing and for keeping rare and valuable pieces, as well as keeps for members' private collections.
How should you smoke a cigar in a way that will allow you to appreciate it the most? 'With a slender ring-gauge cigar, it will burn hotter if you draw too much air through it, so you might want, as it were, to sip it rather than gulp it, otherwise it might taste bitter or acrid,' says Namdar.
A cigar sommelier is also skilled at recommending drinks pairings for cigars. 'Riesling is a wonderful pairing,' says Namdar, 'because it really brings out the sweetness on one side and the peppery-ness on the other side of these two contrasting products. But the typical pairings are rum, Cognac, whisky, Armagnac. Champagne's a great pairing too.
'I generally like to smoke cigars with tea – not a dark, black tea, but a light green tea or a verveine, something like that. But if it's after a big dinner and you want to have a Ramón Allones – that's a strong-flavoured cigar – you might want to pair it with a strong flavoured alcohol to cut through that.'
Namdar usually smokes four or five cigars a week. His go-to brand is Por Larrañaga, the oldest brand still in production, cigars that are light to medium in flavour. 'Rudyard Kipling even wrote about this brand in one of his poems, called "The Betrothed": "There's peace in a Larranaga." And that's one of the things you learn in these exams. When you're talking to someone about a brand, you have to paint a picture of it: this is the beauty of this brand, this is why you should have it. But I really love it as a brand, because it's quite caramely, it's sweet.
'Other than that, I really love Punch as a brand. Punch is a slightly stronger, more medium-strength brand, but I just find it delicious. If you've got cigars with a bit of age on them, they really come into their own, so like wine, the longer you age them, in the correct conditions, the better.
'A Punch Double Corona with ten years of age on it is something that I first picked up off David Tang. He used to smoke a Punch Double Corona cut in half – he'd have the first half in the morning and he'd have the second half whenever. I was with him once outside a club and he handed me a robusto-sized cigar with no band on it, and I said, "I know exactly what this is. This is the second half of a Punch Double Corona." It was one of the best cigars I've ever had.'
The Higher Certficate is usually only available to those in the trade; 26 have passed to date. 'It's a great test of ability and concentration,' says Namdar. 'A lot of people don't get through it, because they've got other jobs and don't have enough time. I really struggled to find the time to do the revision. Every day I had my nose in a book for a few hours, whenever I could, in between services and at home and on the bus. It really does test your passion for cigars: you have to want to live and breathe it – literally!'
Christopher Silvester is the consultant editor for Spear's 
Image credit: Joakim Blockstrom