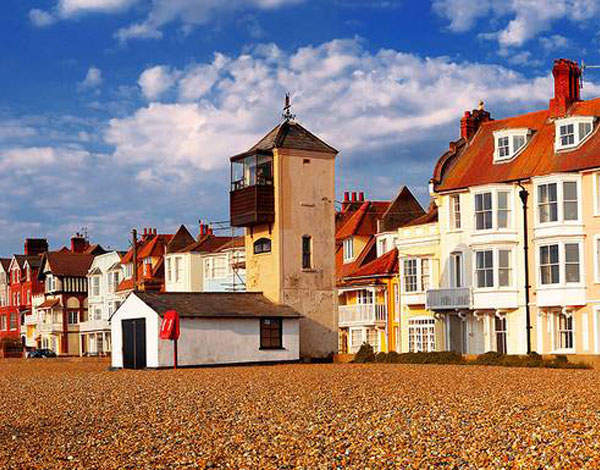 Aldeburgh's Jubilee Hall doesn't date from any of HM Queen Elizabeth II's Jubilees — goodness me, nothing so modern could be expected of this Suffolk coastal town. It's named after Queen Victoria's Golden Jubilee, and I was one of a happy audience who crammed into it for the Aldeburgh Literary Festival: happy not only to be there, hearing the lectures, but also to have got tickets, since they sell out within a few hours of being issued.
That is something you'd expect of Aldeburgh: hallowed by the memory of Benjamin Britten, it's a place that takes culture seriously. The evening event about Rendlesham lasted several hours. Fortunately they have recently installed new chairs; they're so uncomfortable that few people fell asleep.
Rendlesham is big news in these parts. You might know about it if you've read the Venerable Bede. You haven't read Bede? Then let me tell you that he calls it a vicus regius, or royal settlement. About ten years ago, some 'night hawks' — thieves with metal detectors — who presumably did know their Bede started to raid it.
It's not known what, if anything, they got, but it persuaded the local landowner, Sir Michael Bunbury, that he'd better forestall them by doing the thing properly. In concert with the Ipswich Museum and various others, he found some honest detectorists, and those noble fellows have just finished a comprehensive survey. Altogether they found 250,000 objects. But oh the joy when 25 were found to be coins — gold ones.
This was what archaeologists like to call a place of 'high status'. There were a lot of high-status things going on here, like eating game and making jewellery. One of the high-status people might have been a king, and if so, isn't it possible that he was the one buried at Sutton Hoo, a few miles down the River Deben, whose stupendous seventh-century treasure is now in the British Museum?
<p>Life moves slowly in Suffolk, and I can't help seeing parallels between the seventh century and now. There are still plenty of high-status individuals about here; as a matter of fact, I stayed with some of them. Ipswich has got bigger, but the money is in the countryside. Aldeburgh itself is, in its mildly bohemian way, booming. This isn't to everyone's taste because the houses are being bought for holiday lets, as a result of which the food shops are closing, replaced by designer boutiques.
Not far from Aldeburgh is Heveningham Hall, the dwelling of Jon Hunt, ex-king of Foxtons, the London estate agent. He's not only restored the house — nay, palace — to the standard of the 1770s, but is also re-creating the estate to turn it into a wilderness reserve, supported by income from letting the manor houses, farmhouses and cottages done up for the purpose.
Even the heathland by Aldeburgh Golf Club, known as the Sandlings, has gone up in the world. Farmers are growing vegetables on it. Providing there's water, the land can fetch Sutton Hoo prices — £40,000 an acre. That's nothing to the cost of bread at the Pump Street Bakery, down the coast at Orford, where a box of four loaves can set you back £15. They're now making chocolate from beans selected according to 'terroir, variety, growth, harvest, fermentation and drying' — the Château Lafite of confectionery. High status or what?