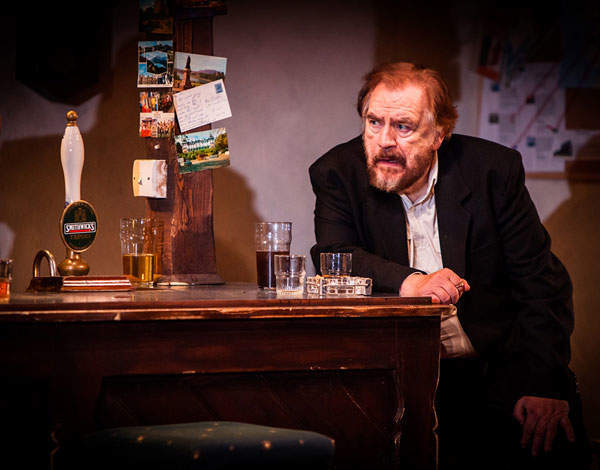 'The Weir' is a gripping production, acted in a timely confidence, unafraid to let the clock tick, the drink speak and the shadows creep.
Set in a pub and played out in one act, the script brings together an expected tapestry no less rich for the lack of contrast or token conflict. Conor McPherson's script is strongest within the nuanced musings of men unsure of their internal troubles, gently moving through veils of emotion, gradually but deliberately edging out of sobriety's harbour.
The audience shares the warmth of Tom Scutt's impressively detailed set in which the characters reflect on circumstance, life, death and the cold wind of reality banking north to west outside. Brain Cox's Jack is a well conceived driver; ushering the five person cast through the local folklore and the whiskey shelf. The drink taken clears the soul but not the mind as rationality unnervingly clashes with fear; superstition is entertained and revered as the initial comedy, warm like the peat fire, ebbs as the night draws in.
McPherson's characters are complex without being contrived, the cast bear the writing well. Ardal O'Hanlon's timing as the simple but aware Jim is superb; sitting in colloquial contrast to the city man Finbar, played by a swaggering Risteárd Cooper, soon enough recognising his roots beneath the whiskey.Like the wooden floorboards of Brendan's pub the play does creak in places. Cox struggles at times with the accent, while Dervla Kirwan's Valerie pushes too much at a pivotal monologue. However, they are blemishes masked by the concerted inebriation of the cast that rightly celebrates the pub as a womb of trust in an unsure world. The tragedy is real when it comes, measured for devastation and delivered in a minor key rather than a crescendo.
These are characters spun like dice across a worn baize. The meanings are not dictated, the possibility of relations is just that. There is a very haunting power when the talk turns and the cast cross the witch lines of their pasts; epitomised by masterful silences.
They are good drinkers and do the script proud. McPherson wrote a superb and welcome play that has been done justice.
It deserves to be seen, not for its pastoral escape but for its postmodern unbridling of purpose that renders very human sympathies; Beckett would drink here. Its achievement is marked in the courage to end not with a bang but with a whimper that resonates with an enchanted audience.
The Weir is running until 19 April at the Wyndham's Theatre
Read more reviews from Spear's