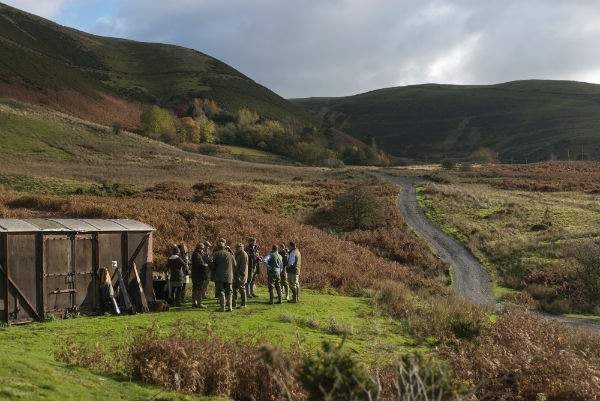 Even when the partridge are elusive, shooting is the only game out of town, writes Alec Marsh
The top speed of the F35-B fighter aircraft, due for delivery on the new aircraft carrier HMS Queen Elizabeth, is 1,199 mph. That's nothing on the partridges at Plas Dinam in mid-Wales. 'What are they feeding them?' asks Bob, an old chum and loyal Spear's subscriber who is sharing my gun for the day.
Suddenly there's the faintest flap of wings on the breeze and here they come again – a covey of several dozen partridges, all mixed in with a good bag of sadly off-season pheasant. They hoon around the corner, beneath the tree and over a picturesque waterfall, and spew into our gully. Amid the profusion I find a bird, track it, fire – and miss. I fire again – missing again – and hand my shotgun to Bob, who passes me his loaded 12-bore, which I shoulder in time to realise that the covey is now gone.
To my right, I see the financial adviser from Cardiff bring down two birds cleanly. He's wearing a pair of cool wraparound shades like they do at the Olympic Games and is clearly well on the mark. Bully for him.
This is the first drive of the day at the 4,000-acre Plas Dinam estate shoot in the Llandinam Hills in Powys, which is in its second season as part of the Bettws Hall shooting empire. As well as attracting high-fliers (two visitors have arrived for the shoot by helicopter), it's also known for delivering high, fast birds – it's what they tell you when you book – and it doesn't disappoint. A minute later another glut of partridges come darting past like avian Exocets. I shoot – behind, again – take the loaded second gun; target, shoot… 'I can't load fast enough,' yelps Bob.
This is what is meant by a 500-bird day, not the sky turning black at once like the Luftwaffe over London, but moments of intense excitement and no shortage of partridges. The first drive lasts half an hour, by which time I've shot more ammo than Custer at the Little Big Horn, with little to show for it. It's now time for a drink – a glass of Pol Roger at the Railway Cabin, looking down over the lush upper Severn valley. Bang on.
The second drive is Big Willie's, named after a friend of the landowner who shot it last year and was taken out by a falling pheasant. Fortunately there's no repeat of that as Bob takes the peg, with me loading. We're in the middle of a bowl, and there's plenty
of open sky for a clean shot. The birds start coming soon, and Bob gets a few start-of-season misses in before finding his eye; a partridge falls. Then another. I'm reloading fast. 'Gun,' barks Bob. Load faster, in other words.
After 30 minutes, Bob yanks off his ear-defenders. 'Exhilarating,' he says. It's time for elevenses – reviving spicy parsnip or mushroom soup, canapés and sloe gin.
For the third drive, the Quarry, I'm back on the firing step. Unfortunately, the peg is in a dip, overlooked by trees, so my window is tight. At first the partridges are too high or too fast for me – but there's plenty of action for the eagle-eyed and I can hear the other guns having a good go. Eventually a partridge flies by slowly enough for me to get on to it… Bob cheers when I hit. A little too loudly.
Our last drive, Stone House, takes place before another stunning view; and this time the pheasants and partridges flood over. Along the way the Cardiff financial adviser is folding partridges neatly. Bob pops away, taking a good partridge or two. Eventually, after another 75 cartridges or so are spent, the horn sounds.
Bob breaks the gun. God, that was good, says his face. And the bag? A respectable 383, of which Spear's accounted for but a small, if humanitarian percentage. 'We shot like monkeys,' Bob concludes with a chuckle over the hearty luncheon of roast beef. But what a day.
Web bettwshall.com
This feature first appeared in the November/December issue of Spear's which is available at your nearest WHSmiths travel store or independent news agent. To subscribe, visit www.spearswms.com/subscribe