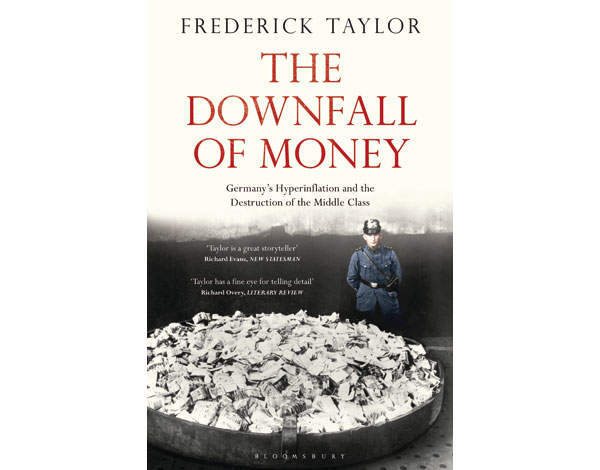 The Downfall of Money: Germany's Hyperinflation and the Destruction of the Middle Class
Frederick taylor
EX LIBRIS
This is a shocking story with a long, slow-burning fuse. It begins in July 1914 when Germany abandoned the gold standard, for the simple reason that on the eve of war its population no longer trusted paper money.
The moment the gold standard was abandoned, however, paper money was the only money to be had. Military defeat in 1918 was followed by social revolution and recrimination about the peace terms, and by the end of 1922 the world's second largest economy had entered a period of hyperinflation, defined as prices rising by 50 per cent month-on-month, which lasted until the end of 1924.
Frederick Taylor confidently steers us through the complex politics but is at his best when focusing on the human consequences of this episode.
Because the US would not forgive Allied war debts, France and Britain pressed Germany to pay reparations. Under the terms of the Versailles Treaty, France invaded the Ruhr with 100,000 troops in 1923 in order to extract the coal it had been promised, but the German policy of passive resistance had to be subsidised somehow, and printing money was deemed preferable to embracing austerity.
By the time the hyperinflation gets under way, we have already reached chapter 17 and page 207. A lot of explaining is needed before Taylor pitches us into what his book's dust jacket calls 'an economic horror story'. We have to understand the fragmentary nature of the federated German state, the fractious politics that led to the foundation of the Weimar Republic and the balancing act that ensued, with extremists bent on subversion and assassination.
Rather than face a slump and mass unemployment, the German government operated
a policy of currency manipulation, seeking a 'Goldilocks' rate of exchange for the mark — neither so low that the country could not afford to import food and raw materials, nor so high that German exports were uncompetitive.
But what price patriotism? Germany's patriotic middle classes, who had bought war bonds, were owed 154 billion gold marks in 1918. When a new currency was issued in 1924 — linked to the price of rye, a staple foodstuff — the value of this debt was a mere 15.4 new pfennigs.
The German state had fulfilled John Maynard Keynes's prediction about the effect of inflation: it had in effect confiscated the money it had borrowed from many of its citizens. In 1913 some 15 per cent of Germans had been rentiers living off fixed-income investments; by 1925-6 only 3 per cent were rentiers. Foreign secretary Walther Rathenau had called it a 'necessary transfer of capital from one class to another', yet in its wake it brought chaos.
Monthly salaries had to be spent instantly on more durable foodstuffs. With the value of paper money declining at an accelerating rate, there was a 'headlong flight into "things"'. At the heart of Taylor's book are the pitiful tales of individual suffering.
For example, an elderly man of letters withdrew his entire retirement savings of 100,000 marks, which by then only enabled him to buy a single subway ticket. He took one last journey around Berlin, retired to his apartment and quietly starved to death.
There were other, less obvious consequences. Middle-class fathers no longer had dowries
for their daughters. 'When the money became worthless, it destroyed the whole system for getting married,' recalled one woman, 'and so it destroyed the whole idea of remaining chaste until marriage… The girls learned that virginity didn't matter any more. The women were liberated.' Either that, or they remained spinsters.
Of course, there were winners as well as losers. Anyone with a mortgage or other debts saw their slates wiped clean. Farmers could charge high prices for food, although they faced occasional raids from irate town-dwellers. Tycoons, who could obtain cheap loans and had access to foreign exchange, went on buying sprees.
Banks did well, taking on extra staff to cope with the vast numbers of banknotes in circulation but also to handle investments in stocks and shares, which, as opposed to bonds and gilts, were largely inflation-proof.
The humiliation and impoverishment of the German middle class partly explains why so many of them were lured into Nazism once the country faced a deflationary crisis a few years later. The urban middle class underwent the privations of national defeat again after 1945.
In recent times the fear of printing money to wipe out debts has informed the German attitude towards the debt-challenged members of the eurozone. But however financially secure you may feel, Taylor's book ought to make
your flesh creep.
Read more book reviews from Spear's