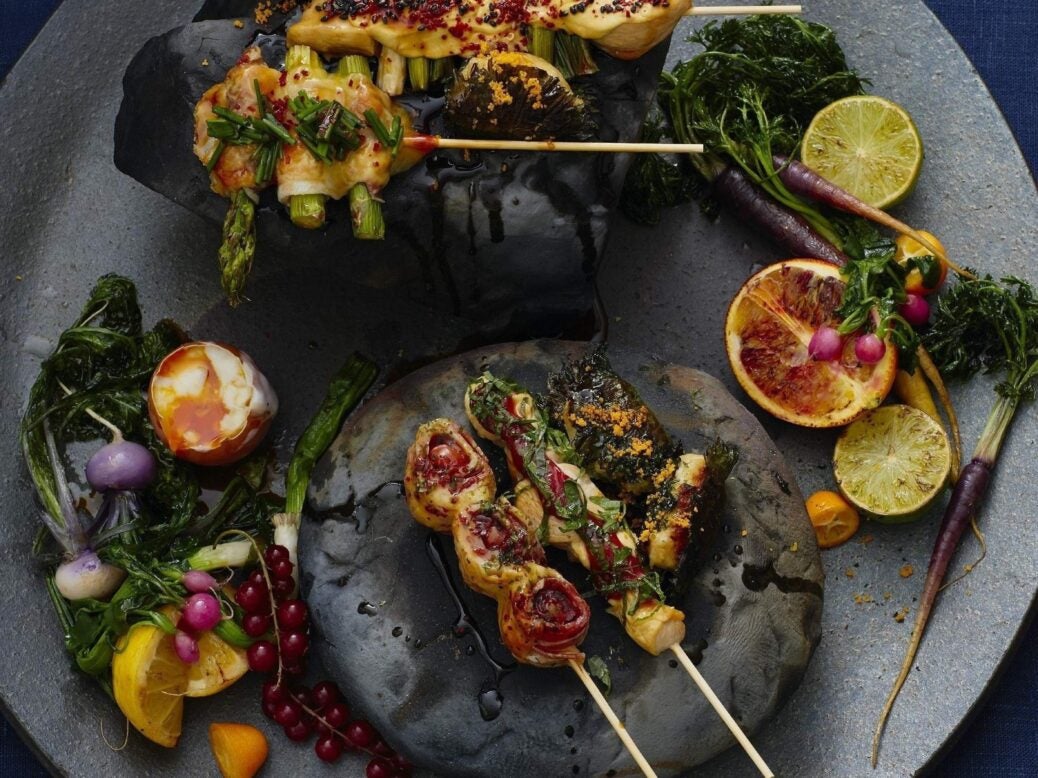 Christopher Jackson beats Evgeny Lebedev to the best table at Akira off Kensington High Street
Akira is found on Kensington High Street, and it's lucky the place already has a buzz about it, as you mightn't know it was there from the street outside. Access can be gained only by walking through the Japan House boutique shop, and up some winding stairs.
Once arrived at those upper rooms, one encounters a cocktail bar. This looked good: although we stuck predominantly to beer for the evening, I found my attention drawn with irresistible envy throughout to the sake, yuzu and shiso drinks mixed there.
As we entered, the chefs cheered our arrival Japanese-style. Akira – named after Chef Shimizu Akira – is serving clientele according to Akira's 'trinity of cooking' principles – food, tableware, and presentation. We were seated by the window in an excellent table overlooking the High Street.
As I was admiring the aesthetic of the place – the geometry of the neighbouring tables' bento boxes, the spidery miso bowls – another shout went up from behind us. 'That's Lebedev,' said one of my companions, who in a former role at Kensington Palace had had occasion to deal with him from time to time.
I might not have recognised the newspaper proprietor. But perhaps there was an electricity of celebrity about the sullen man who was seated in an inferior table to ours, squidged between two other tables – as if he were not so much a newspaper baron as a sulking paperboy.
He must have been feeling foolish: had he been reviewing the restaurant for the newspaper that he owns he would have been sitting where we were.
I am increasingly not sure what I think of the Evening Standard. In its latest incarnation, it has become little more than a mouthpiece for George Osborne, who took his firing at the hands of Theresa May in an ungallant way: by aiming to ensure, through the Standard, that London is as angry about her as he is.
Our beer arrived, although a little slower than the omotenashi hospitality which the place apparently prides itself on, had suggested. Even so, the service was, for the most part, excellent and we cheersed our good luck at having undeniably the best table. Behind us, smoke began emerging from Lebedev's ears.
In fact, I'm not entirely sure this was smoke; it might have been the roaring robata – or charcoal grill – flames. Of the three parts of the trinity, Akira principally excels at the most important: the quality of the food is exceptional – everything from sushi to chargrilled kushiyaki skewers made from unami-rich meats; and gratifyingly moist rice prepared in a donabe, or clay pot.
Everything we tasted was delicious beyond expectation. While Lebedev, sitting opposite a woman with her back turned, looked like he was plotting to buy the restaurant in order to make sure this would never happen to him again, we were presented with a lidded bento box.
When the waiter pulled the lid away, we really did offer that clicheic intake of breath at what lay there: rows of sushi, in symphonic colour, one's only reservation being that if one were about to eat an artwork, one needed the taste buds of Michel Roux Sr. None of us could claim to possess these, but this reservation was hardly likely to stop us now.
As we left, we saw that Lebedev had vacated his table, leaving behind him an aroma of disappointment that wasn't ours – and indeed could never have been ours. I was just reflecting that the folly of owning a newspaper is that one has all the stress and none of the fun.
But as we exited to get our coats, Lebedev was propping up the bar, and enjoying the attention of the woman who was now revealed to us as an improbable compilation of every supermodel that has ever walked the earth. We walked out, chastened. Some people have all the luck.
Christopher Jackson is deputy editor of Spear's