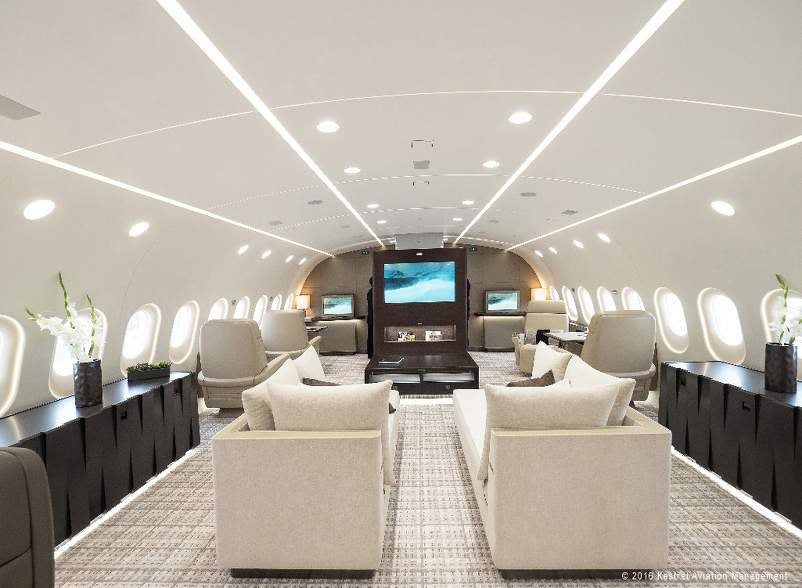 Next month, China's HNA Aviation Group will welcome a new Boeing 787-8 private jet. As configured, the 787 Boeing Business Jet, has a range of almost 9,800 miles even when packed with 40 passengers, luggage, and fuel.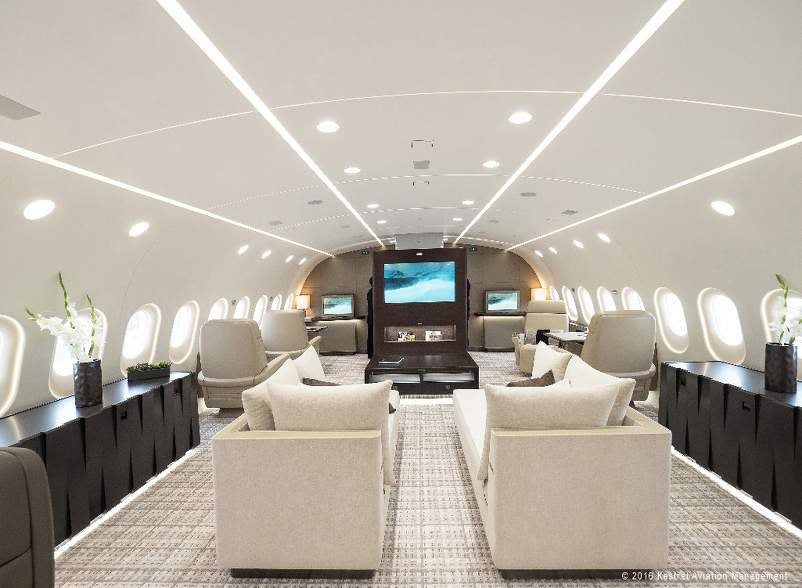 Aviation consulting firm, Kestrel Aviation, oversaw the creation of this 787, alongside partners Pierrejean Design Studios and Greenpoint Technologies. Although several 787s have been converted from passenger service to private use, the Boeing 787-8 BBJ is the first Dreamliner to be built specifically as a BBJ. It is the 143rd Dreamliner to roll out of Boeing's factory and first flew in December 2013. The plane was delivered to Kestrel in January 2014.
The BBJ has flying time of about 17 hours, hence can reach virtually any destination on earth, 'The big appeal is that a new generation of private jetliners, for the first time, can fly anywhere in the world without refueling," says Stephen Vella, founder of Kestrel Aviation Management, a leader in the conversions field. "The world's wealthiest no longer have to stop on their way to China' Kestrel Aviation Management CEO Stephen Vella stated.
The innovative Boeing 787 BBJ air is capable of flying with 40 passengers on board during 17-hour non-stop journey.
A unique project for the team, the aircraft's interior was designed and engineered from scratch, 'the interior took a year to engineer as well as another year and a half to fabricate and install', Vella said.
Designed for ultra-luxury travel, passengers enter into a grand circular foyer decked with cherry hardwood floors and walls sheathed in leather.
The two main salons in the 2,400-square-foot interior are the dining and conference rooms, furnished with a row of coffee tables that, at the flick of a switch, rise and unfold into a long banquet table, and the main lounge featuring first-class-style, lay-flat armchairs, and twin divans that merge electrically into a daybed. The 40 passengers and 7 cabin crew can access WiFi for their iPads and laptops, and make calls on their smartphones over GSM, at any time and at any altitude.
The master suite is divided into few sections and designed to be an 'oasis of silence' the plane as the noise level in the room during flight is just 48 decibels. The sleeping area features a large California king-size bed while the massive master bathroom is accomplished with a set of large marble his and hers sinks. There is the guest cabin with 18 full-flat, first-class sleeper seats. Behind the guest cabin is a row of six premium economy seats for the staff.
The base Boeing 787-8 is priced at £167.8 million ($224.6 million), while the modifications add another £75 million ($100 million) or more to the price tag.
Image Source: Kestrel Aviation Management