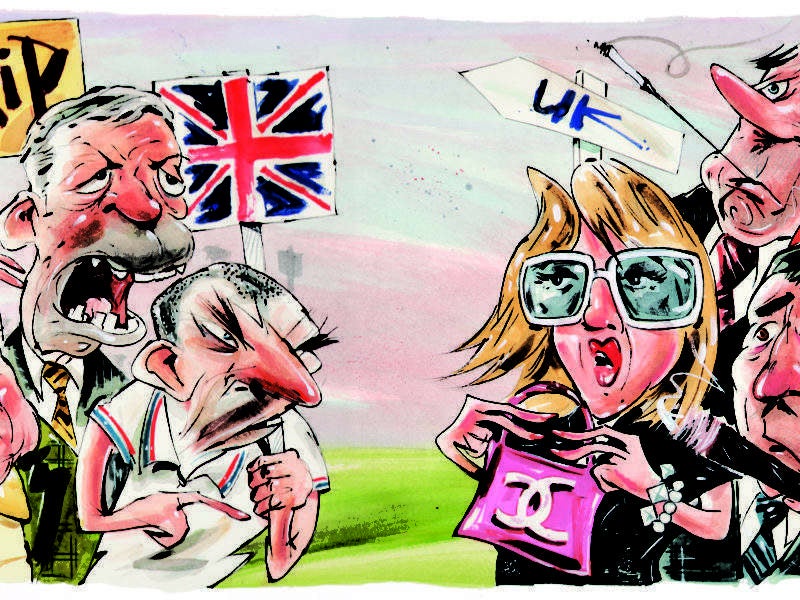 Amid the pre-election clamour to restrict immigration, are we in danger of turning away the foreign HNWs the economy needs? Matthew Hardeman investigates.
'If you are investing in Britain, invest more. If you are thinking of investing in Britain, come and find us. You will get a warm welcome,' David Cameron told business leaders on a visit to China little over a year ago.
Cameron's words, aimed at overseas HNWs, seem to differ markedly from his actions since. Pushed rightwards by the rise of UKIP, he proposed a rash of reforms in a December speech, 24 hours after figures revealed a dramatic surge in annual net migration to more than a quarter of a million.
Meanwhile, figures from YouGov confirm that the growth in migration has coincided with its rise in prominence – the most important issue facing the UK last year, according to the public (the only year since 2010 where the economy wasn't). Perhaps UKIP's success is no surprise, then. The party is now the first to beat both Tories and Labour in a UK-wide contest for over a century, having won 27.5 per cent of the vote in the most recent European elections. Add two high-profile defections and by-election wins to the purple column, and it's not hard to imagine the anxiety in Downing Street.
Beyond Number Ten, many are worried – not by too much immigration, but by too little. Only a month before, Cameron was asked by the Confederation of British Industry to temper his hot rhetoric on immigration and EU membership, which he has pledged to put to a referendum in 2017 (or even earlier) – a move seen by business leaders as deterring investment in the UK.
A January report from London First and the London Enterprise Panel, commissioned by mayor of London Boris Johnson, agrees that the increasingly harsh anti-immigrant and anti-EU dialogue is repelling global talent and entrepreneurs: 'London has already established a unique position as the global hub for talent, business, finance and global visitors – however, this could be put at risk by national policy on both immigration and Europe,' the report says.
But our poll-savvy PM is unlikely to listen in the run-up to a general election, especially if his latest policies are anything to go by: the threshold for tier 1 investor visas was increased from '1 million to '2 million in November; fees for resident non-dom status were raised from '40,000 to '90,000 a year; and both capital gains tax and the envelope tax on corporately owned residential property (ATED) were extended in the autumn statement. Add an overwrought UKIP-fuelled dialogue and Britain's actual immigration problem becomes more about deterring the very migrants the government needs for the public purse.
As Dermot Callinan, head of private clients at KPMG UK, said in December, 'These measures, along with the proposed increases in the top rate of stamp duty land tax, may confuse and deter wealthy foreign individuals from investing and living in the UK because of the complexity and uncertainty of which tax will be extended or increased next for the very wealthy… What we have here is a policy trade-off between securing perceived tax fairness from wealthy non-doms and driving them away with uncertainty.'
Andrew Langton, chairman of London property boutique Aylesford International, is clear how the recent changes could slow the pulse of inbound plutocrats: 'With stamp duty in this country, your house has just become a tax problem, as opposed to a home.' Last year was 'a watershed – one of the worst years, largely driven by government vacillation… There's a sword of Damocles in the air still with the mansion tax, but it really kicked off with the "envelope tax" in 2013.'
International economics doesn't help either, he adds. 'With the recent collapse of the rouble, the collapse of oil prices and massive new tax measures on people coming into the country – and the tax on the non-doms – there is major cause for indecision, which I think is going to continue now all the way until 8 May.'
Despite the concerns, foreign investment in Britain – particularly from China – grows unabated. In 2012 the UK supplanted France as the primary European destination for Chinese investment, and last June the two countries set a bilateral trade target of '60 billion by the end of 2015. An array of new projects is in the works, and on target, to achieve that goal. Their money is coming, but are they?
Some aren't so sure that the billionaires Cameron wooed in Beijing are likely to be discouraged, given everything else the UK has to offer. Rupert des Forges, head of Knight Frank's Knightsbridge office, is bullish on London's overseas appeal: 'London is still very compelling – what is the alternative, really? You can go to another global city like New York, but there are so many things that are compelling about London – whether they're funding their businesses in the city, to educating their children, to the very high quality of life you get living here. Ultimately if you're from an unsettled part of the world, it's a price to pay.'
Julia Onslow-Cole, head of global immigration at PwC Legal, agrees: 'I do not believe the political narrative in the UK is deterring any HNW clients from coming here. The UK has so much to offer in terms of rule of law, excellent educational system, a strong housing market etc. There is also a huge surge of interest in economic citizenship, particularly in European countries. But there is a danger, if the investor-visa financial requirements are increased again, that this immigration route will be priced out of the market.'
Upon further inspection, even the nitty-gritty isn't so bad. Madeleine Sumption of the Migration Observatory at Oxford University points out that while the price tag for a UK investor visa has doubled, the investment mandate is for UK government bonds – a far safer stake compared to the relatively modest $500,000 corporate investment required in the United States, for example.
That's not all. 'In many cases, the desire to move abroad as an investor is about providing options for their family… Good schools are one of them, but there's a lot of lifestyle factors,' says Sumption. 'People from China regularly mention pollution, wanting a healthier environment for their children to grow up in – it's not just a question of these people trying to maximise their wealth. If that were the only concern, they could establish themselves in a low-tax jurisdiction in the Caribbean or in Singapore.'
The Home Office seems sanguine about the prospects of a lull in HNW migration. 'We are building an immigration system that is fair to British citizens and legitimate migrants and tough on those who flout the law,' it told Spear's. 'In November, we made changes to the investor route to ensure that the UK remains an attractive destination for global talent and that the investors who choose to come here contribute to our economy and society. The latest figures show the number of investors choosing to come to the UK is increasing.'
Indeed, 357 tier 1 investor visas were granted to Chinese nationals in the year to September 2014 – almost exactly double the previous year. The number of wealthy Russians in the UK also grew, rising by 68 per cent from 2013 (and that's before the Russian economy imploded). From delirium over the Swiss franc to instability in North Africa and the Middle East, it seems adverse conditions globally have only made the UK more attractive, despite the increasing burden on the wealthy and the welter of hostility over immigration.
Astonishingly, given UKIP's emphasis on immigration, the party had a hard time putting together its views on the HNW angle for us. A spokesperson told Spear's that 'this part' of its immigration policy will be presented in its election manifesto in April. Perhaps its failure to present a ready policy on its favourite issue means it has noticed an important distinction in the YouGov data: while most people think talking about immigration is urgent, 71 per cent of the public want the number of HNWs investing in Britain to be increased, or at least maintained – the most 'popular' of all migrant categories.
Compare that with those fleeing war and persecution at 48 per cent, people wanting to join family at 33 per cent and migrants with low education, skills and employment prospects at 13 per cent, and you have your answer: whatever the extent of Britain's anti-immigration sentiment, the wealthy are still welcome – and the next prime minister is unlikely to disagree.