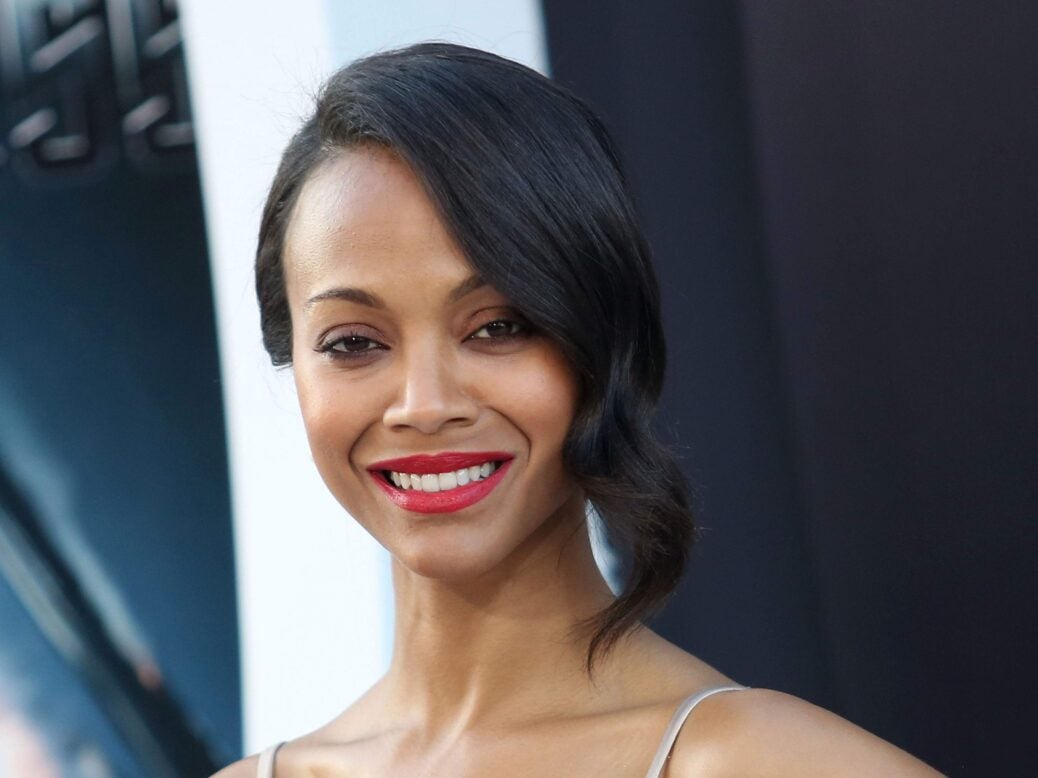 Changing Avatars to emerge as a Guardian of the Galaxy, dancer/actress Zoe Saldana's mega transformation has earned her a reported net worth of $14 million.
Born Zoe Yadira Saldaña Nazario, on June 19, 1978 in Passaic, New Jersey, to Dominican native Aridio Saldaña and Puerto Rican native Asalia Nazario, Zoe Saldana was raised in Jackson Heights, New York. After Saldana's dad died in a car crash when she was nine, her mom shifted to the Dominican Republic with Saldana and her two sisters.
Saldana studied dancing—particularly ballet—at the ECOS Espacio de Danza Academy. Following her high school sophomore year she returned to New York with her family.
How did she make her million?

She began performing for the Brooklyn theatre group Faces, 1995 onwards. While simultaneously performing with the New York Youth Theater, a talent agency spotted her on the musical Joseph and the Amazing Technicolor Dreamcoat, resulting in her TV debut with the series Law & Order (1999).
Saldana soon debuted in films with Center Stage (2000) followed by the Britney Spears starrer Crossroads (2002), Drumline (2002), the swashbuckling Pirates of the Caribbean: The Curse of the Black Pearl (2003) and Steven Spielberg's The Terminal (2004).
Other film appearances include: Get Over It (2001), Snipes (2001), Haven (2004), Temptation (2004), Dirty Deeds (2005), After Sex (2007), Vantage Point (2008), Blood Ties (2013), Out of the Furnace (2013), Unity (2014), The Book of Life (2014) and My Little Pony: The Movie (2017, voice-acting).
She also directed the short film Kaylien (2011).
Movies that she starred in include: Constellation (2005), Guess Who (2005), Premium (2006), The Skeptic (2009), The Losers (2010), Takers (2010), Death at a Funeral (2010), Burning Palms (2010), The Heart Specialist (2011), Colombiana (2011, won the Teen Choice Awards for Choice Movie Actress: Action in 2012 and the ALMA Awards for Favorite Movie Actress), The Words (2012), Infinitely Polar Bear (2014), Nina (2016) and Live by Night (2016).
Her major TV roles include Six Degrees (2006-2007), Blackout (2007, TV film) and Rosemary's Baby (2014 horror miniseries, which she co-produced).
In 2009, Saldana got her breakthrough in Star Trek ($385.7 million grosser), winning the Boston Society of Film Critics Awards for Best Ensemble Cast.
Saldana's best role by far was as Neytiri in James Cameron's 2009 sci-fi epic blockbuster, Avatar, for which she underwent a gruelling six-months training in equestrian, archery and martial arts. Avatar became the first film to cross the $2 billion mark, grossing $2.7 billion worldwide and converted all 10 of its Saturn Award nominations into trophies in 2010, which included Saldana's Award for Best Actress. She also won the Teen Choice Awards for Choice Movie Actress: Sci-Fi. (wikipedia)
In 2010, she modeled for Calvin Klein's "Envy" range of bras.
Saldana returned as Uhura in 2013's Star Trek Into Darkness ($470 million worldwide collection). Lending voice to the Star Trek video game, she also starred in the third part, Star Trek Beyond (2016).
Saldana starred in 2014's top money-spinner Guardians of the Galaxy. Unlike Avatar, Saldana's transformation as Gamora was through make-up and not Computer Generated Imagery (CGI).
She is set to return with Guardians of the Galaxy Vol. 2 on May 5, 2017.
Saldana's upcoming movies are: I Kill Giants (adaptation of Joe Kelly's graphic novel), Avatar 2 and Avengers: Infinity War (2018).