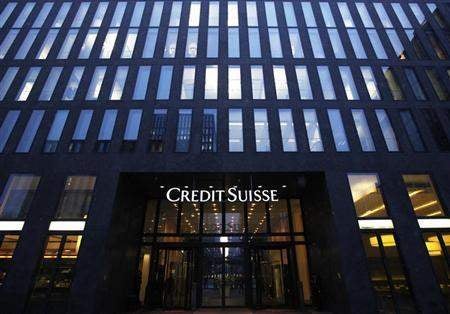 Credit Suisse issues a vigorous seven-point statement following the launch of an official tax probe last week, writes Alec Marsh
Credit Suisse came back fighting over the weekend with double page adverts in the Sunday newspapers, following raids on three of its offices in London, Amsterdam and Paris last week in relation to tax evasion investigations.
'Credit Suisse applies a strict zero tolerance policy on tax evasion,' announced the bank in its advert in today's Financial Times, in response to the 'reports about tax probes'.  The Swiss bank also said it would 'continue to work closely with the local authorities in all matters and particularly in this new case'.
As well as having a zero tolerance on tax evasion, Credit Suisse 'wishes to conduct business with clients that have paid their taxes and fully declared their assets,' it said.
'We strictly comply with all the applicable laws, rules and regulations in the markets in which we operate,' stated the bank, which said that as of 2011 it had conducted a 'large review' of its European business and 'requested clients to provide evidence of their tax compliance'.
'As a result of our review the bank terminated the relationship for clients who did not provide evidence that they paid taxes and declared their assets,' it added. 'This led to very significant asset outflows as we do not want to do business with clients who are unwilling to provide the required evidence.'
In its seven points, Credit Suisse, the second largest bank by assets in Switzerland, said that since 2013 it had applied the 'Withholding Tax Agreement' between Switzerland and Britain. The advertisements appeared in the Sunday Times, the Sunday Telegraph and the Observer.
'We have made significant investments to implement the new international standard "Automatic Exchange of Information" in tax matters for our European locations effective April 1, 2017, which will foster even stronger transparency internationally,' adds the banks which on its website adds that it will keep visitors informed of any new developments.
Offices of Credit Suisse in Paris, Amsterdam and London were raided on Thursday as part of the investigation, which involved HM Revenue & Customs in the UK. Two arrests were made in Holland and millions of euros in cash, gold and artworks were seized. The bank said it was cooperating with the authorities.
In 2014 the Swiss bank pleaded guilty to criminal charges that it helped American citizens evade taxes and agreed to pay more than $2.5 billion in fines.
Alec Marsh is editor of Spear's
To subscribe, visit https://www.spearswms.com/subscribe/