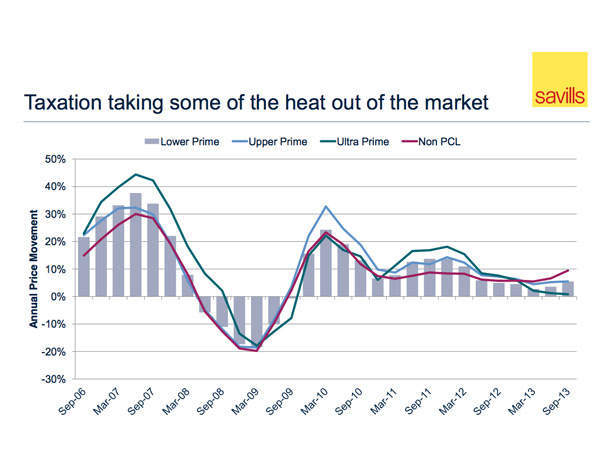 London looks as though it will lose ground to the rest of the country as house prices rise faster in the regions over the next five years, according to new forecasts.
Estate agents Savills' latest five year forecast for the UK's property markets predicts higher growth between now and 2018 in the East Midlands (24.6 per cent), the South West (29.4 per cent), the East (30.7 per cent) and the South East (31.9 per cent) than in London (24.4 per cent). (These do, of course, come from a much lower base.)
For the ultra-prime market, focused on central London, a combination of rapid growth and taxes such as Stamp Duty and the Mansion Tax, as well as rumours of Capital Gains Tax for non-residents, has led to a cooling off of prices following their steep rise coming out of 2009.
Read more on the mansion tax from Spear's
Ultra-prime price growth has been dropping since the beginning of 2012 while non-prime central London growth is increasing. As a result Savills predicts larger market growth in the suburbs and 'inner commuter' belt at 26.3 per cent compared to 23.1 per cent in central London over five years.
Speaking yesterday from their new offices off Oxford Street, Savills' Lucian Cook, head of UK residential research, emphasised the 'housing market as a forerunner to what happens in the wider economy', showing growth waves in the property market spreading out of London thereby consolidating recovery, the result being a rise in the value of grade-A property in secondary locations.
Overall, Savills predicts UK property growth of 25.2 per cent over the next five years with London slowing while the rest of the UK catches up. Comparing data from previous market undulations, the current growth in prices was emphasised as cyclical rather than accelerating up a cliff edge.
Read more on prime property from Spear's
Cook said: 'With strong positive sentiment, we expect house prices to rise by 17 per cent in the next three years alone, but total five year house price growth will be capped by earnings growth, given the likelihood of interest rate rises that will erode mortgage affordability.'
As the report makes clear, Savills believes the market will expand by an earnings-led price growth meaning a gradual recovery in transaction levels, not a credit stimulated rush into a market still dominated by demand over supply. This is no doubt good news for the market as a whole but will raise concern for UHNWs hoping to see further above-average returns on their bricks and mortar in the capital.
Cook downplayed the 'paranoia' over Help to Buy creating a housing bubble by underlining that, with transaction levels and mortgage approvals still 40 per cent below that of a normal market, Help to Buy is not predicted to be an over stimulant.
Identifying a rational property market, the forecast poured water on the idea of a bubble. 'We see no evidence of an imminent housing bubble… For a bubble to occur we would need to see five year price rises of 35 per cent to 40 per cent and/or mortgage interest rates of around seven per cent,' he said.
To see the full Savills interactive five year forecast map, go to www.savills.co.uk/resources/5-year-forecast